I'm always excited when stone fruit starts to hit the stores. Juicy peaches, nectarines and plums pile up on our counter and fill my stomach. Unfortunately, I have yet to seen nectarines and plums in abundance. Plus, our year-old Santa Rosa plum tree has only two fruit–both of which have been claimed by my mom (they're her favorite). However, peaches seem to have spontaneously reproduced on my counter in the last few days, needing to be devoured before they become wrinkly, mealy messes. That would just be sad.
I've been trying to be more creative in the kitchen and decided to take on the peach overload as my newest challenge. My mom kept suggesting crumbles/crisps, but that's boring. For a while I thought about a deconstructed crisp–half a peach with cinnamon sugar, oats and pecans pushed into its crater and broiled until gooey–preferably served with vanilla ice cream. Then I thought about doing that on the grill (and I did for myself, and it was as delicious as you think it was). And then someone mentioned peaches with goat cheese and honey. Peaches? And cheese? Oooh blue cheese.
I can't really explain how my mind works, but it does, and for that I am thankful. Tell me about a peach and goat cheese dessert, and I automatically think peaches and blue cheese to make a savory dish. After checking it over with my Twitter cohorts, I knew I wasn't 100% crazy. But then I asked my family and I wasn't so sure anymore. I always mention how my dad and brother eat everything, but they weren't completely sold on the idea. My mom gave me an emphaticno, while my dad said he wasn't anxious to try it. My brother didn't even answer me when I brought it up. I cook for my entertainment and my pleasure, so decided to just make it for myself.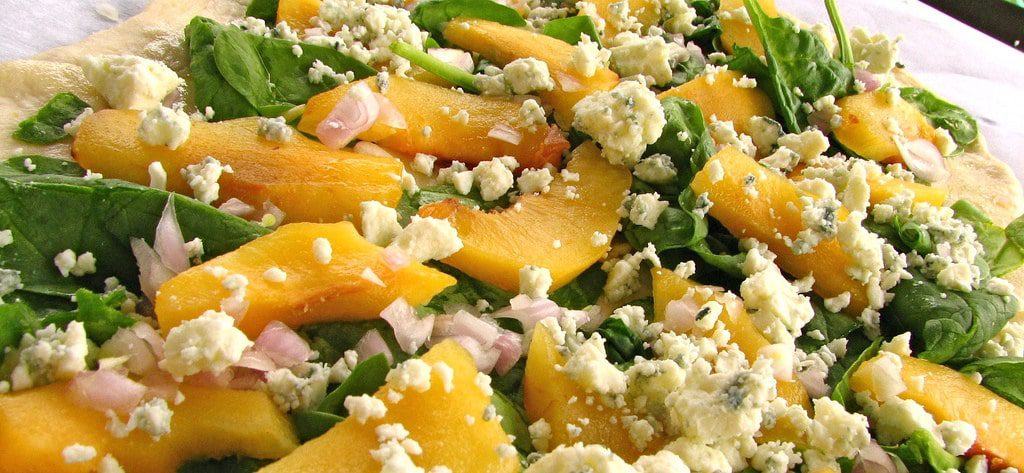 I cracked my pizza stone in the name of this peach pizza. I decided to make it on the grill, and the internet told me that I could use my pizza stone to keep it from cooking too fast and burning. Well internet, it didn't burn, but it cracked my damn pizza stone. Plus the BBQ ran out of propane about five minutes in. I think this pizza wanted to be cooked in the oven, but it was just too damn hot and muggy to do that to my kitchen. I am happy to report that my pizza stone has a warranty, and that it did not die in vain. The pizza was actually really good in an unexpected way. I even got my dad and brother to taste it. My dad enjoyed the peach and blue cheese combo, and my brother said he liked everything but the peaches. Opinions heard, I came back to my computer to write this post and realized that I shot all my photos with the wrong light setting, turning most of them pinkish-orange and unwilling to be edited. Clearly I can't win today.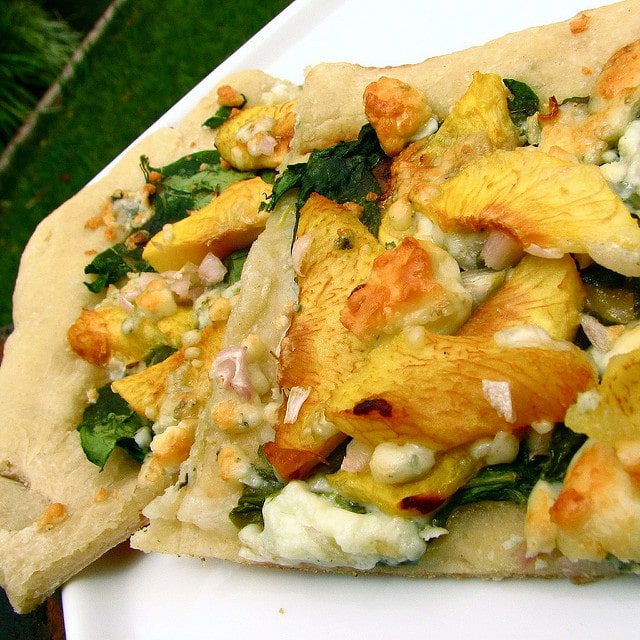 Peach & Blue Cheese Pizza
(Adapted fromThe Kitchn)
Makes 2 12″ Pizzas
3/4 cups warm water
1/2 tsp. active-dry yeast
2 cups + 2 Tbsp. ap flour
1/2 tsp. salt
2 tsp. honey
3 medium ripe peaches
1 large shallot
2 large handfuls, spinach leaves
1 cup blue cheese crumbles
olive oil
freshly ground pepper
Directions are The Kitchn's for cooking in an oven, not on a grill that will destroy your pizza stone.
1. About an hour before cooking, mix salt and flour in a bowl.
2. Dissolve yeast and honey in water. Then, make a well in the flour and add in water. Mix until combined.
3. Turn out combined dough onto a lightly floured surface and knead for 5 minutes until smooth and slightly tacky. It shouldn't stick to your hands.
4. Place in a covered, oiled bowl. Preheat your oven to 500 degrees.
5. Prepare your toppings. Peel and slice your peaches, and finely dice the shallot.
6. When your oven is preheated, turn out your dough onto a lightly floured surface and shape into 2 pizzas. It's okay if it hasn't risen much, as this is a thin crust pizza. This dough is pliable enough that you can push it into a disk and shape it by turning it in your hands. Alternatively, you can use a floured rolling pin. Dough should be about 1/4 inch thick.
7. Brush the entirety of your dough with olive oil and generously sprinkle with pepper. Scatter half of the spinach, place down half of the peaches, and sprinkle with the shallots. Repeat on second pizza.
8. Move dough to your pizza stone, or on baking sheet, cook for 5 minutes.
9. Rotate your pizza and sprinkle on all of the cheese. Cook for another 5-6 minutes until melted and brown.
10. Let cool slightly before cutting. And take pictures on the proper setting so you don't end up with a weirdly colored photo that edits out like this: