I had a vision for these naughty gingerbread cookies while I was getting my hair done like a completely spoiled postgrad trying to milk money out of her parents before she's completely cut off. These gingerbread cookies are stuffed with cranberry and glazed with white chocolate and cookie butter. I've basically been on Santa's naughty list since I was born so I'm fine with these cookies, but if you are nervous about leaving the nice list you may want to steer clear. Enjoy!Total time: 3-4 hours (but you have time in between the first 2 hours while the dough sits in the fridge to do whatever you want. Just read and you'll get it).
Ingredients:
 Instructions:
Dough:
1) Whisk together flour, baking powder, baking soda, salt, ginger, cinnamon, and cloves in a bowl until well blended.
2) In another large bowl beat butter, brown sugar, and egg on medium speed, then medium-high speed until well blended.
3) Add molasses, cookie butter, and vanilla. Continue to mix a bit faster until well blended.
4) Gradually add dry ingredients. I did it by thirds — so I mixed the first third of the dry ingredients in the bowl into the wet ingredients, then the second, then the third. This seemed the most even.
5) Divide dough in half, mold into rectangular blocks and wrap each half in plastic wrap. Refrigerate for 1-2 hours.
While you're waiting 2 hours:
There are many things you can do while you wait 2 hours. You can make another batch of cookies, feed the homeless at a nearby shelter, sit and watch this 2-hour video of virtual Christmas candles to feel cozy and warm, or listen to All I Want For Christmas Is You 30 times. The choice is yours.
After you wait the 2 hours:
Now it's time to make these bad boys.
1) Preheat the oven to 325°. Spray a baking sheet with non-stick spray or line with parchment paper.
2) Take the first half of your dough and roll it out a bit. Not super flat, because you're not making a gingerbread man. Those are so last year.
3) Take a piece of dough the size of your palm, maybe a bit bigger. Roll it into a ball and press down. You can use a rolling pin to help you out if this is tough.
4) Fold in each edge, making a cube/shot glass looking figurine.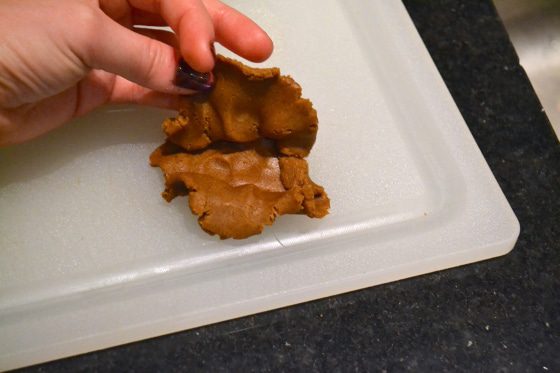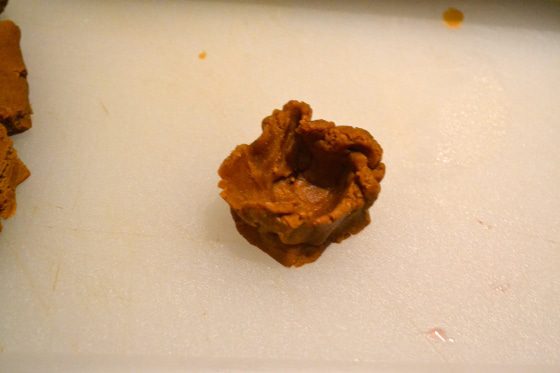 5) Scoop cranberry sauce (size depends on the size of your cookie) and put it in the center of your cookie.
6) Grab edges of cookie and fold like a dumpling. Or like a gift. But while you do this, make sure your base stays closed and strong. It's okay if you mess up and then top cracks a little. Just smooth it over and try to use the sugar that came out from the sauce to smooth over the crack like cement.
7) Once you are done the first half, put them on a baking sheet and bake for 10 minutes.
8) While those cook, make the second batch.
9) Take the other cookies out of the oven, put on a plate and refrigerate while the next batch is cooking.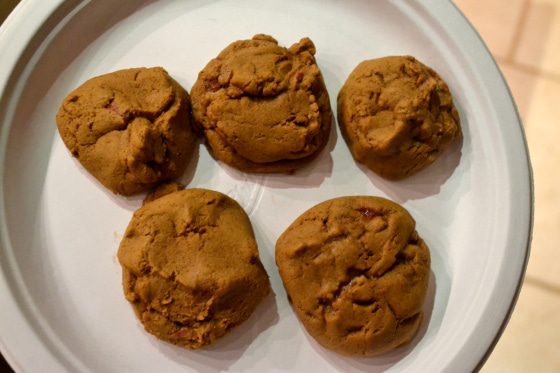 10) When the second batch is done, take the first batch out of the fridge and put the fresh batch on a plate to refrigerate.
Glaze:
NOW YOU ARE READY TO GLAZE.
1) Find a small bowl/cup or if you're lucky, a small creamer container. I don't know the proper term for these so here's what I'm talking about.
2) Take 2 tablespoons of cookie butter and put in your container. Melt in the microwave for 30 seconds. If your cookie butter is still firm, do an extra 10 seconds.
3) Drizzle over your first set of cookies.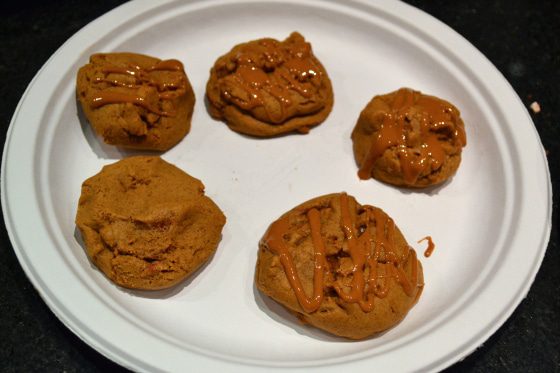 4) By now, you can take your second batch out of the fridge and drizzle on them too.
5) If you are a lazy person like me, you probably want to just use the microwave for the chocolate too.
6) Now, take a medium/large bowl and add 1-2 cups of white chocolate chips. Microwave for 20 seconds and stir.
7) Microwave for 15 seconds and stir. Your white chocolate chips should be melting together now.
8) Microwave for increments of 10 seconds and stir until white chocolate is fully melted.
9) Dip a fork into the white chocolate. Pull it out and drizzle onto the cookies.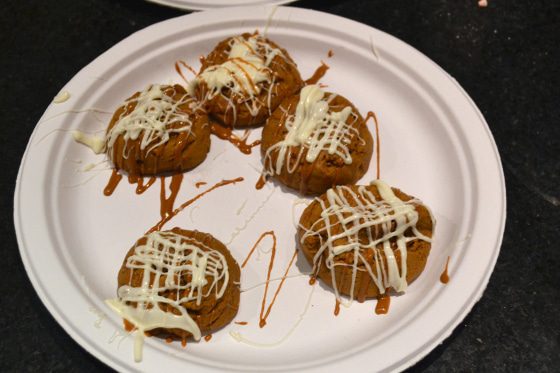 10) Let cool overnight or for 1-2 hours until dry.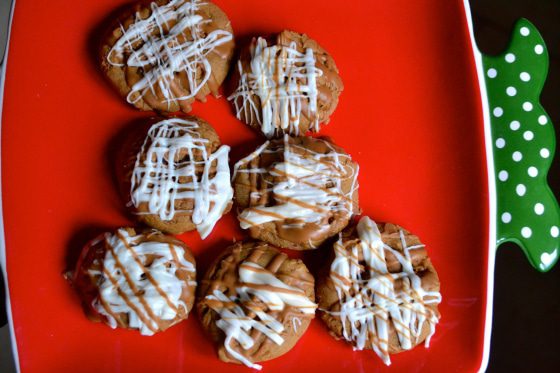 YOU'RE DONE!
Now here are some sexual photos