There are so many types of noodle in Asia and so as many ways to savour them. A while ago, I introduced another type of rice noodle in "The Simple Thai Fish Laksa" post. You must remember the smooth and soft noodle with the rustic and earthy scent which is called "Khanom Jeen". We can have it for breakfast with a sipping hot curry or serve alongside any spicy dishes. It is my most favourite kind of noodle. This delicate and gentle slurp makes any dish feel a lot more overindulged.
The best way of eating this beautiful noodle is drenching every soft string with flavourful curry sauce. Fish and Peanut sauce may sound like a strange combination, but they get along so well in this dish.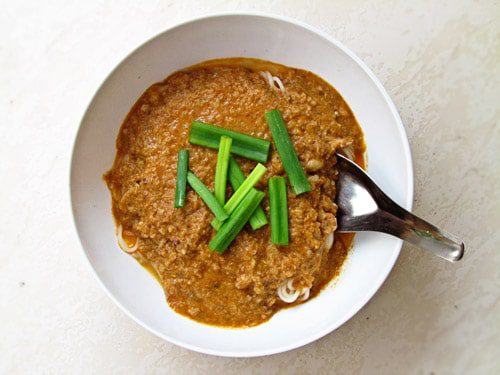 The sauce is richened and thickened with ground mackerel and ground roasted peanut. Thai red curry paste adds a wonderful aroma and flavour to it. We love the sauce to be a little bit sweet and spicy when the nutty flavour of roasted peanut is such a wonderful bonus to the dish.
Noodle with Fish and Peanut Sauce

Ingredients (4 servings)

Rice noodle- cooked as per package instruction

1 medium size fresh mackerel- scaled and cleaned

1 1/2 tbsp Thai red curry paste

1/2 cup ground roasted peanut

1 1/2 tsp sugar

1 tbsp fish sauce or to taste

2 cup vegetable stock

Few spring onion or scallion- sliced into 1 inch long

2 tsp oil

Preparation

Cook noodle as per package instruction and keep aside.
Bring about 2 cup of water to boil in the medium sauce pan. When the water is boiling, add mackerel and let it cook for 2 minutes. Remove the fish from the water, let it cool and discard the bones. Mash mackerel meat using the back of wooden spoon into a rough paste.
Heat oil in another sauce pan over the medium heat and sauté Thai red curry paste until aromatic.
Add ground fish and peanut. Stir fry for 1 minute.
Add vegetable stock, sugar and fish sauce to taste. Increase the heat and bring the sauce to boil then simmer for a few minutes. Check the seasoning and add some spring onion just before removing the sauce from the stove.
Place rice noodle in the serving dish and pour in some fish and peanut curry sauce. You may serve some fresh mints or basil along the side.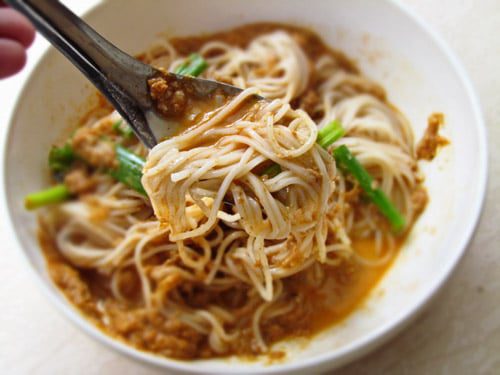 Fish and peanut curry sauce was perfect, not too spicy, but very rich and creamy. The savoury- sweet flavour of the sauce gave the most comforting feeling. The bubbling, nutty, thick sauce mixed in so well into the tender noodle. Yaseen loved the sauce so much, he pour the leftover into his spaghetti the next day.
Have a beautiful day,