Hello everyone:I have a simple, budget friendly recipe for you all today.  Chicken and biscuits are such a comfort food and a great meal to whip together when you have leftover chicken in the fridge.  And if you have a enamelled pot, it goes from the stovetop to the oven – and everyone loves less washing up.  This is a recipe I just threw together, but it turned out so delicious I wanted to share it with everyone.  Of course it can be made bigger by doubling the recipe but I try not to make such big meals as it is only just us two at home at Fenton house.

For a vegetarian option, use a can of chickpeas instead of chicken and a nice vegetable broth, it works just as well.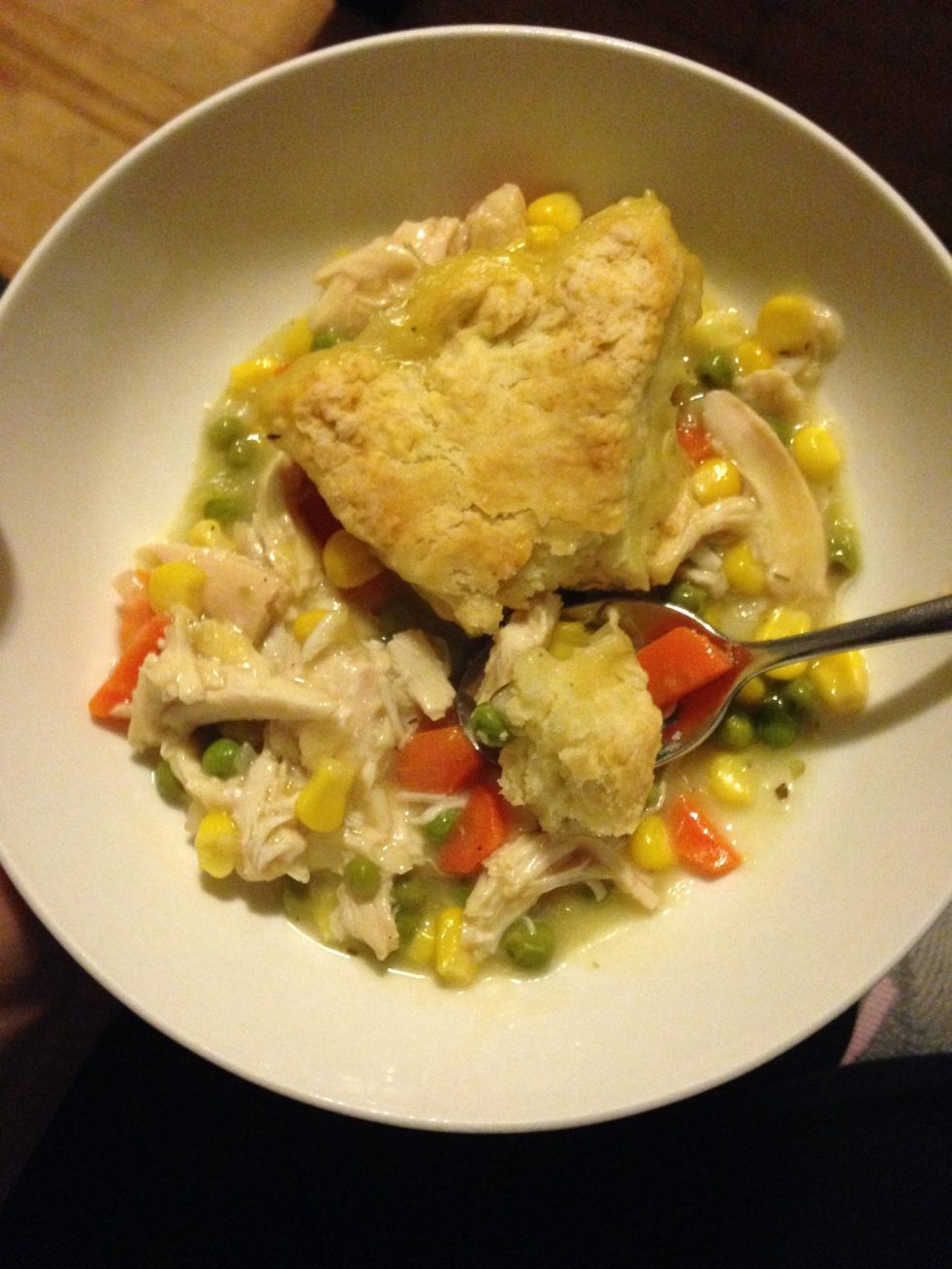 Chicken & Biscuits (for 4-6 people)
Ingredients
For the chicken mixture:
Olive oil
1 onion, finely chopped
3 carrots, sliced
1 celery stalk, chopped (optional but adds a lot of flavour to the base)
1 bay leaf
2 tbsp flour
2 cups chicken stock
2 cups shredded chicken
1/2 cup frozen peas
1/2 cup frozen corn
salt and pepper
mixed herbs, such as herbes de provence
For the biscuit mixture*:
1 cup flour
1/2 tbsp sugar
1 heaped teaspoon of baking powder
1/2 tsp salt
1/4 cup cold butter
1/3 cup of milk plus a few tbsp if needed
Method:
Preheat the oven at 375F.
Drizzle olive oil in a pan over medium heat.  Add onions, carrots and celery and sprinkle with salt and the bay leaf.  Allow vegetables to sweat and soften.
Once the vegetables are softened, remove the bay leaf, and add the flour to the vegetables and mix well.  Gradually add broth and whisk.  Bring the vegetable mixture to a simmer to thicken.
Stir in shredded chicken, peas, and corn.  Season with salt and pepper and herbs.  Take off the heat.
Next, to make the biscuits.
Mix the flour, sugar, salt, and baking powder together well.
Cut in the butter with a pastry cutter or knives until it forms fine crumbs.
Gradually stir in the milk until mixture makes a dough – try not to over mix the dough.
Turn the dough out on a floured surface and press it down to form a circle.  Cut into 6 triangles or cut out into circles and place on top of the chicken mixture.
Bake for 30 minutes, let set for 5 minutes and enjoy.