Good morning, everyone! Today's recipe is particularly delicious and can be made in one night and feed you for the rest of the week (depending on your appetite). This lasted my husband and I for three dinners and we didn't get sick of it because it was just that good! This was 100% a kitchen raid. I had so many vegetables piling up that I needed to get rid of so I decided to make a giant veggie lasagna. I did add some ground chicken to it for some lean protein but you could just as easily leave it out if you're a vegetarian and I'm sure it would be just as scrumptious.
I love pasta but I've been trying to find alternatives to it because it is really heavy. Don't you love finding healthier alternatives to delicious food? I do. It's like hitting the food jackpot. This recipe definitely delivers on that. We ate this three nights in a row and I could have just as easily eaten it again the night after. It's also good to have with different sides for a little variation. Cesar salad one night, steamed broccoli the next, you decide.
Without further ado… the recipe.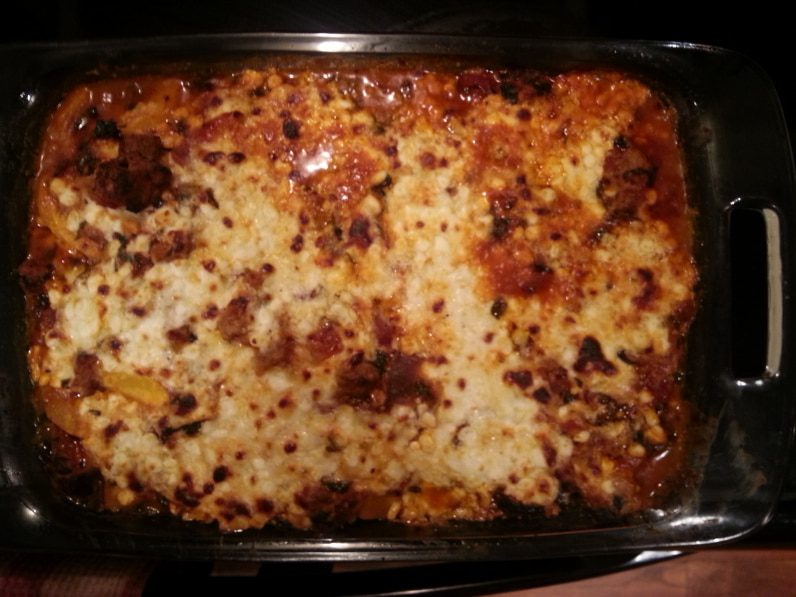 Ingredients
2 delicata squash
1 pound of ground chicken (optional)
1 head of spinach, finely chopped
1 large white onion, finely chopped
10-15 shitake mushrooms, chopped
2 tablespoons garlic
1 tablespoon olive oil
700 ml jar of tomato sauce
250 g cottage cheese
2/3 cup parmesan cheese, shredded
2/3 cup mozzarella cheese, shredded
1 tablespoon chilli powder
1 tablespoon basil
2 tablespoons oregano
2 teaspoons salt (Herbamare if you have it)
1 tablespoon pepper
A couple dashes os salt and pepper for the delicata squash a 2 teaspoons of oil
Enough ingredients, eh? Well, I told you that I had A LOT of veggies laying around. I've finally freed up some room in my fridge now. Woohoo!

Directions
Preheat your over to 375° and grease a baking pan.
Peel the delicata squash, cut in half lengthwise, scoop out the seeds and then slice the squash into half inch slices. Mix with 2 teaspoons of oil and a couple dashes of salt and pepper to coat it. Set aside.
Add oil and garlic to a skillet over medium heat. When it's hot add the onions. Fry for about ten minutes, or until soft and then add the spinach. You may have to cook the spinach in batches if it won't all fit in your skillet at the same time. Cook the spinach for 5-10 minutes or until it is wilted and slightly browned. Add the mushrooms in the last 5 minutes of cooking the spinach. Put the onion, mushroom, spinach mixture aside.
Brown the chicken and then add the onions, mushrooms and spinach to it. Stir in the spices and the tomato sauce. Simmer for 20 minutes.
Meanwhile, mix the cottage cheese, parmesan and mozzarella together. Set aside.
When the meat (or meatless) sauce is finished simmering start layering your lasagna in the baking dish. It should be layered squash, meat, cheese, squash, meat, cheese.
Bake for 35 minutes and then broil on high for 5 minutes so that the cheese on top gets browned and bubbly.
Eat.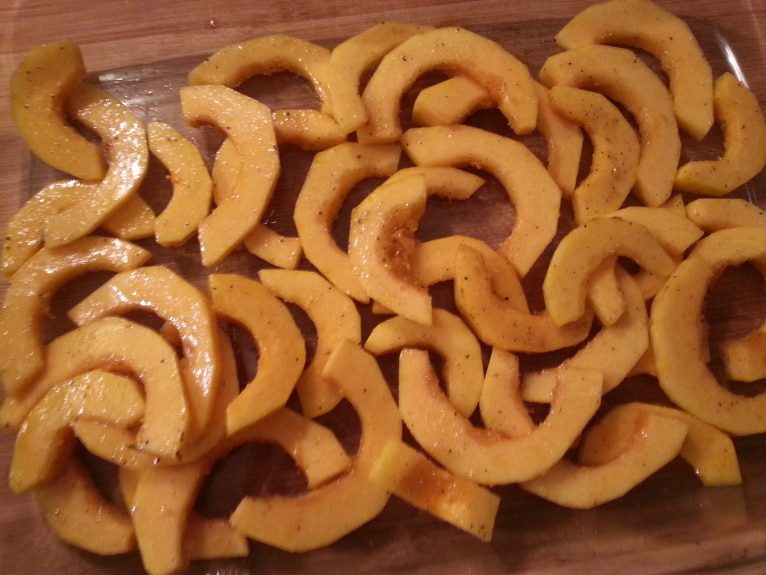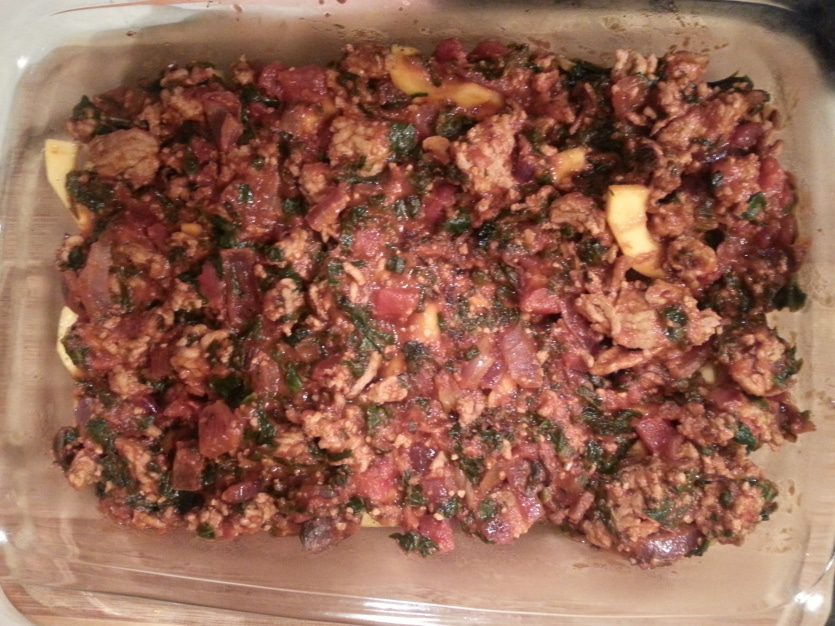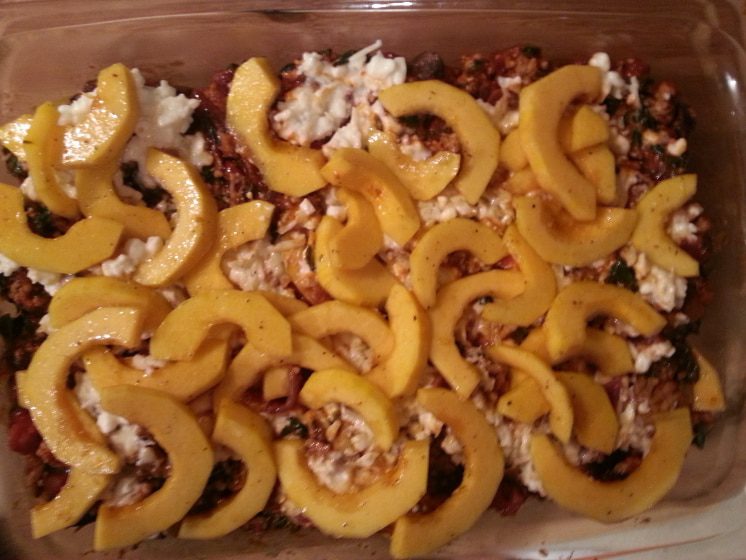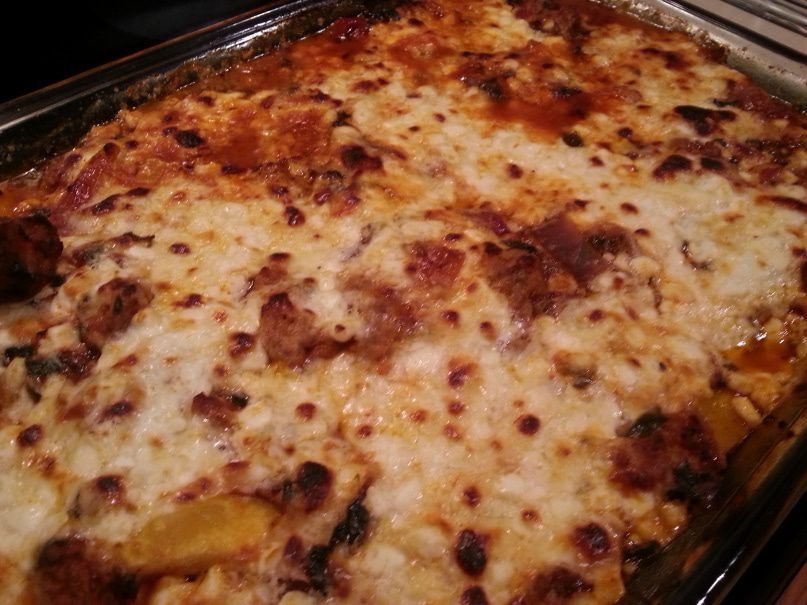 Just writing this makes me want to make it again, it really was so good. The squash gives this recipe such a unique flavour and really complements the rest of the dish. This would be a great option to serve to guests with a side salad and some garlic bread. It will be something that they likely haven't had anything similar to and it's so yummy. It's a lighter version to traditional lasagna and it's great for fall since it still feels like comfort food.
If you give this recipe a try please let me know how you like it!