Mangoes that are available here doesn't compare to the Indian mangoes. But I go loco just about seeing any kind of mangoes even though they are not my preferred choice, well, when in Rome do as the Romans do. We still are bundled up with sweatshirts and jackets when we go out due to chilly wind and abnormal cold weather this year. When we start getting mangoes in the market I get all excited as its one of the indication that warmer weather is around the corner. I'm still holding out my hope with a crate of mangoes in my kitchen table so I can finally pack my winter clothing and take out my capris and skirts and enjoy some much-needed sun.
I've been wanting to make pannacotta for a very long time but with agar agar instead of gelatin. Pairing delicious sweet mangoes with creamy pannacotta is like match made in heaven. This rich dessert is sure to be a party pleaser and can appease any age group for both its decadence and looks. In this recipe I combined both mango puree and cream, next time I'm gonna try layering pannacotta with mango puree to give a different look and taste. I'll be sure to update or write a new post if I happen to change the recipe. In the meanwhile, enjoy this one!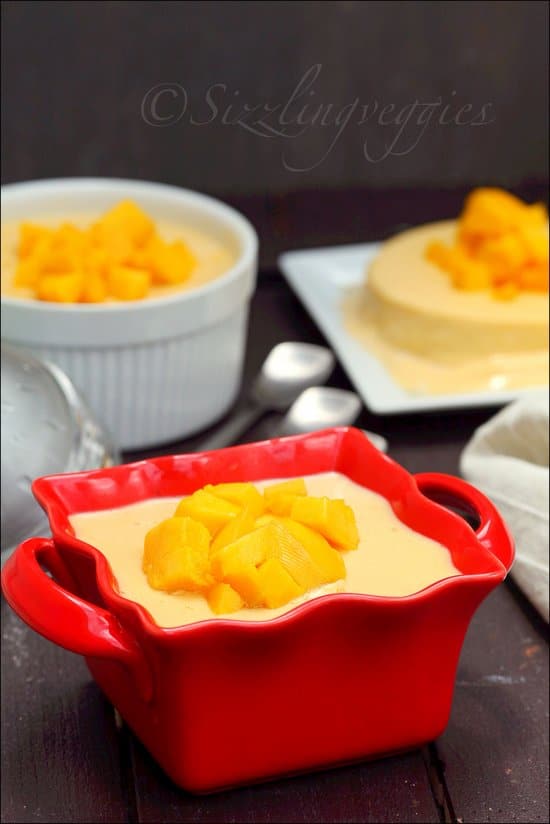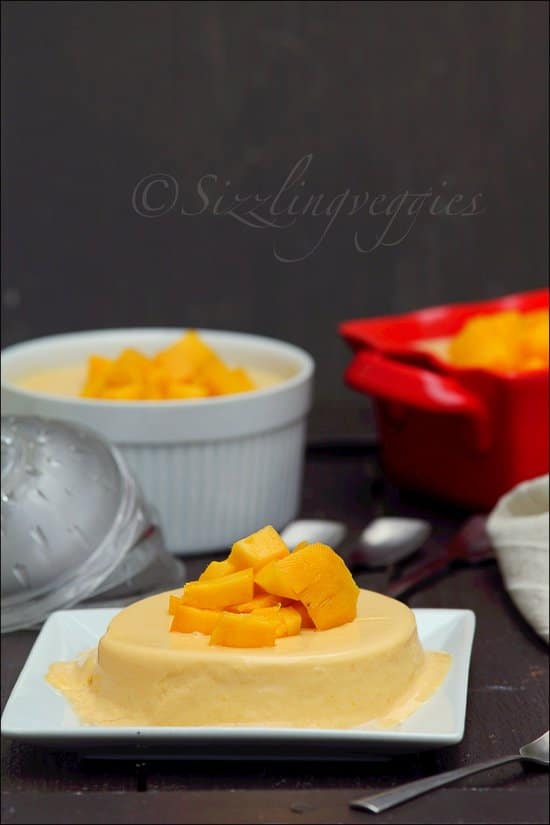 Mango Pannacotta
Ingredients
Mangoes — 2 medium (about 1.5 cups of mango puree)
Heavy Cream — 1 1/4 cups
Whole Milk — 1 cup
Agar Agar Strands — 4 tsp chopped finely (about 1 to 1.5 tsp powder)
Water — 2/3 cup (to soak agar agar)
Sugar — 1/2 cup (adjust based on the sweetness of the mangoes)
Vanilla Extract — 1/2 tsp
Instructions
In a bowl soak agar agar in warm water for about 10 minutes. Peel, chop and puree mangoes into a smooth puree. Keep aside.
In a saucepan using a wire whisk mix cream, sugar, and milk. Stir until sugar is dissolved completely. Continue heating the mixture in medium flame until the cream mixture comes to a very gently boil. Switch off the flame.
Simultaneously while the milk+cream mixture is heating, heat the agar agar solution in a small sauce pan. Stir continously until the strands are dissolved completely. Switch off the flame.
Let the cream mixture cool for about 5 minutes not more than that. Add the hot agar agar solution to the cream mixture and mix well using wire whisk. If the mixture is extremely hot let it cool for about another 2 minutes. Add mango puree and vanilla extract and mix completely.
Pour the mango panna cotta into the serving bowls and cover with aluminium wrap or plastic wrap. Once the bowl is warm to touch, place them in refrigerator for at least 4 to 5 hours or overnight. When ready to serve, top some chopped mangoes on each of the serving bowls Enjoy!!!