Do you know that I have never posted a sundae or milkshake recipe here on the blog? Utter disgrace that is, for a toddler's mom, I can rest assure you that she has endless supply of 'healthy' homemade ice-creams every now and then but somehow, we were never really big on sundaes. Or milkshake for that matter. Plain ice-cream satiates me, especially when it is my favourite flavour like Horlicks! Did you grow up with Horlicks or Milo? Tell me yes, and we can share a scoop of Horlicks Ice-cream. Or let's indulge in a Sundae, like what I did for BBC Good Food Asia column this month. This month's write-up is all about local flavours.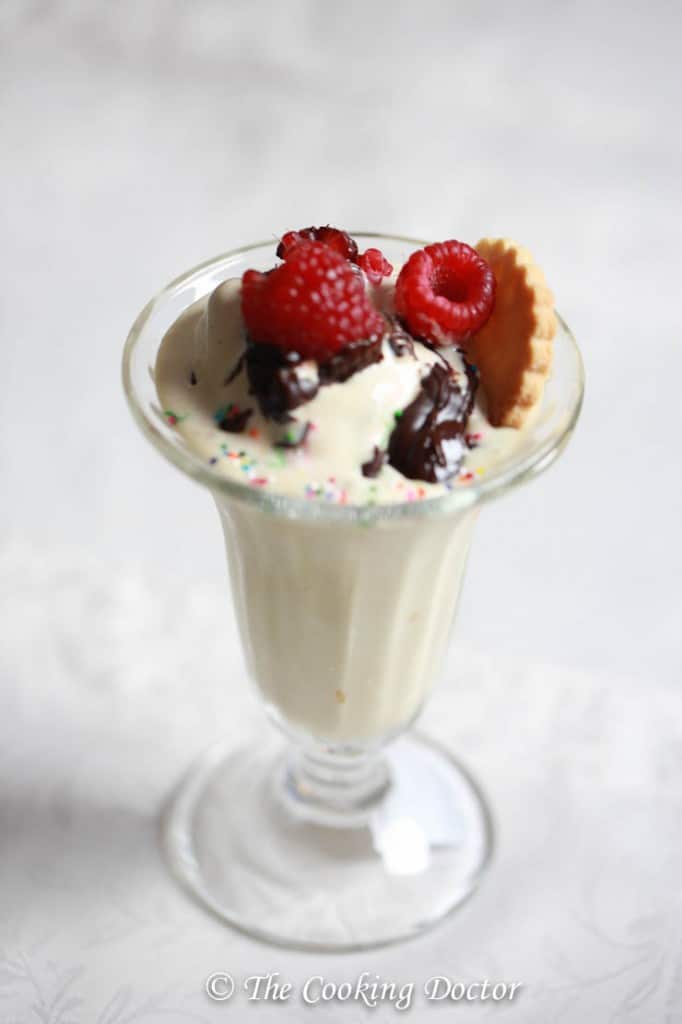 I am imagining that local flavours will transcend to Malaysia as well ( after all Singapore was part of us once upon a time! ). This month Singapore and Malaysia both celebrate the National Day. I just could not help but make batches of this Horlicks ice-cream, all in the name of 'recipe development' but truth be told, this ice-cream was love at first sight. I first had a taste of it at Straits Kitchen, Hyatt Singapore a couple of years back. We keep going there for their scrumptious buffet meals ( the last Ramadhan iftars were just out of the world!). Instead of hitting the usual 'buffet spots'- satay, chicken biryani, hainanese chicken rice, fried kway teow, middle eastern dips – I would run straight to the back and have a scoop of their Horlicks ice-cream. Once I was even tempted to ask the chef for the recipe, ha!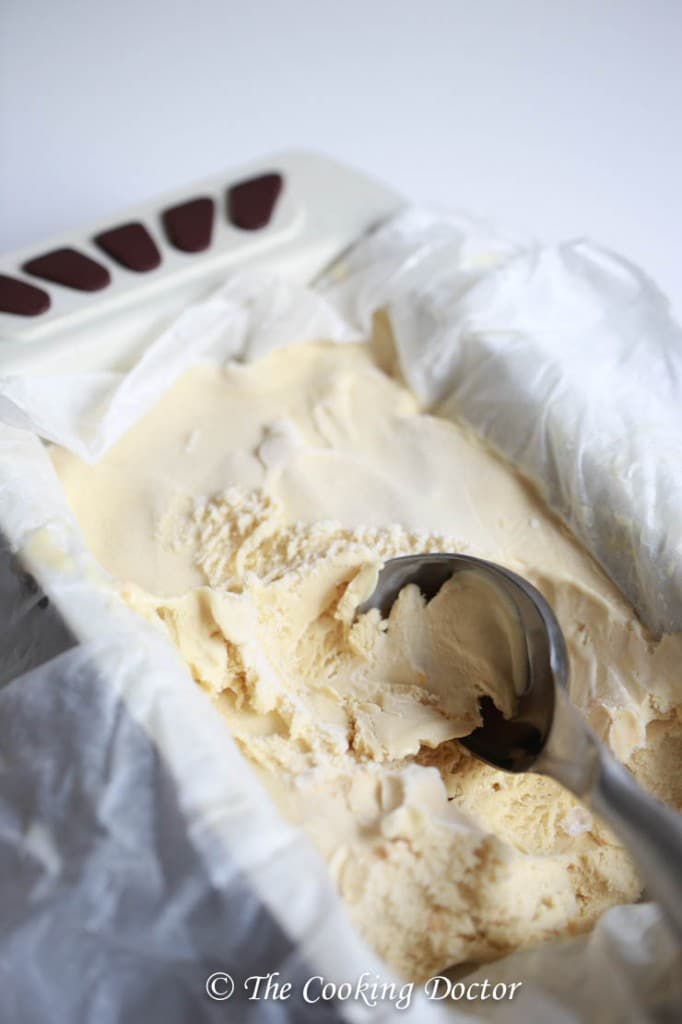 Instead, we tweaked our old favourite vanilla custard based ice-cream recipe and added a generous amount of Horlicks powder. Dare I say that this version taste better? Yes it does! Horlicks addition made it taste malty and creamier than the usual vanilla, although the amount of cream and egg yolks are kept minimal. To make it extra special, we had bowls and glasses of Sundae with it. Fresh fruits in, a good drizzle of melted chocolate and served with some almond shortbread cookies. I think I made up for the 3-year- sundae absence from the blog! If you don't fancy that, how about Horlicks ice-cream cookie sandwiches?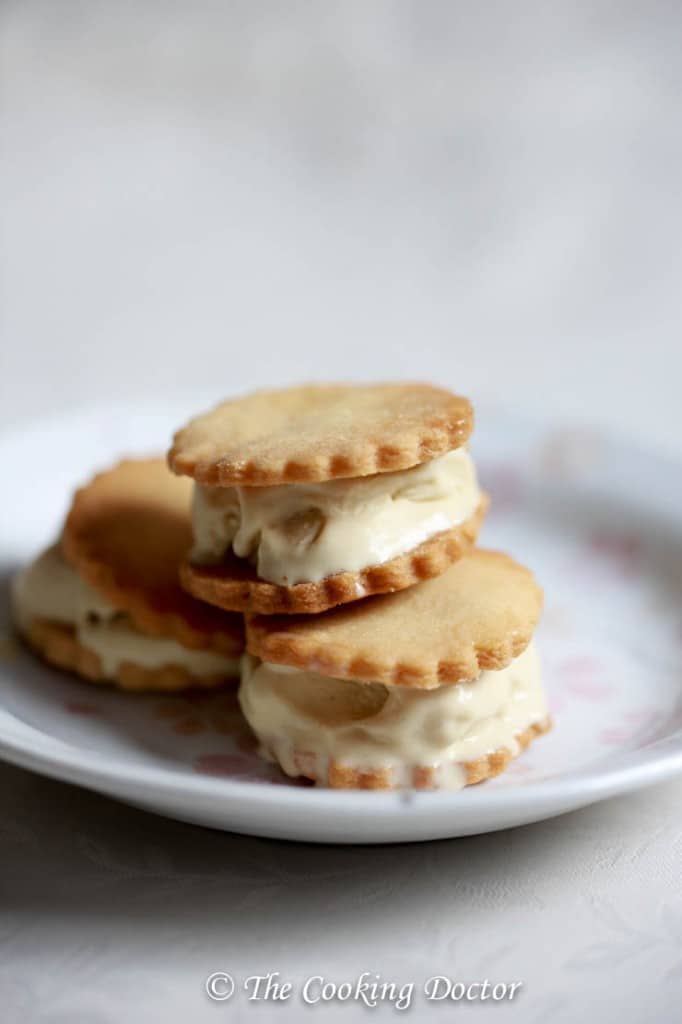 If you can grab a copy of Good Food Asia magazine, get them today! There is plenty for your feast from me: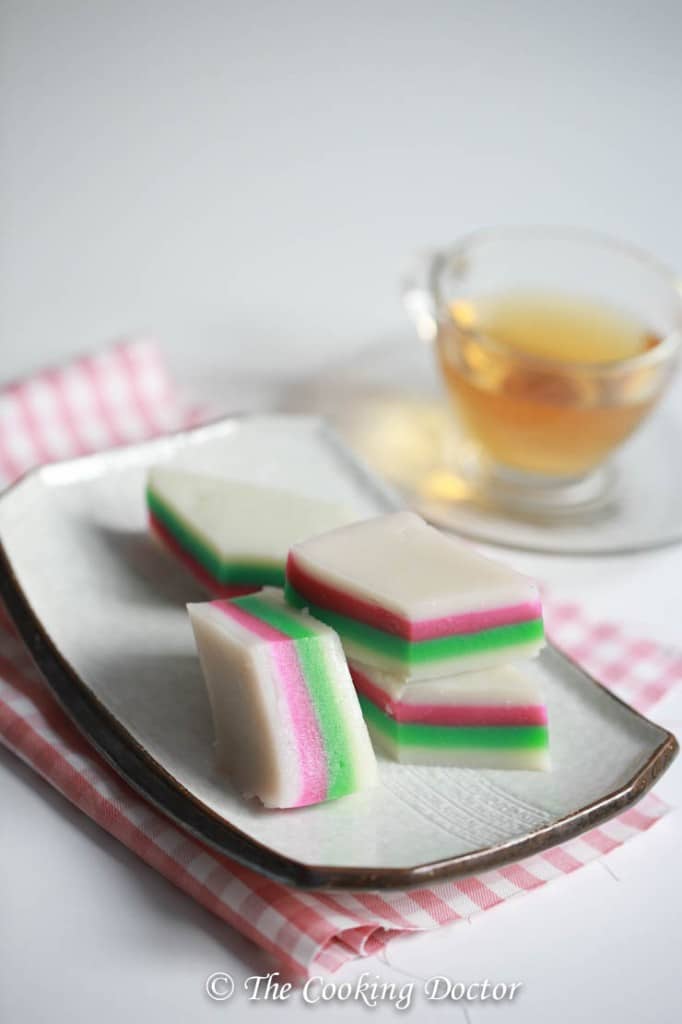 Kueh Lapis- our national favourite. Learn how to make it at home so you don't need to buy from Bengawan Solo.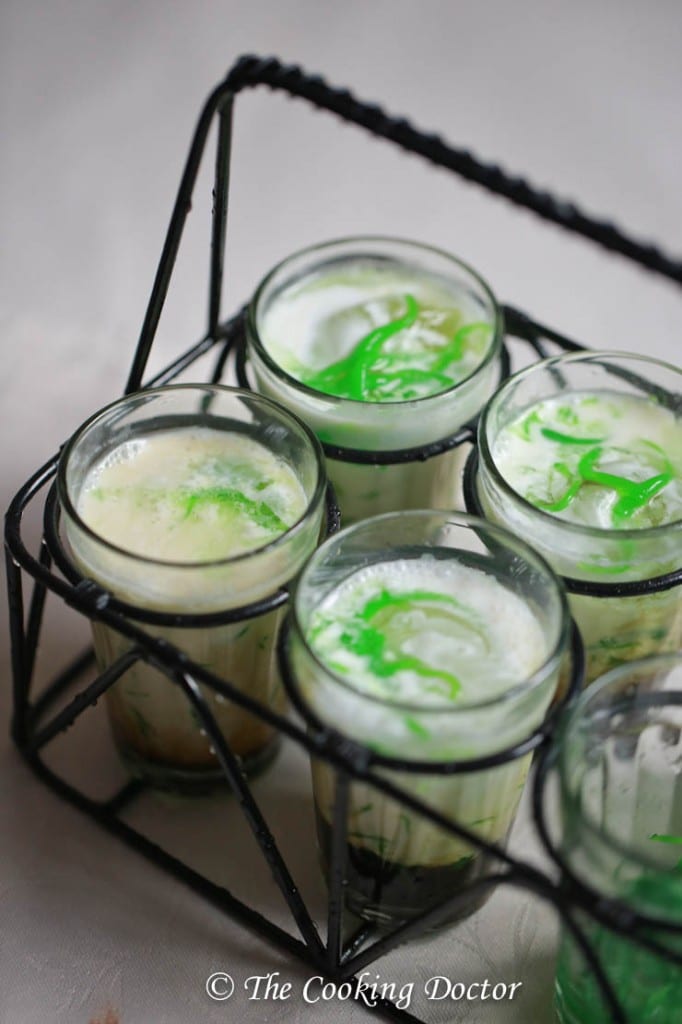 Chendol: the 3 layer drink made of 'chendol' ( that greenworms you see there! Made of flour ok, not actual worms), layered with melted palm sugar and coconut milk.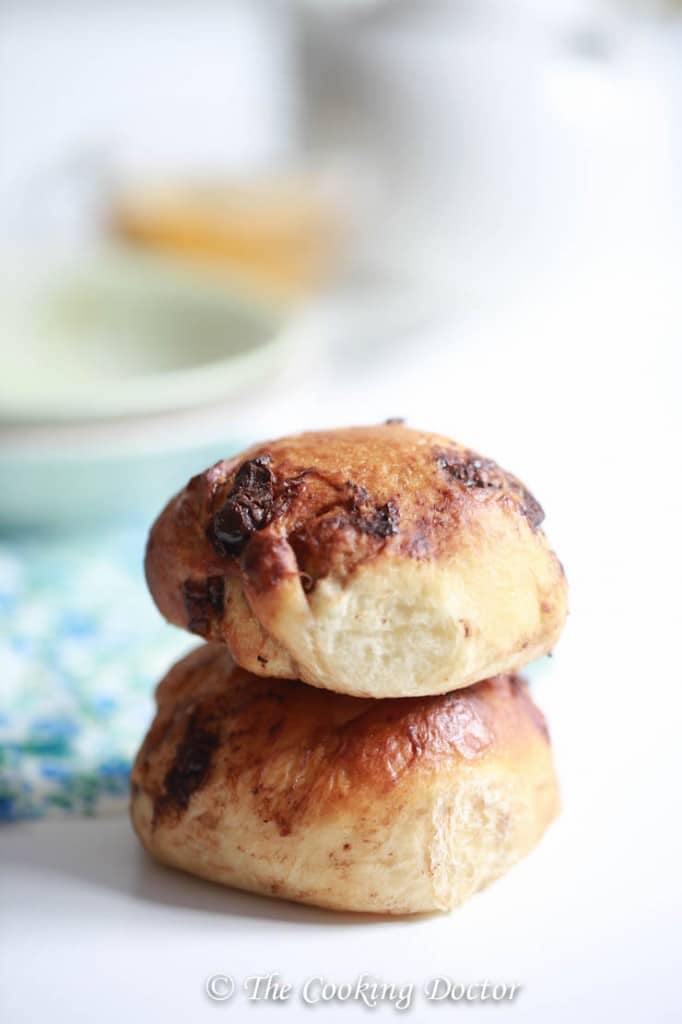 Chocolate chip Kaya buns. Delish. Kaya is our local egg jam, or custard. Somewhere in between and so heavenly.
Till then, do try this Horlicks ice-cream and let me know what you think! Does it remind you of your childhood too?
Horlicks ( Vanilla Malt ) Ice-Cream Sundae
Prep time:  12 mins
Total time:  12 mins
Serves: 12
Horlicks ice-cream Sundae, a reminiscence of Asian childhood. Homemade ice-cream and topped with fresh fruits, ganache and shortbread.
Ingredients
2 cups milk
1 cup double cream
4 large egg yolks
1 cup Horlicks
a pinch of salt
⅓ cup granulated sugar
1 vanilla pod, scrape the seeds
For garnish:
-melted chocolate
-raspberries
– shortbread cookie
Instructions
In a heavy bottomed pan, melt the milk with vanilla seeds and sugar until boiling point.
In a bowl, whisk the egg yolk until almost pale.
Once the milk reaches boiling point, pour slowly into the eggs whilst whisking simultaneously.
Add in the Horlicks and combine well.
Transfer the content back into the saucepan and simmer on low heat until the mixture thickens slightly.
Remove from heat and add in the cold cream.
Chill and churn according to the ice cream maker's instruction.
Scoop some ice-cream into a sundae glass.
Drizzle with chocolate, and serve with raspberries and shortbread cookie.