Alright, it's official. I don't think I will be buying ice-creams for a long time. A few days back, I made my very first ice-cream – a mango flavoured one – and it was out of this world. Holy yum!

Melting by the minute! Photographing ice-cream ranks right up there with soufflés.

Well, it was a very hot day. No, that would be an understatement. It was scorching, sweltering, suffocating. I felt like passing out in the still of the humidity and the heat of the kitchen. Then, I looked at the 4 mangoes lying on my kitchen top and like a thirsty traveller in a desert, I saw a mirage (cue dramatic drum roll). The words, "ICE-CREAM!" were written all over them.

A quick check online for a recipe without needing an ice-cream machine yieldedNigella's No Churn Pomegranate Ice-Cream. Bingo, exactly what I needed!

But then, there were hiccups. The recipe called for 3/4 cup of pomegranate + lime juice, but I was using mangoes, which were more pulp than juice. Still, I took the chance and went ahead (fools rush in where angels fear to tread, I say).

As all 4 of my mangoes were already very ripe, I decided to puree them all, and that yielded 2 staggering cups of pulp! Oh nevermind, I thought. I will just have a stronger mango flavour ;P

So after changing the entire face of this recipe, I ended up with ice-cream that I had to churn. But no worries … I only needed to churn 3 times and it was ready 🙂

I think the excessive mango puree may have affected the whipping cream's ability to be whipped properly. I could not get soft peaks no matter how hard I tried. Perhaps the next time, I will follow the original pomegranate recipe to a 'T' and see if it works for me. I can't wait!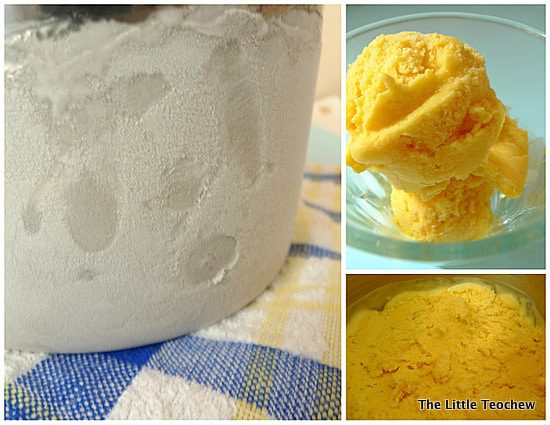 Recipe
– 4 ripe mangoes, peeled and cut into chunks
– 175g icing sugar
– 500ml whipping cream
1. Puree the mango chunks by pressing them through a wire sieve. This will ensure a smooth puree.
2. Add icing sugar and whipping cream to the mango puree and whisk to combine.
3. According to Nigella's recipe: "Whisk until soft peaks form" but no matter how long I whisked, I just could not whip to that stage. Too much mango, I suppose! Next time, I will skip this stage.
4. Spoon and smooth the ice cream into the airtight container of your choice and freeze for at least 4 hours, or overnight. I placed my mixture in a metal food carrier, covered loosely with a paper plate and placed it in the freezer 😉
5. About 2 hours later, I checked on it and there were already ice crystals on the edges of the mixture. I churned it with a large spoon and put it back in the freezer. After another 2 hours, I repeated the process. By this time, 90% of the mixture already resembled ice-cream and if you like your ice-cream soft, you can start eating now.
You can imagine how excited I was, doing my little happy dance and stealing spoonfuls of that golden goodness as I churned. Okay, okay, I will be honest – I was eating from the moment I peeled the mangoes!
So, I churned it one last time and left it in the freezer for another hour, and it was truly icy and firm by then. The remainder, I left it in the freezer overnight, covered with the proper carrier lid.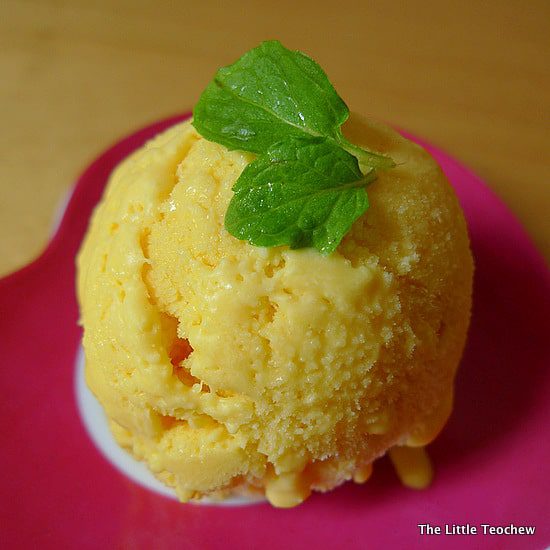 I just wanted to comment on the giant mint leaves … they are from Cameron Highlands, and they filled my entire kitchen with their refreshing scent. 🙂
Now, this stuff is gold, and I am not just referring to the colour. It's silky, smooth, creamy and fragrant … simply sublime. And done with the most primitive of methods and equipment. In other words, ANYONE can make ice-cream. Now, isn't that something to cheer about? 🙂