My children would never eat a leek even if I dangled them a carrot (haha, how corny)! Hey, that's three different veggies in one sentence. 😀
Anyway, the last time I madePrawn and Leek Fried Rice, I had some leeks leftover and I already knew I wanted to make a soup with it. For me, soups (especially creamy ones) always work when I want to introduce new foods to my children.
Asparagus? Yuck.
Cream of Asparagus? Yum!
Cauliflower? Nooooo!
Cream of Cauliflower? Yum!
You get the idea.
By coincidence,Wiffy made a leek (and potato) soup first, so … lucky me. I just went straight to her blog and saved myself a detour. 🙂 Thanks, Wiffygal!
OK, so I tweaked the recipe somewhat. I added a little cream but omitted onions, and I made everything in one pot. I added a side dish of chicken tenders and that was my daughter's after-school late lunch. Which she thoroughly enjoyed, I might add. 😉 Of course, I only told her about the leeks after she slurped up the last drop! Tell me, which mom isn't devious when it comes to making their children eat?
*cue evil laughter*
By which time, she had already fallen too deeply in love with this soup to care. In fact, she asked for it again the next day. 😉 Told ya,creamy soups rawk!
Recipe
(adapted from noobcook)
– 1 knob butter
– 2 baby leeks, sliced thinly
– 1 garlic clove, peeled and crushed
– 250ml chicken stock
– 1 large floury potato, peeled and cut into small chunks
– 2 tbsps light cream
– Salt to taste
– Parsley and black pepper (for garnishing)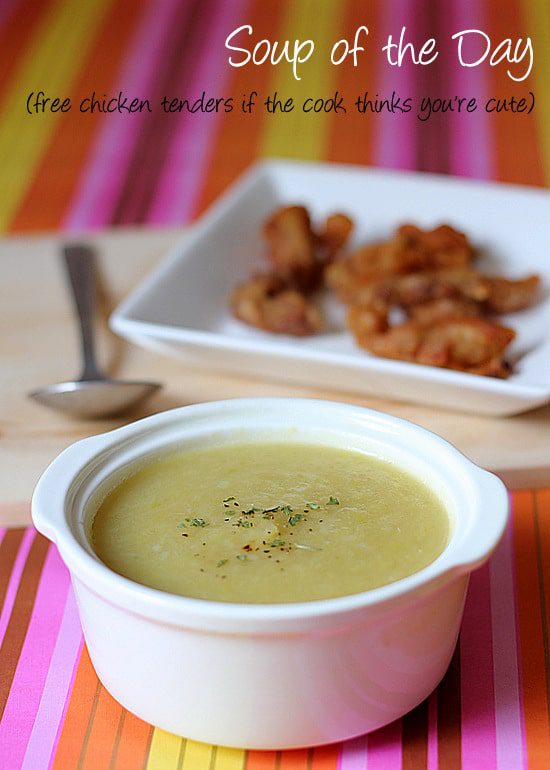 1. Melt butter in large and deep saucepan. And leeks and cook over gentle flame till soft. Add garlic. Allow aromas to mingle.
2. Pour in stock. Add potato and bring to the rolling boil. Reduce heat, cover and simmer gently until the potatoes are fork tender.
3. Use a potato masher to mash up everything up into a puree. Just mash directly in the pot.
4. Add light cream and stir well. I used a small whisk.
5. Season with salt and pepper, and behold, soup of the day is ready to be served!
PS: I just know there will be people asking for the chicken tenders recipe, so I'm telling you now, there is none. I simply marinated boneless chicken thigh meat overnight in pre-mix powder and fried them the next day.