Thank you for all your encouraging words in my last post. I'm sorry to bring you back to earth with mundane home cooking today! Martha Stewart I am not, so glammed up food can only appear occasionally. Besides, styling requires extra work, but I promise I will try my best whenever possible. 😉 Anyhow, here's what I made – Sambal Tumis, which is essentially stir-fried chilli paste.

This is the second time I have made Sambal Tumis withZurin's recipe. It's really sedap (delicious)! I think I tripled the recipe for this batch because we finished it up so quickly the last time. But don't take my word for it, ask Quinn or better yet, try it yourself.

This bowl of vermillion goodness is fresh red chilli blended with oil. I used a food processor for this, and it always helps if you add some oil for a smoother blend.

Note that Zurin used dried chilli, but I didn't want to go through the trouble of soaking first, so I used fresh ones (remember to remove as many seeds as you can, unless you like it REALLY hot). You can use either type of chilli – I have tried both. The only difference (to me, at least) is that the dried ones give a deeper, darker hue of red.

Oh, here's a tip: crush the garlic cloves before you put them into the processor. If you find any shoots inside, discard them as they are bitter.

And another tip: Zurin's recipe called for candlenuts or walnuts, but I subbed with macademia because I had a lot of those. Macademia nuts are often used interchangeably with candlenuts, by the way. They even look similar!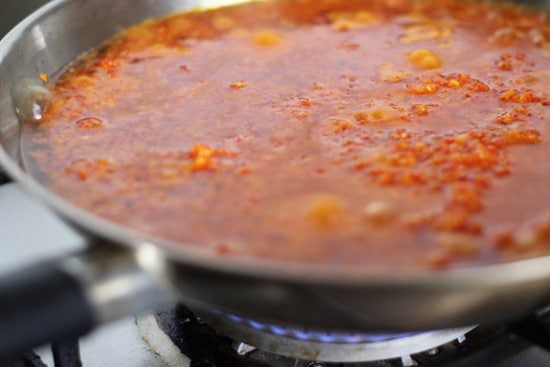 Lots. Of. Oil. Just accept the fact that making such pastes require plenty of oil, and move on with it. 😉 Note how small my flame is. Keep it really low or the sambal will burn.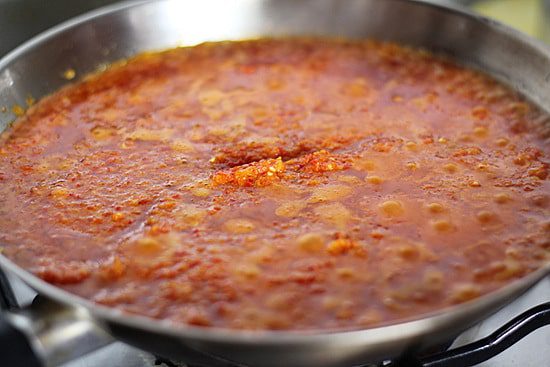 After a while, the chilli paste will start bubbling and absorbing the oil. I added the tamarind pulp water, sugar and salt but I increased the amounts of the latter two. I did not use belacan because I wanted to keep this a vegetarian recipe. There are no hard and fast rules to this, so taste as you cook, and adjust to your preference.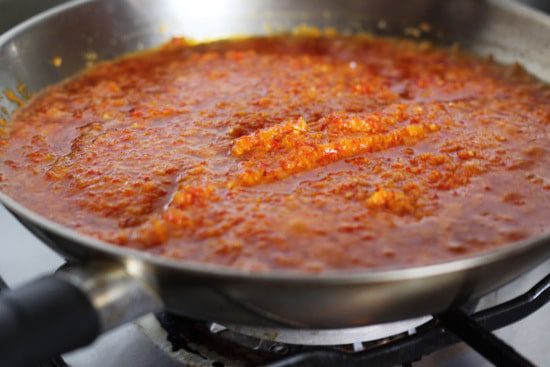 See how it has started to thicken? The oil appears to have reduced drastically too. After 45 minutes of constant stirring over a medium flame, you get this: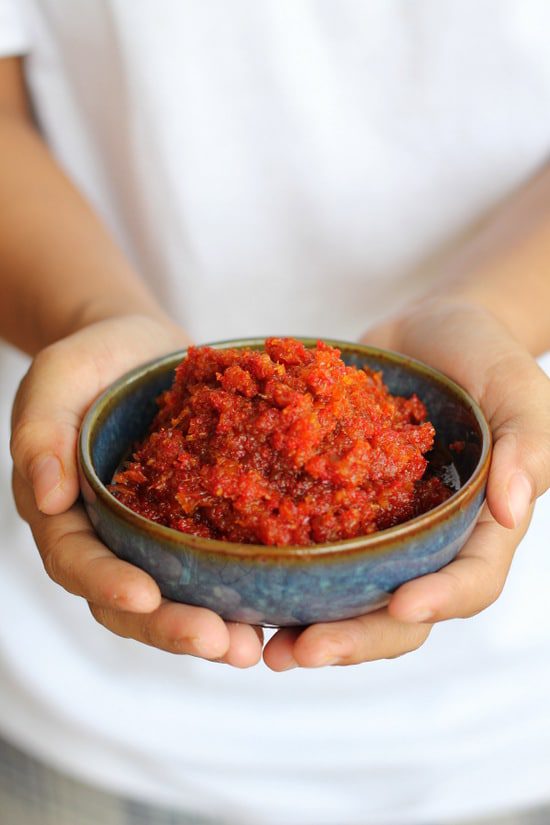 Sambal Tumis in a gorgeous red (excess oil has been skimmed off). Want some? 😉 Let it cool.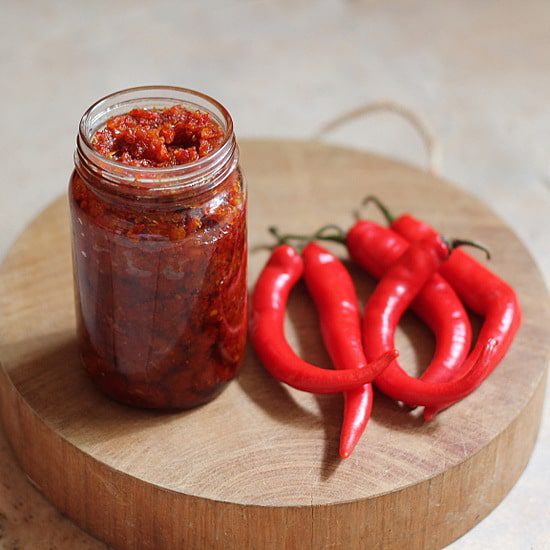 Then keep in a clean and dry glass jar. How easy is that? Now, go take a shower. You'll be stinky and sweaty after this, I promise.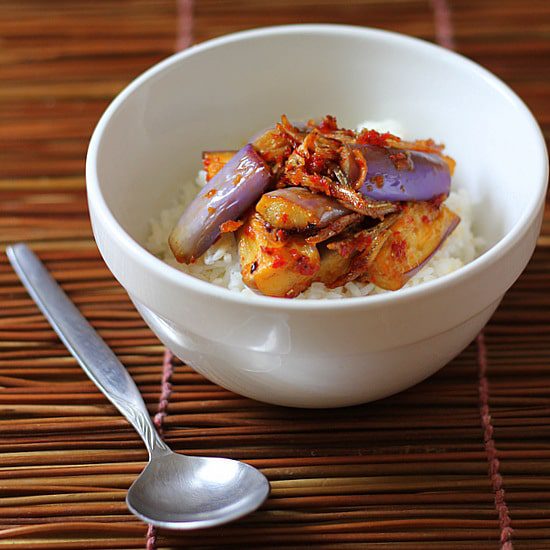 Here's something I whipped up in under 30 minutes using this Sambal Tumis. Fry the dried anchovies (ikan bilis) till they are crispy, set them aside to drain off excess oil. In the meantime, fry your brinjal (eggplant) till they are about cooked. Add one or two tablespoons of Sambal Tumis, throw the crispy anchovies back in, and just stirfry to get everything coated. Taste test and add salt or sugar if required. Dish up onto rice and dig in.
You can make this with long beans too. This is one of my favourite weekday lunch choices because it's not only yummy but quick. The sambal delivers all the flavour, and you don't even need to slice any garlic or shallots!