My family has some odd traditions when it comes to holidays. Instead of buying Valentine's or Mother's Day cards, we stand in the card aisle at the store sharing funny cards that remind us of the recipient. After sharing the perfect card, we declare cards given and received and move on with our day. Or we make a phone call if we aren't local. Yeah, we think store bought cards are a waste of money. But you know what? Instead of buying cards, we spend a few extra minutes together that we might not have. And we usually spend those minutes making fun of one another.
We're also not really present people. My brother and I prefer cold hard cash. My parents? Well let's just say that since I was probably about 10 years old, I've been the go-between on the present front. However, these days they skip the middlewoman and just take the holiday to purchase whatever they want for themselves. I'm pretty sure this turn of events was caused by a certain husband failing to purchase his wife Bette Midler tickets after his daughter informed himat least five times that they were the requested gift. But that's a whole other story unto itself.  So, what do I usually do for my parents?  Well, it's no longer acceptable to slap my handprint on a piece of paper and call it a gift. And it's kind of silly to buy someone a present with the money they gave you. If I'm around, I just do something for them around the house that makes their day or week a little nicer. Seriously–my mom would be ecstatic to see the house cleaned for Mother's Day. Since I'm still impoverished (damn you, economy!), I went with my usual "gift" this past Sunday and made my dad a dinner of his choosing for Father's Day.
A little over three months ago I made my first risotto. My tastebuds were recalling this amazing truffle risotto I had eaten in Evil Law School City on my 24th birthday. I wasn't really sure how to recreate the dish, so I decided to make a mushroom risotto. It ended up being fairly easyand fabulous–my family loved it. I wasn't surprised that it was one of his dinner choices. The best thing about risotto is that you can add just about anything to it. The rice brings something special to any combination of vegetables, meat and herbs. One of my favorites combos is lemon, asparagus and scallops. This time I chose to merge my mushroom risotto with something a little different. Chicken Marsala was one of the other dinner potentials, so I decided to combine it with the risotto to get the best of both worlds. By allowing a large quantity of mushrooms to absorb the wine prior to being cooked in chicken stock, and by adding more wine when the risotto was nearly finished,  I was able to preserve that wonderful marsala taste. This really turned out to be another creamy and delicious risotto that will have a permanent place in my dinner rotation.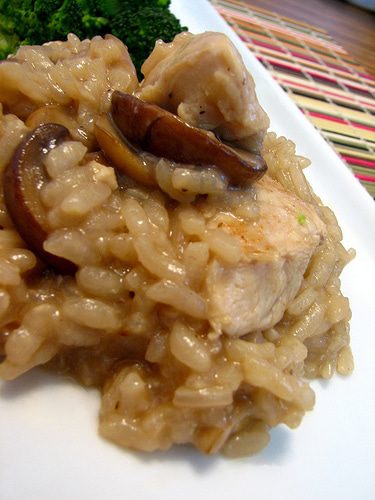 Chicken Marsala Risotto
1 1/2 cups arborio rice
5-6 cups chicken stock
1 3/4 cups marsala wine
1 lb. mushrooms, sliced (any)
3 cloves garlic, minced
4 shallots, finely diced
2 Tbsp. butter
2 large chicken breasts, cut in chunks
1/2 cup grated parmesan or asiago
olive oil
freshly ground black pepper
thyme
kosher salt
1. Slice the mushrooms, dice the shallots and mince your garlic. Cut your chicken. Grate your cheese.
2. Place chicken stock in a pot with 1/3 cup of some of your more flavorful mushrooms. I used cremini and white button mushrooms, so I put cremini slices in the stock. Bring to a boil, cover and simmer while you make your risotto.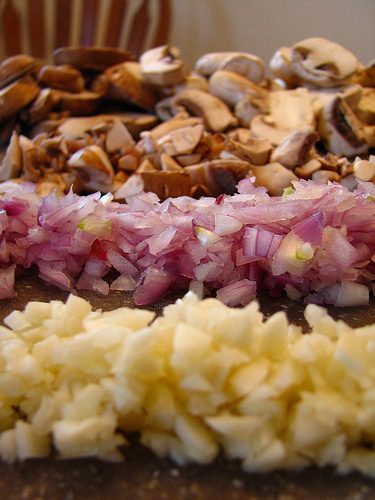 3. In a large saute pan, melt butter and about a tablespoon of olive oil. Add shallots and cook until slightly translucent.
4. Add in garlic and sliced mushrooms. At this point, using a slotted spoon, remove mushrooms from broth. Finely dice these mushrooms and add to the pan.
5. Cook until  shallots are cooked through, mushrooms are tender, and most of the liquid has evaporated, approximately 5 minutes.
6. Add your rice and stir around, coating it with any oil or liquid in the pan. Let it toast until the edges of the grains have turned translucent. A few minutes.
7. Add 1 cup of marsala, stirring frequently until absorbed. Risotto does not have to be stirred constantly. Stir for one minute, walk away for a few minutes, come back and stir again. When it looks like most of the liquid has been absorbed, stir until it has all been absorbed. You'll know it's  time to stand there and stir when it starts to bubble and looks like it could use a twirl around the pan before it sticks or burns.
8. 1/2 cup by 1/2 cup, start adding the stock to the pan, following the stirring instructions above. Go to step 10 when you have approximately 1 cup of stock left.
9. About halfway through your stock, take your chicken, which should be in chunks,  grind some pepper onto it and sprinkle some kosher salt and thyme. Being mindful of your risotto's stirring and liquid needs, heat up a pan to medium-high heat on another burner with 1 teaspoon of olive oil. Toss in your chicken, browning the outsides. Lower heat and add 1/4 marsala wine in the pan for flavor. You can use as much or as little as you want here, though. Cook fully, and cover to keep warm.
10. When you have approximately 1 cup of stock left, taste your risotto. If it needs salt, add some salt. If it needs pepper, add some pepper. At this time, add in the reserved 1/2 cup of marsala and stir in.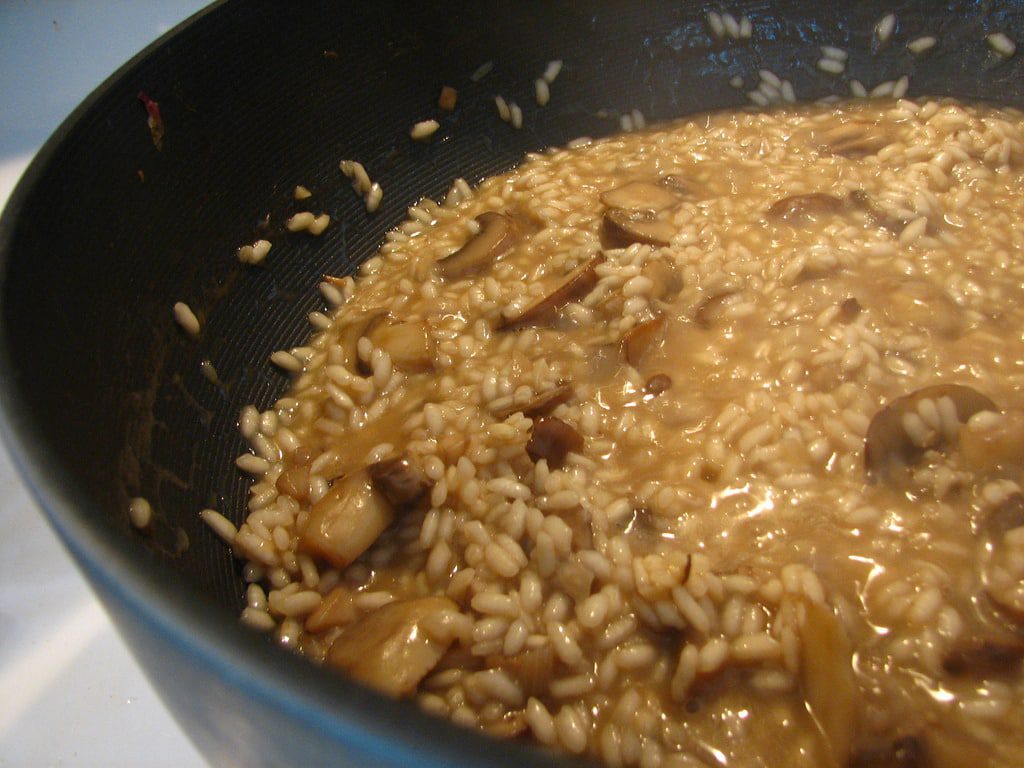 11. When marsala has been absorbed, taste again for seasoning and texture. Some people prefer their risotto a bit more al dente than others. Add last cup of stock in 1/4 cup increments to achieve the texture you would like.
12. When the last of your stock is almost fully absorbed, toss in chicken (including any liquid left, if you'd like), and stir, making sure the chicken is hot.
13. When the last of the liquid has fully absorbed and chicken is hot, take off of burner and stir in cheese. Serve with asparagus or other vegetables.