Just about every day, I spend a little time drooling over recipes on The Kitchn blog. I love finding inspiration from their posts on different spices, cooking techniques, and flavor combinations. They even post a pretty good number of vegan recipes, which makes me feel kind of warm and fuzzy inside.When I saw the post recently for Coconut Mango Oat Muffins, which were not remotely vegan, I nearly tripped over my own fingers. I salivated at the thought of coconut, mango, oats, and vanilla bean all together in warm muffin-y goodness. I knew I had to figure out how to veganize this recipe.

I immediately turned to my favorite resource for baking tricks: my friend Sarah of Gazing In. "How on earth," I asked in a panic, "can we possibly make these vegan? And gluten-free? And soy-free?"

It's lucky for me that Sarah enjoys a good foodie challenge as much as I do. Otherwise, I don't think our friendship would have survived as long as it has.

We batted around some ideas and both agreed that this was one recipe that had to be attempted, and quickly. I set to work adapting the original recipe to not only be both dairy-free and egg-free, but also gluten-free and soy-free. And my mission was a wild success.
So, what's up with the gluten-free and soy-free request? I don't have celiac and I'm not allergic to soy, but I'm taking a little time off from both of them to give my body a break. I could have easily made this recipe with wheat flour and soy yogurt, instead of turning to gluten-free flours and coconut yogurt, but I enjoyed the challenge. And, honestly, I think the coconut yogurt added quite a bit of flavor and I wouldn't skip it, even if you're okay with soy.
Another thing? The original recipe only yielded 10 muffins. I got 12 out of my version, using exactly the same volume of ingredients. I guess sometimes vegan baking is just that awesome.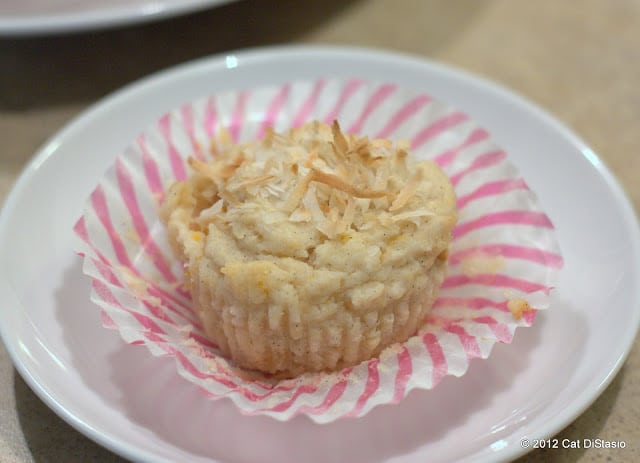 Coconut Mango Oat Muffins (adapted from The Kitchn)
Yield: 12 muffins
3/4 cupBob's Red Mill All-Purpose Gluten-Free Baking Flour

3/4 cup oat flour
1/2 cup unsweetened shredded coconut
1 1/2 tsp baking powder
1/2 tsp salt
1 cup (8oz) So Delicious Cultured Coconut Milk Yogurt (vanilla flavor)
3 Tbsp agave nectar
1 tsp lemon zest (I used Meyer lemon)
1 vanilla bean, split and scraped
1/2 cup coconut oil, melted
2 Ataulfo mangoes, chopped (about 1 cup)
extra shredded coconut, for topping
Preheat oven to 375°F and line 12 muffin cups with liners or oil generously.
In a medium bowl, combine flours, coconut, baking powder, and salt. Set aside.
In another bowl, whisk together yogurt, agave, lemon zest, and vanilla bean scrapings.
Add coconut oil and whisk gently to combine.
Add dry ingredients to the wet mixture in 3 separate batches, stirring each until nearly combined before adding more.
Fold in chopped mango.
Scoop into muffin tins (about 3/4 full or more). Top each with 1 tsp coconut.
Bake 22-25 minutes or until a toothpick comes out clean. Remove from baking pan and cool on rack.
These will last a few days at room temp, but I like to freeze them and pull them out as needed, lest I snarf down the whole batch by myself in 3 days.