This is #3 in a series of recipes that I'm testing and sharing from Paula Shoyer's cookbook on pareve baking, The Kosher Baker. I was provided with a review copy of the book, but my opinions are my own. You can learn more about Paula's work at In Paula's Kitchen. 

Previously from The Kosher Baker: chocolate candy hamentaschen and chocolate amaretto truffles.
I think I live in the windiest city ever, ever created. And it's really not helpful for photo shoots. The day I baked this cake, it was so windy that I didn't even attempt going outside with my camera and props. I figured I could wait until morning.
But the next day, it was still windy. Ridiculously windy. And for some reason, I decided it was the perfect time to use tissue paper in my photos. Did it work? You decide.
Anyway, we're supposed to be talking about this cake. It's great.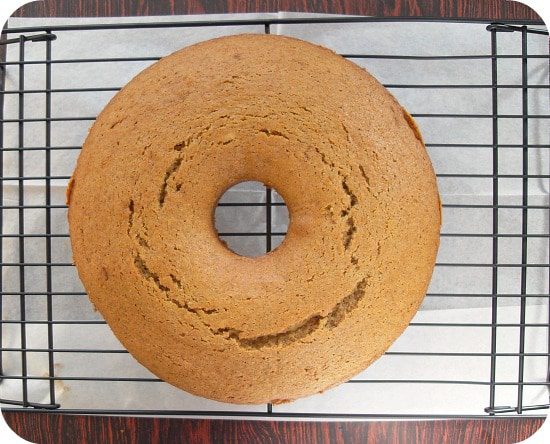 In general, I'm not such a fan of pareve baking, and so my journey through The Kosher Baker has been interesting. When a recipe calls for margarine (in this book and everywhere else), I wonder whether the final result is just as good as the butter version. I rarely use margarine at home, but for this cake, I decided to do an official comparison. So I made it both ways.

And I almost hate to admit it, but I couldn't tell the difference. They both totally worked.
Paula's pumpkin cake is a one-bowl recipe made from simple ingredients, half of which are spices. I mixed the batter in my KitchenAid, but only because I tend to use it for everything. You could definitely use a hand mixer or even some elbow grease, if you don't mind creaming together margarine/butter and sugar that way.
People tend to bring out the pumpkin recipes in the fall, and I guess it's understandable. But if you live in a place where they sell fresh pumpkin year-round, try this in the spring or summer with a scoop of vanilla ice cream on top.
What's really special about this cake isn't that it's easy, or that it's soft and light, or that it's an excellent way to use pumpkin. No, the best thing about it is the aroma. Every time I lifted the cover off my cake plate, I was practically assaulted with the smell of cloves and cinnamon and nutmeg. It's an experience worth repeating.
Recipe at a glance:
Accessible ingredients? Yes. If you can't get fresh pumpkin in your area, the canned variety will do. But if you can get the fresh stuff, make a big batch of pumpkin puree and freeze it in portions.
Multiple steps required? Barely. You're really just beating the ingredients together in several additions.
Left with lots of dirty dishes? Nope. One-bowl recipes, guys. This is why we love them.
Taste worth the effort? Yes!
Make again? Yes, though I'll always use butter over margarine.
Pumpkin cake
Tweaked from The Kosher Baker


Yield: About 12 servings
Ingredients
spray oil and flour, to grease and flour the pan
½ cup unsalted butter or margarine
1 cup granulated sugar
1 cup pumpkin puree
1 tsp vanilla extract
2 eggs
1 cup all-purpose flour
1 cup whole wheat flour
½ tsp salt
1 tsp baking powder
1 tsp baking soda
1 tsp cinnamon
1 tsp ground ginger
½ tsp ground cloves
½ tsp ground nutmeg
powdered sugar, to dust the top
Directions
1. Preheat the oven to 350 F/180 C and grease and flour a tube or Bundt pan. (Never greased and floured a pan? Grease the pan well, making sure all surfaces are lightly oiled, and sprinkle about a tablespoon of flour inside. Bang it out over the trash to remove excess flour.)
2. Beat the butter/margarine and sugar together until fluffy in a stand mixer or hand mixer. Beating again after each addition, add the pumpkin puree, vanilla, and eggs.
3. Add flours, salt, baking powder, baking soda, cinnamon, ginger, cloves, and nutmeg. Beat until everything is evenly incorporated. Scoop the batter out into the prepared pan and even out the surface as much as possible.
4. Bake 45 minutes, or until a knife inserted at the center comes out clean. Let cool for 10 minutes in the pan, then slide the knife around the cake's edges and turn it out onto a rack to let it cool the rest of the way. Before serving, dust with powdered sugar.
Storage: Keeps well at room temperature for up to five days if stored in an airtight container (or cake plate!). Paula says you can also freeze it, wrapped in plastic, for up to three months.