Thank you for all the birthday wishes! I had a nice one. I had the day off from work and got to spend time with family and friends. I got some sweet baking supplies too, as gifts, and I can't wait to use them. Some friends from work also bought me a gift card, which I'm very happy about. I'm going to use it towards something for this blog, so stay tuned. I need to bake them something special as a thank you gift. Cookies, perhaps??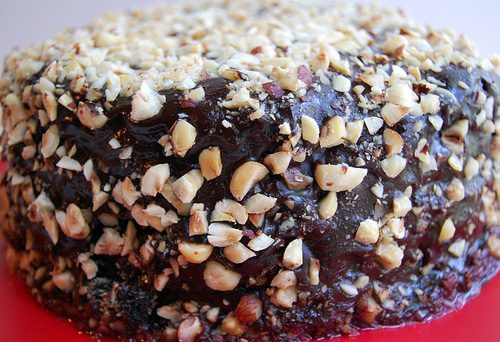 I can't say that anything extremely exciting happened on my birthday. I don't have any craaaazy stories for you. No onestole a piece of my cake this year.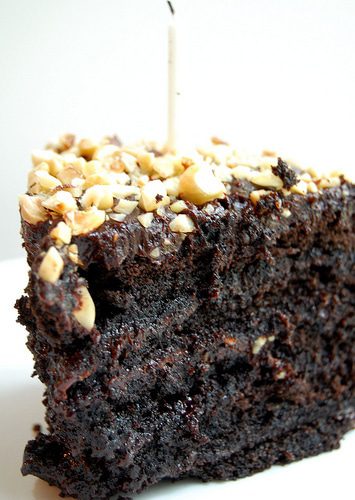 I guess my most exciting moment of the day was getting to try my Chocolate-Hazelnut Cake with Raspberry Preserves & Chocolate Ganache. My favorite kind of cake is chocolate. Dark chocolate with dark chocolate ganache. I love raspberry preserves, Nutella and hazelnuts, so I thought I would use all of these flavors together to make my ultimate birthday cake. It was very delicious; the cake was dark chocolate-y and moist. and I would use this recipe for other chocolate cakes.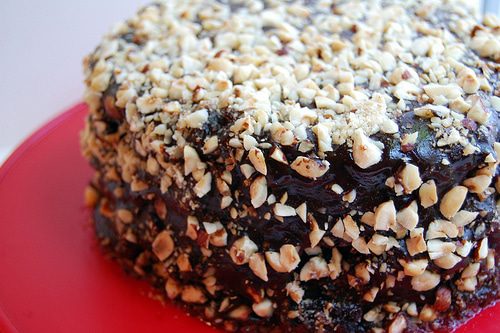 I baked this cake in three cake pans, then split each round into two layers. I really hate splitting cakes and I need help with it. I used the floss and toothpick method, and I guess it worked okay, but it stressed me out. I stood there for about ten minutes, just staring at the cakes, before I had the guts to go for it.
That's all for today. I hope to get caught up on reading blogs soon. This is our busiest time of the year at the restaurant I wait tables at, so I'm not getting home until 10:30-11:00 at night. Yup, July is the month when I'm the most tired, most sweaty, most stressed out, and when I get the most candied yams in my hair and gravy on my shirt.
Anyway, try this cake! Make your own version – you could use different preserves, spreads, and nuts.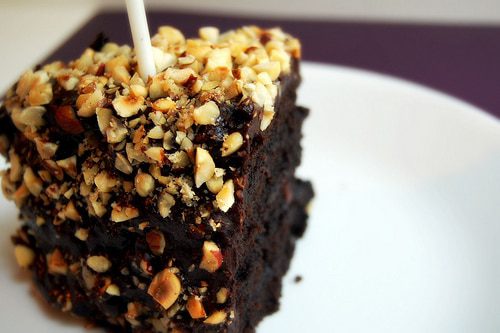 Chocolate-Hazelnut Cake with Raspberry Preserves & Chocolate Ganache
3 large eggs
2 cups cake flour

1/2 cup dark, unsweetened, cocoa powder

1 tablespoon baking powder

3/4 teaspoon salt

3/4 cup unsalted butter, softened

1 1/4 cups granulated sugar

2 teaspoons vanilla extract

4 ounces bittersweet chocolate chips, melted

1 1/2 cups milk
Nutella (about 1 1/4 cups), warmed slightly
Seedless raspberry preserves (about 1 cup), warmed slightly
2/3 cup heavy whipping cream
8 ounces bittersweet chocolate chips

3/4 cup finely chopped hazelnuts, toasted
Preheat oven to 350 degrees F. Grease and flour 3 (8 or 9-inch) cake pans.
In a medium mixing bowl, using a mixer on high speed, beat egg whites (reserving the yolks) until stiff peaks form; set aside.
In a medium mixing bowl, sift together flour, cocoa powder, baking powder and salt.
In a large mixing bowl, using a mixer on medium speed, beat together butter and sugar until creamy, about 1-2 minutes. Beat in egg yolks, vanilla and melted chocolate until combined. Reduce mixer speed to low and gradually beat in flour mixture, alternating with milk, until combined, about 2-3 minutes; fold in egg whites, in three additions, until combined.
Divide batter into cake pans. Bake for 35-40 minutes, or until a cake pulls away from sides of pan, and a toothpick inserted into cake comes out with moist crumbs attached. Cool for 12 minutes on wire racks before running a knife around outside edges of pans, and inverting onto wire racks to cool completely.
Split each cake in half (freeze for easier slicing). Spread a layer of Nutella and raspberry preserves on each cake half.
To make the ganache, heat cream in a small saucepan over medium heat, until it comes to a simmer; turn heat off and whisk in chocolate until melted and smooth. Cool until it's a good consistency, then pour and spread over cake. Pack hazelnuts on top and sides of cake.
Makes 12 servings