Today is National Pretzel Day!  Don't believe me?It's true!  M&M were home last weekend for sister M's birthday (a few days early and now, a few days late, but the thought that counts right?  Happy Birthday M!).  She's itching to get out of college and onto life with Mr. M, as I guess anyone who has been together since they were 14 years old would be.  As you know they are picky eaters, so when they come home, I don't expect too much out of either of them.  In fact, I didn't even make M a birthday cake because well, she just didn't seem to really want one!
What I did bring though, were these pretzels.  Imagine my surprise when I turn around and find about half of them gone.  Ah ha!  I have found a secret food love of Mr. Ms.  Let's just say it would be a heck of a lot easier if he would just announce "I hate chocolate but love pretzels" so I wouldn't have to find things out so sneakily.  But, as the youngest in our family, he is just an enigma.  It comes from having been a 14-year old boy when he first met my family and probably shy, to now being a part of our family so long his "pickyness" is just something we all take for granted.
In fact, I got the "gold star" of the day for finding something Mr. M would like.  Do I even need to tell you that the "birthday dinner" was hamburgers and hot dogs – a "favorite" of both M&Ms?!.  I'm not one to turn down hamburgers and hot dogs, especially with the weather warming up but seriously – special enough to be a "birthday" dinner?!  M has some serious work to do in my opinion.  Fortunately for her, she's never taken my opinion too seriously.  Anyway, if you want to surprise someone for National Pretzel Day – or really any spring day, these are it!  I used a new pretzel recipe which was a little sweeter and perfect for the cinnamon-sugar topping!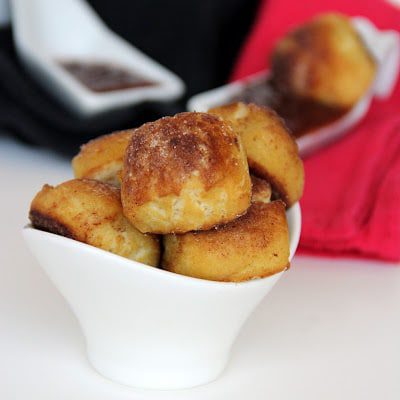 Cinnamon-Sugar Pretzel Tots with Strawberry-Rhubarb Compote (adapted from The Daily Meal)
Serves:  6 (24 pretzel tots)
Pretzels:
1 1/2 cups milk
2 1/4 teaspoons dry active yeast (1 package)
2 tablespoons confectioners' sugar
6 tablespoons butter, melted and divided
1 1/4 teaspoons salt
3 1/2 cups flour
2 cups water
2 tablespoons baking soda
1/4 cup sugar
2 tablespoons cinnamon
Compote:
1 cup rhubarb, diced
1/4 cup sugar
3 tablespoons water
1 1/2 cups strawberries, hulled and diced
Pretzels:  Heat the milk in the microwave until warm to the touch.  Stir in the yeast and sugar and let rest 5-8 minutes.  Stir in 4 tablespoons butter.  Then, add salt and flour.  Knead for 5-10 minutes until a smooth dough forms.  Place in an oiled bowl and cover the bowl with plastic wrap.  Allow to rise until doubled in size (about 1 hour).
Roll out the pretzel dough into a long thick rope and cut the dough into 24 two-inch tots.
Heat the water up in a large saucepan, until a rolling boil.  At the same time,  preheat the oven to 425 degrees F. When the water is boiling, add baking soda.  Drop in a few tots at a time for 10-15 seconds.  Remove from the water and place on a greased cookie sheet.  Once all the tots have been submerged in the baking soda mixture, bake them in the oven for 12-15 minutes, until golden brown.
Meanwhile, in a small bowl, combine the sugar and cinnamon.
As soon as the pretzels are cool enough to touch, roll the tots into the remaining melted butter, then into the cinnamon sugar mixture.  Then, serve immediately with compote (below).
Compote:  I find making the compote easiest during the rising process of the pretzels.  Add rhubarb, sugar, and water to a saucepan and bring to a boil.  Reduce heat and cook over medium heat until rhubarb is tender, about 5 minutes.  Stir in strawberries and refrigerate until ready for use.
Until the next time my oven is on…