Sometimes when I feel uninspired to bake, I go back to the basics. Classic chocolate chip cookies, brownies, cupcakes… and loaf cakes. The moment I laid eyes on this Chocolate Pound Cake loaf recipe, I knew it was going to be a favorite in my arsenal. I had already made a Chocolate Beet Loaf cake at the beginning of the year that was spectacular, but sometimes you just gotta leave the veggies out of it and go with traditional. With the winter time bringing shorter days with sunlight hours between 8:30am-4:30pm, getting in baking time can be a challenge. As much as I prefer to bake in the fall and winter, the trade-off is that I have to be prepared and plan out what I'm going to bake days ahead of time, as usually a day full of errands and trips to the grocery store takes away preparation and photography time.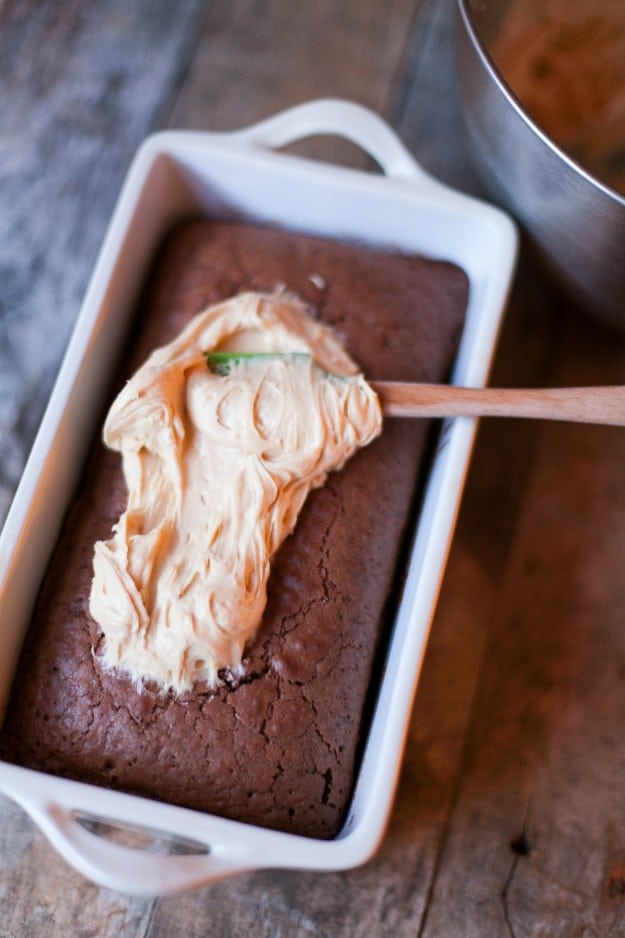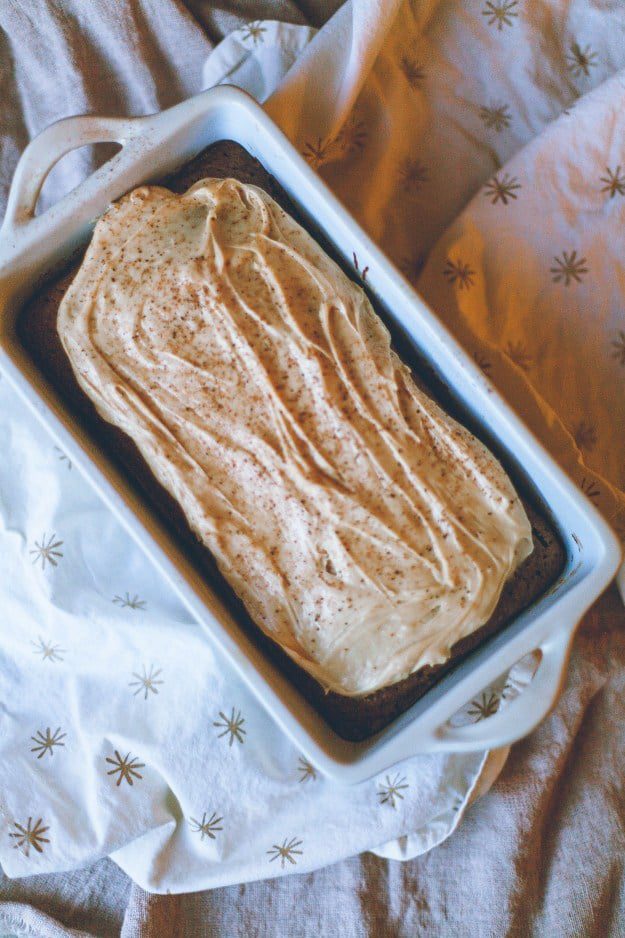 While in the midst of baking this loaf, my realtor pinged me to go scope out a house. Obviously I had to wait until it was out of the oven, but the decision was: look at the house in the daylight and photograph this cake later in the dark with minimal lighting (or not at all), or photograph this cake while ample light was left and look at the house in the dark. Not wanting to keep anyone waiting, and being anxious to view the house, I ended up photographing this right before all the light was gone. High ISO = grainy images but hey, it's better than nothing!
Part of what attracted me to this particular recipe was that I already had everything I needed on hand– eggs, butter, cocoa powder, flour, chocolate, etc. But I'm kind of an OCD baker like that. I like being prepared for when inspiration or cravings or catastrophes strike, and this was no exception.  The peanut butter frosting was spontaneous, but lent the perfect touch. These days, I pretty much just wing my powdered sugar frostings and eyeball the ratios from having made them so many times for cupcakes and cakes. Consistency is key, and it's a kind of game. Add more liquid if too stiff, add more sugar if too thin. Also playing around with the flavors. It's fun. And that's the point of baking, am I right? This tasted practically like a brownie with peanut butter frosting. Who can say no to that?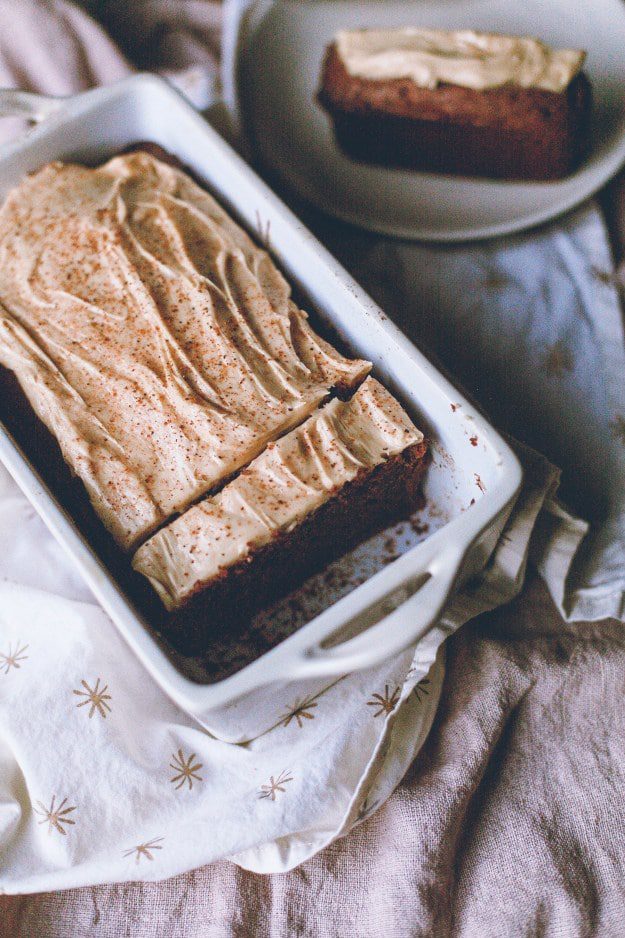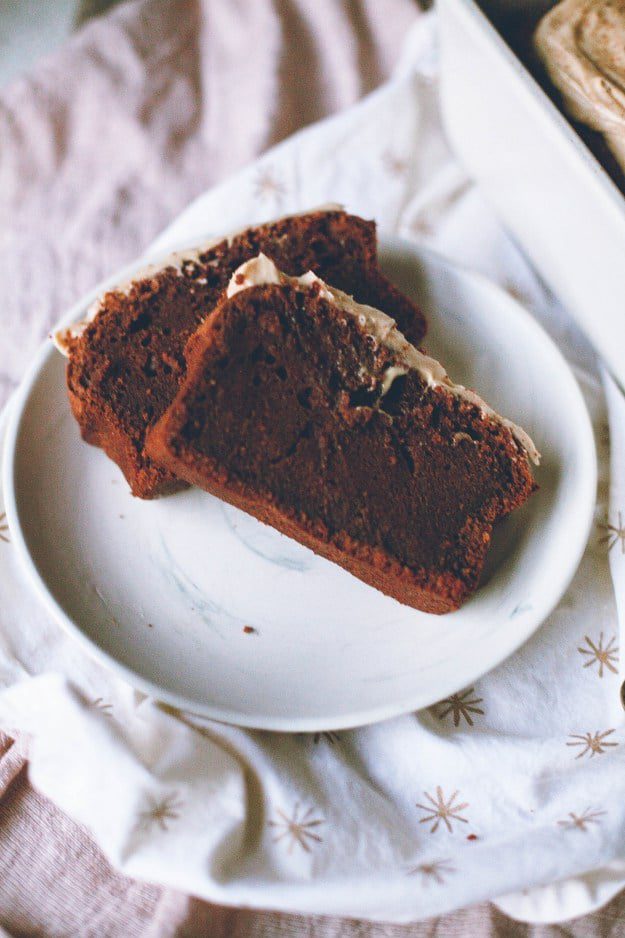 Chocolate Pound Cake with Peanut Butter Frosting
Serves: One 9×5 loaf
Ingredients
For the Cake:
1 cup all-purpose flour
1 teaspoon salt
¾ cup cocoa powder
4 oz 60% chocolate, chopped
⅓ cup boiling water
½ cup (1 stick) unsalted butter, softened
½ cup canola oil
1¼ cup sugar
5 eggs
2 Tablespoons instant espresso or coffee granules (optional)
For the Frosting:
¼ cup smooth peanut butter
2 oz cream cheese
2 cups powdered sugar
2 Tablespoons heavy cream
ground nutmeg (optional)
Instructions
Grease a 9×5″ baking loaf pan and set aside. Preheat oven to 325 degrees F.
In a small bowl, mix the flour and salt together. Set aside.
Place the chopped chocolate in a heatproof bowl (ie. Pyrex measuring cup), and pour boiling water of the chocolate to melt. Then stir in the cocoa and set aside to cool.
Mix the butter, oil and sugar until fluffy, then add in the chocolate-cocoa mixture.
Add eggs one at a time, mixing well after each addition.
Gradually stir in the flour-salt mixture until well incorporated. Add in ground coffee, if using.
Transfer batter into prepared pan, and gently tap several times to remove air bubbles.
Bake 60-70 minutes, testing with a toothpick at the 60 min mark. Do not over bake, otherwise it will dry out quickly. You could alternatively turn the oven off, and wedge a wooden spoon into the oven door and let a little heat escape while it's still "baking".
While cooling, make the peanut butter frosting: with an electric mixer, combine the peanut butter and cream cheese. Gradually add in the powdered sugar, and thin out with the heavy cream until proper consistency is reached (you may have to add in more liquid or sugar). Spread on top of cake, slice and enjoy!