A soft, moist, and flavorful Cinnamon Bundt Coffee Cake is the perfect companion for your cup of coffee!
My-oh-my where has the time gone? We're here for another month of #BundtBakers. It's just hard to believe that it's already the third week of February!! This month's host is the wonderful Lauren from Sew You Think You Can Cook. Her chosen theme… Cinnamon…. one of my favorites!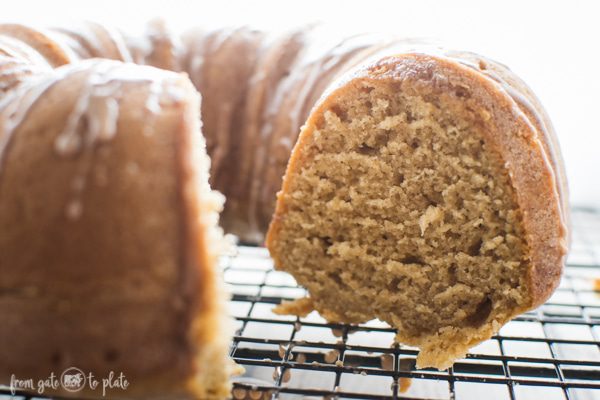 My bundt for this month was inspired by a group of aggie ladies. I belong to a Facebook group called Women in Ag. We're a bunch of ag living and loving women. We talk about a lot in our group, but most the time it all revolves around our love for agriculture. So you're wondering how is this bundt inspired by them? Well… a week or so ago a conversation got started about soured milk. Do you continue to drink the milk after the date on the jug or do you toss it? That was the conversation. There's basically two sides to this. The first one: Toss it no matter what! The second one: Smells and tastes fine.. Keep it!
So you can probably already guess which side I fall on, huh? Yup, you guessed it. This bundt is made with soured milk. Nothing wrong with it at all, I promise!
One thing I learned while taking a Dairy Science course in college…. milk is supposed to be good for up to 10 days after the suggested date on the milk jug. Did you know that? Of course there are some factors that play into that, but if the milk has been handled correctly it will last you every bit of those 10 days. You can check out Dairy Council of California on milk handling.
The milk in my fridge that I just used to make this bundt was dated a month ago. You read that correctly. It was dated for January 14th. I opened the jug two weeks ago! Seriously though… there's still nothing really wrong with it… It's just finally soured and now it makes amazing coffee cake, pancakes and biscuits!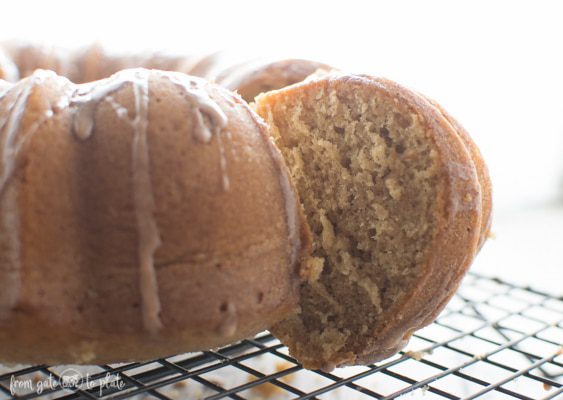 Before you go and toss that next jug of "bad" milk… try this coffee cake out…. and if you really don't want to use "soured milk" you can use buttermilk or make your own "soured milk" by putting 1 tablespoon of lemon juice in a measuring cup and adding enough milk to make the required amount.
So tell me… which side of the soured milk are you on? Do you toss it once the date has arrived or are you one that uses it until it smells or tastes bad?
Cinnamon Bundt Coffee Cake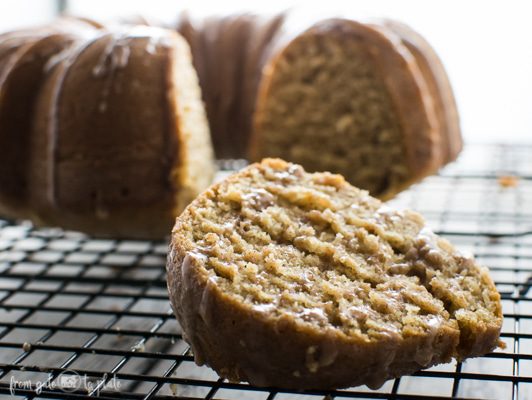 Serves 12
A perfect cinnamon coffee cake to compliment a cup of coffee!
Ingredients
2 1/2 cups flour
1 1/2 cups brown sugar
1/2 teaspoon salt
1 teaspoon cinnamon
2/3 cup butter, cubed
2 teaspoons baking powder
1/2 teaspoon baking soda
1/4 teaspoon nutmeg
2 eggs
1 1/3 cup sour milked *OR buttermilk*
Glaze
1/2 cup powdered sugar
1 teaspoon cinnamon
1/4 teaspoon vanilla
2 tablespoons milk
Instructions
Preheat oven to 350*F and grease and flour a 10-cup Bundt pan.
In a mixing bowl, combine flour, sugar, salt and cinnamon.
Add butter, and mix until course crumbs.
Remove 1/2 cup and set a side.
Add remaining dry ingredients.
Mix in eggs and milk.
Pour into prepared Bundt pan.
Sprinkle with 1/4 cup of the reserved crumbs.
Bake at 350*F for 30-35 minutes or until tests done.
Allow to cool 10 minutes before turning onto a cooling rack.
Combine glaze ingredients and drizzle over warm cake and then sprinkle remaining crumbs.
Serve!