I promised on Tuesday to continue the theme of food on sticks so today I'm bringing to you these super easy/borderline healthy salted caramel yogurt pops. I've been trying to cut back on my sugar a bit lately, and well, as a food/pastry blogger that takes will power and inner strength of epic proportions. Will power and strength I often wonder if I'll ever possess, but I've managed to do fairly well now for a few weeks and I'm hoping that I'm beginning to turn the corner on those serious 3pm, gotta have chocolate cravings.
If it weren't' for the ravenous teenage boys in my house, I'd find myself sorely tempted to overindulge in all the sweet sugar goodness I make for you regularly . My boys are 16 and 15 and I am everyday astounded at the amount of food they can put away. Watching them eat reminds me a bit like watching, well I can't say that it reminds me of any one thing in particular it's just an amazing thing to watch. I can definitely understand where the term"hollow leg" comes from because they both have one at the very least.
They are ravenous, all the time. Everyday on the hunt for food, and large portions of it. If I need to keep something for use later I have to hide it. Growing up my mother used to put notes on the food in the pantry so my brother and my dad wouldn't devour it. "On pain of death, don't eat this!!" or "I'm saving this for company on Friday, don't even think about it!".  At the time I thought it was silly, now I get it. I so get it.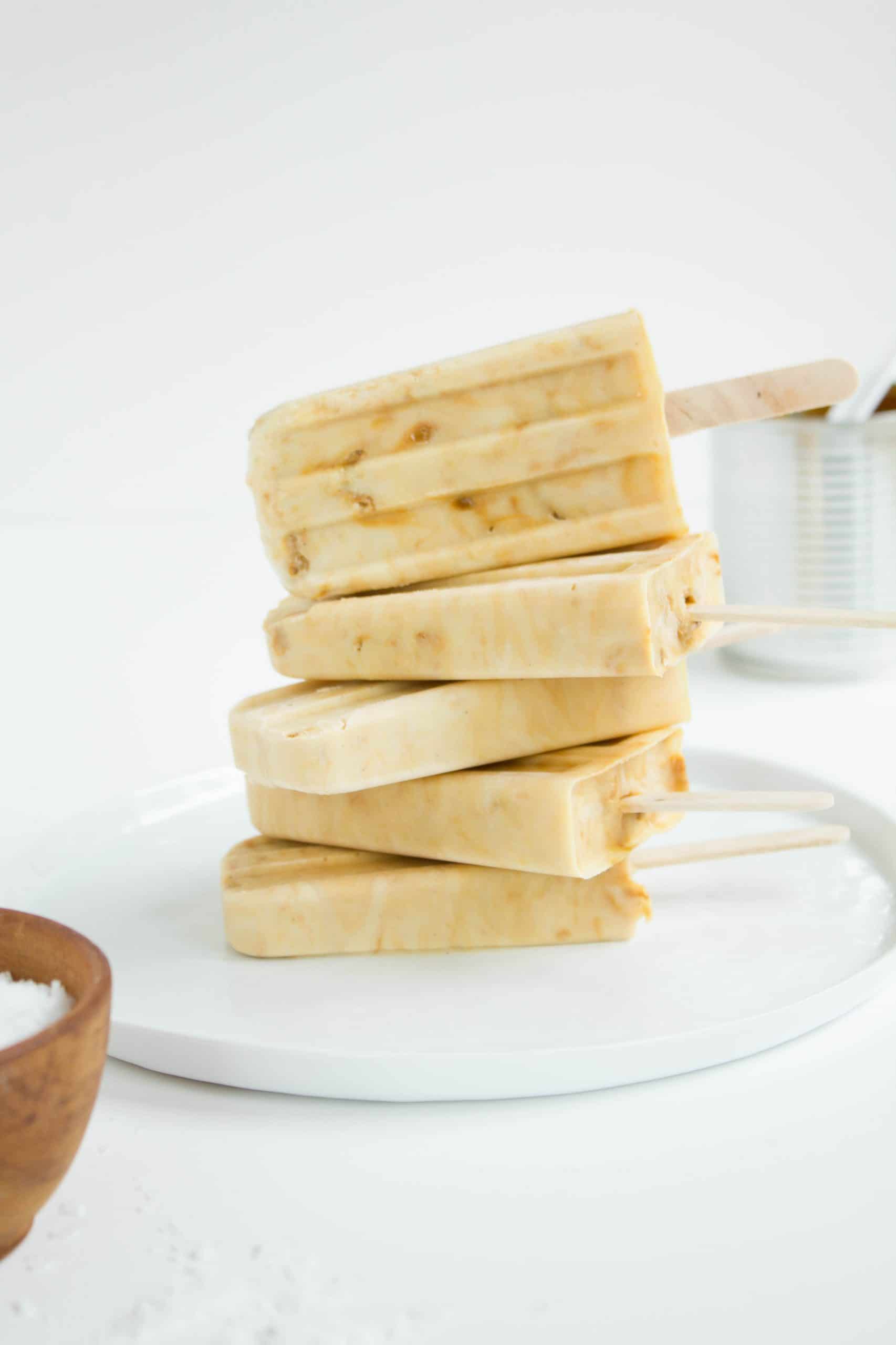 Part of my reduced sugar plan is to limit the amount of sugar and white refined flours I consume but  still allow myself a treat once in awhile, to help offset those awful feelings of deprivation. Protein I've found is the perfect antidote to those cravings.  These popsicles, while sweet, do have a high amount of protein due in large part to the Greek yogurt in them. Weather or not it will help prevent a sugar crash, I don't know but at least I can feel somewhat better about it knowing it's at least got the yogurt going on.
This recipe almost feels like cheating it's so easy. Three ingredients is all it takes, Greek yogurt, salted caramel sauce (or dulce de leche if you prefer it) and vanilla bean paste. Easy, delicious and a bit on the grown up side for flavor. I used plain yogurt for this recipe and found that the flavor was rich, mellow and not at all sugary. Creamy and complex caramel flavors jump out, but if you'd rather have it sweeter, feel free to use sweetened vanilla yogurt instead.
These are the one popsicle the boys will gladly leave to me. They aren't huge fans of plain yogurt so I'm perfectly happy with that arrangement and well, more for me!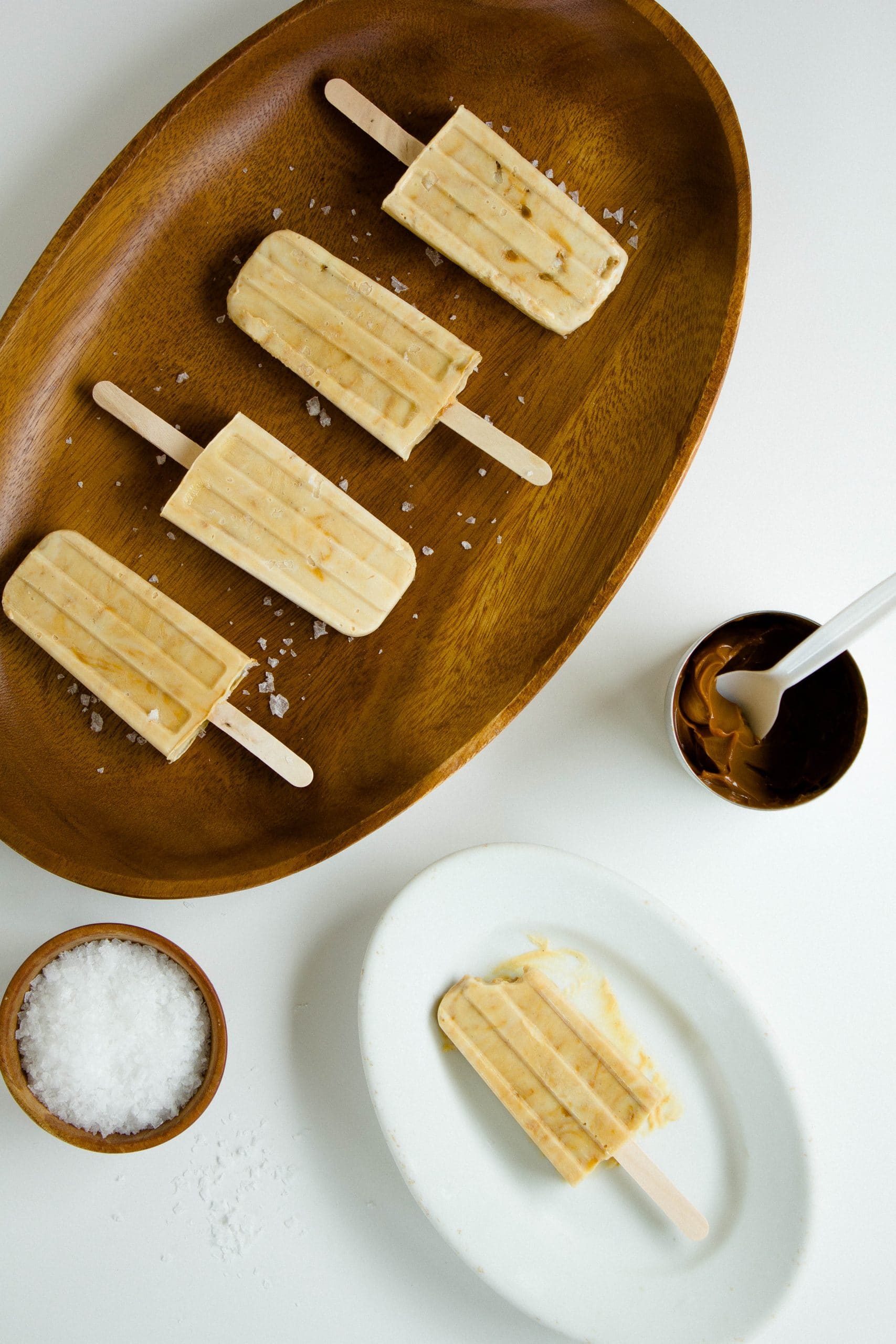 Ingredients
3 Cups Plain or Vanilla Nonfat Greek Yogurt

1/4 Cup Salted Caramel Sauce or Dulce De Leche
1/4 Cup addl Salted Caramel Sauce or Dulce De Leche
1/4 tsp. vanilla or vanilla bean paste
Servings:
Instructions
In a small bowl, heat 1/4 C. of the salted caramel in the microwave for 20 seconds, until just warm and runny. Add to the yogurt in a small bowl and combine thoroughly until fully incorporated. Add the vanilla and stir to incorporate. For this step I used Trader Joe's Salted Caramel Sauce.
In a separate small bowl, very slightly warm the additional 1/4 caramel sauce or dulce de leche in the microwave. About 5-10 seconds. You want it pliable not runny. I used dulce de leche for this step. Drizzle it over the top of the yogurt and fold it very lightly into it. Two or three turns of the spatula only.
Carefully spoon the mixture in to your popsicle molds, filling to the top of each mold. Cover with aluminum foil and freeze for 60 minutes. Insert popsicle sticks in the mold, through the foil and freeze until completely firm. 5-6 hours more.
To serve, run the molds carefully under lukewarm water for 1 minute, avoiding getting the tops wet. Slide the popsicles from the mold and devour.