With summer on its last leg (already!), I wanted to finally try making ice cream.  This whole season I've been telling myself I need to make ice cream, but I didn't have an ice cream maker and was a little reluctant to get one (didn't want to add yet more stuff to my already small dwelling place).  Fortunately, a friend had an ice cream maker which has gone unused for a few months, and she was kind enough to lend it to me.  I thought a good place to start would be with vanilla ice cream.  As much as I love different flavors (most of the 32 of Baskin Robbins') and marvel at the various inventive ice cream creations, when it comes down to it, vanilla is my favorite.  Basic, no frills, and the vanilla flavor remains the centerpiece.  Thick, rich, creamy and smooth, I'll be eating this vanilla ice cream for the rest of summer (and possibly into the fall).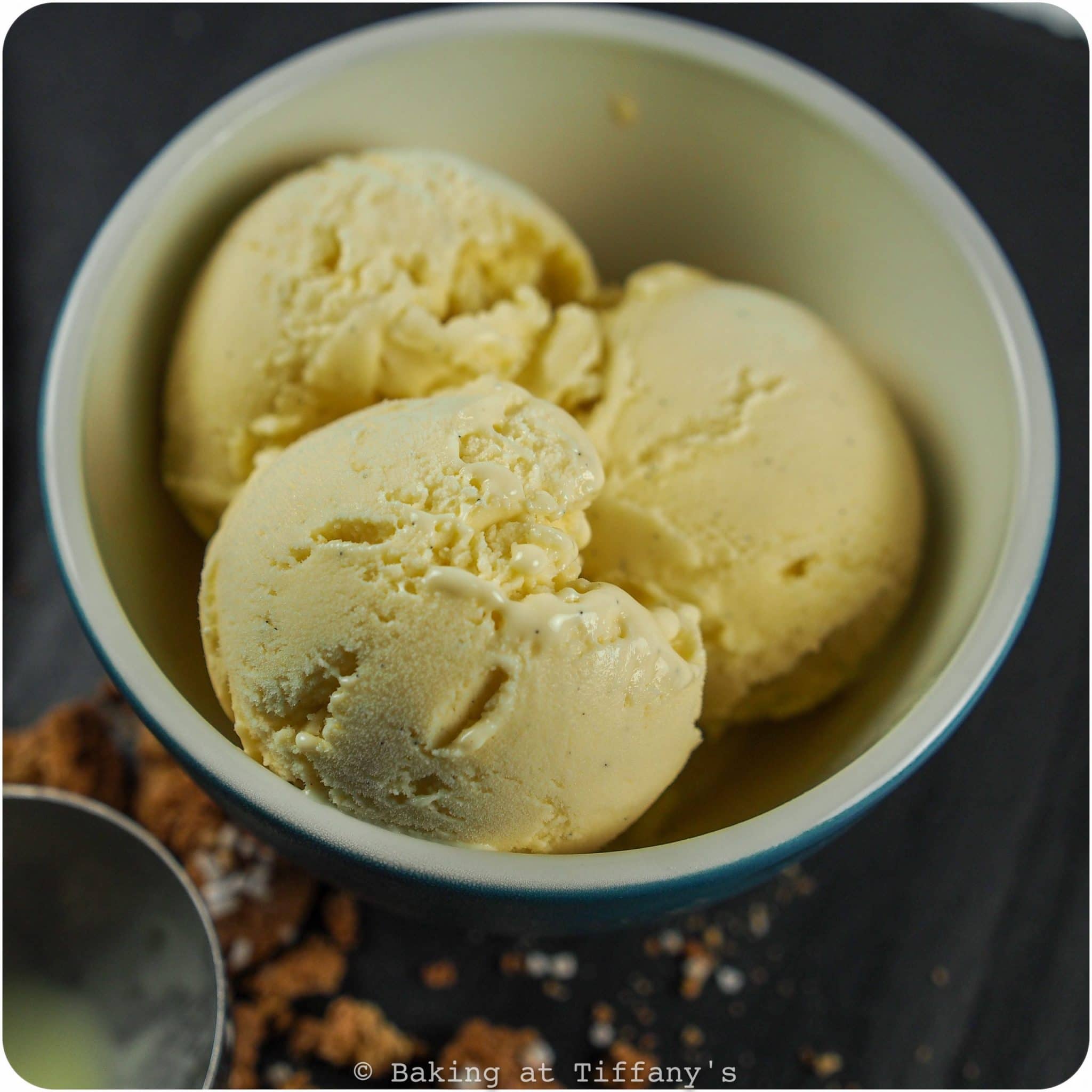 Recipe notes: With a creme anglais (vanilla sauce) as the base, this recipe uses a LOT of egg yolks.  My biggest problem was with the custard curdling, which might be because I didn't temper the egg yolks well (just a guess, I'm not really sure).  It would be such a waste to throw it all out, so I took an immersion blender and smoothed out the lumps.  Since vanilla is the highlight, I would not recommend using vanilla extract as a substitute for using the real vanilla bean.  Vanilla bean paste does work well though.  I had the ice cream with some crunchy Italian almond cookies, and they were perfect together.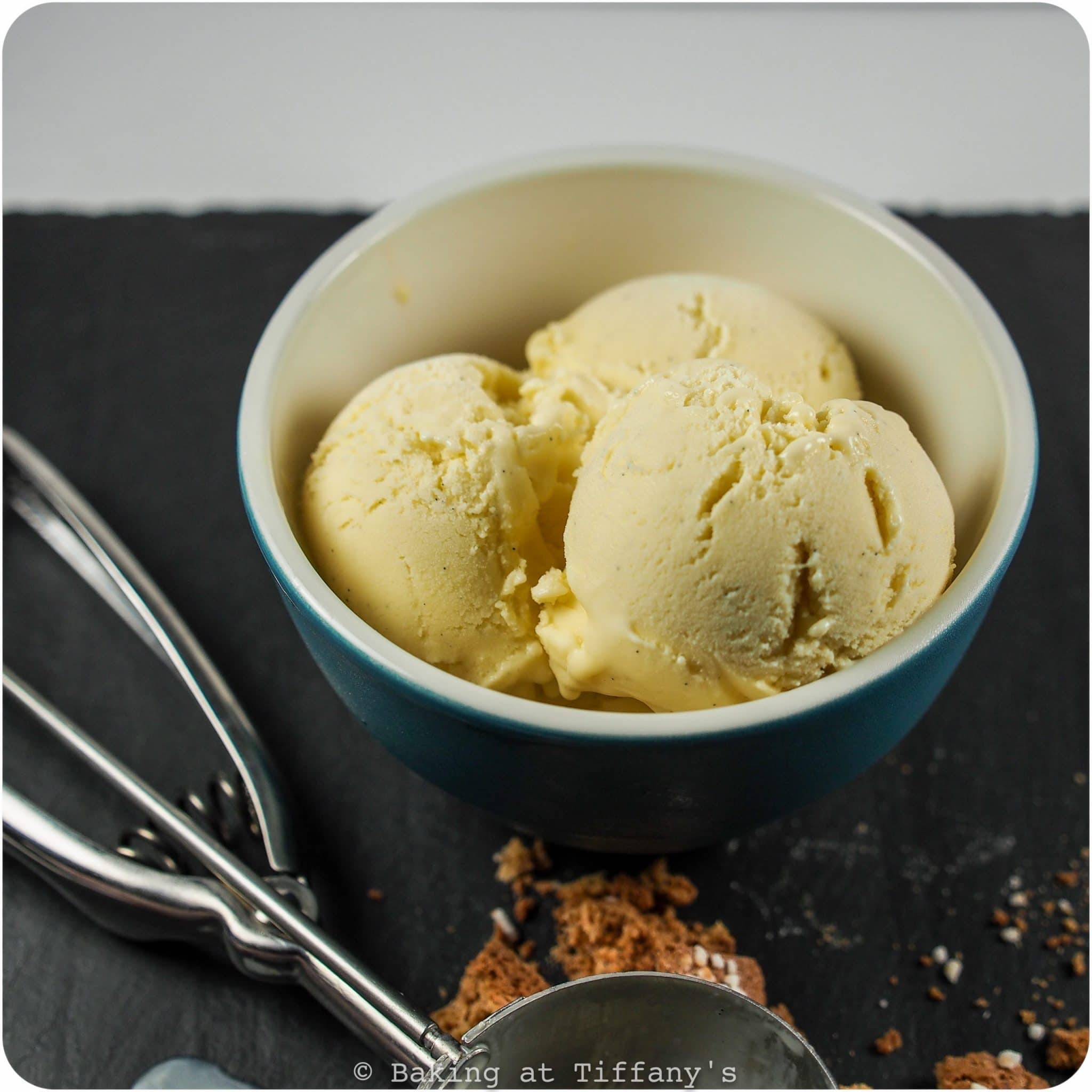 Ingredients
2 cups heavy cream
2 cups whole milk
14 T. sugar
1 vanilla bean, split (or 1 T. vanilla bean paste)
10 yolks from large eggs
Preparation
In a large saucepan, bring cream, milk, 7 T. of sugar, and vanilla to a simmer. (If using a vanilla bean, scrape the seeds from the vanilla bean and add both the seeds and the pod to the mixture.) Stir periodically to dissolve the sugar.
Allow cream mixture to cool for about 30 minutes to allow flavors to meld.
In a mixing bowl, whisk egg yolks and remaining 7 T. of sugar together until yolks turn light in color.
Reheat cream mixture until warm, then slowly pour about 1/3 of the mixture into the eggs yolks, whisking continuously. This will temper the egg yolks.
Pour egg yolk mixture back into the saucepan and cook over low heat, stirring continuously with a heat proof spoon. The custard should thicken after about 10 minutes; it will be ready when the custard coats the back of the spoon and a line remains after running your finger through the custard on the spoon.
Remove from heat and stir to cool mixture down.
Strain the custard into a container, and cover and place in refrigerator (when it has cooled down enough–you can use an ice bath to speed things up). Refrigerate overnight.
When ready, transfer the custard to your ice cream maker, and follow your ice cream maker's instructions for churning.
When ready (the consistency should be similar to "soft serve"), transfer the custard to a container and cover and place in freezer until hardened.