Winter has well and truly settled into Sydney. An unpleasant, bitter cold that we're not accustomed to, especially after such a long and warm Autumn. Between herbal teas of all varieties, we're warming ourselves with roast vegetable salads and soups.
This warming and delicate miso murshroom broth has been on high rotation on the weekends and you can add just about anything you would normally add to a ramen or miso soup. We decided to go with soba noodles, tempeh and Asian greens. Soba noodles are usually made form 100% buckwheat flour making them a great alternative for those that are gluten intolerant, but check your packaging as many brands mix buckwheat and wheat for a cheaper and easier to manufacture product.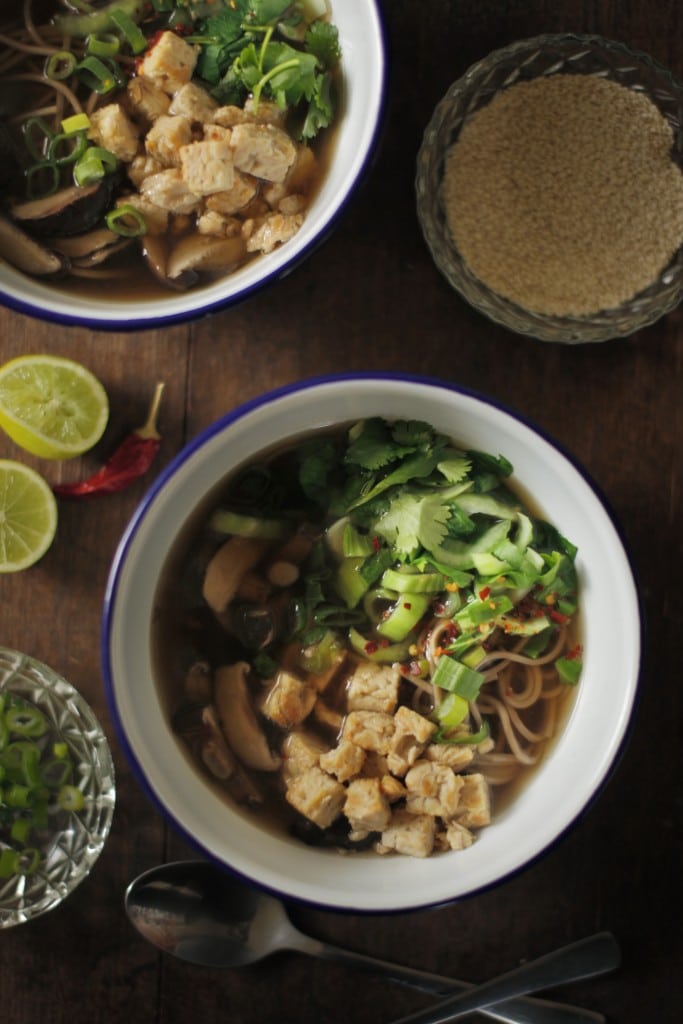 (Serves 4)
Ingredients:
Broth
400g shiitake mushrooms (or any mix of preferred mushrooms)
1 tbsp miso paste
1 in knob of ginger – sliced
2 tbsp sesame oil
2 tbsp tamari
Suggested Additions
soba noodles
pan fried tempeh
bok choy
coriander
toasted sesame seeds
chilli flakes
shallots
a squeeze of lime
Brush off any dirt from the mushrooms and toss in a bowl with the sesame oil. Place on a baking tray and bake at 190C in an oven for half an hour. Transfer mushrooms to a large pot or dutch oven. Add tamari, ginger and miso paste, as well as 5 cups of water. Bring to the boil and then cover with a lid and simmer at the lowest temperature for an hour. Strain out the ginger pieces and the mushrooms and serve the broth. You can slice the mushrooms to serve in the final soup.