This dish is one of my favorite curries in South Indian cuisine. This root is native to South India and Southeast Asia. Taro root is also well-known as Colocasia and is a perennial tropical plant which has big leafs that are often referred to as "elephant ears". The taro we get in India are baby ones that can be made as curry without cutting them, whereas the ones I get here are so big that I need to cut them into discs. I've made taro root in North Indian style (recipe here) and is unique in its taste. The typical South Indian version of arbi fry requires a good dose of oil in order to achieve the crisp texture which is the highlight of this curry. I've been wanting to make a low-calorie version and I was jumping in glee when I saw this recipe in Chefinyou.
I usually don't get very excited about low-calorie version as they often get compromised in taste. Even though this recipe does not exactly give the same taste as when fried generously in oil, they are excellent guilt free alternative. I used home-made curry powder to make this fry, they can definitely be substituted with chilli powder. Adjust salt and spice to your taste as I tend to make my dish towards the spicy side. Enjoy!!!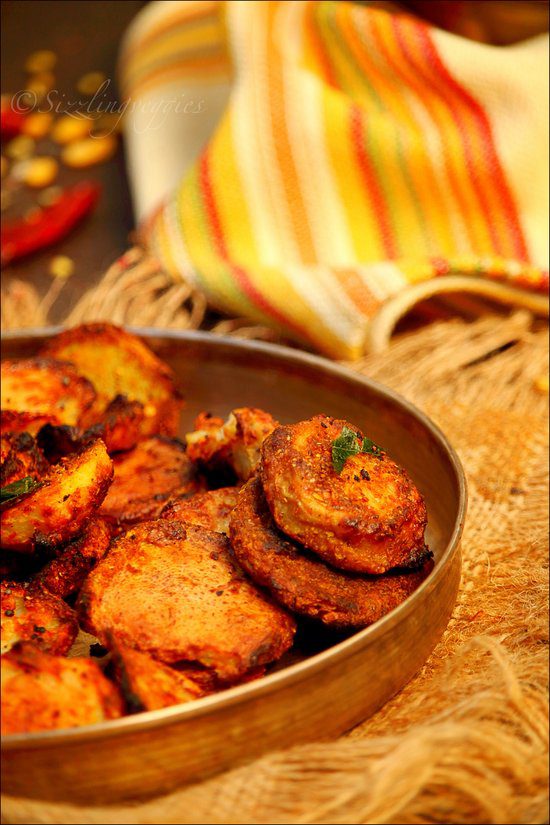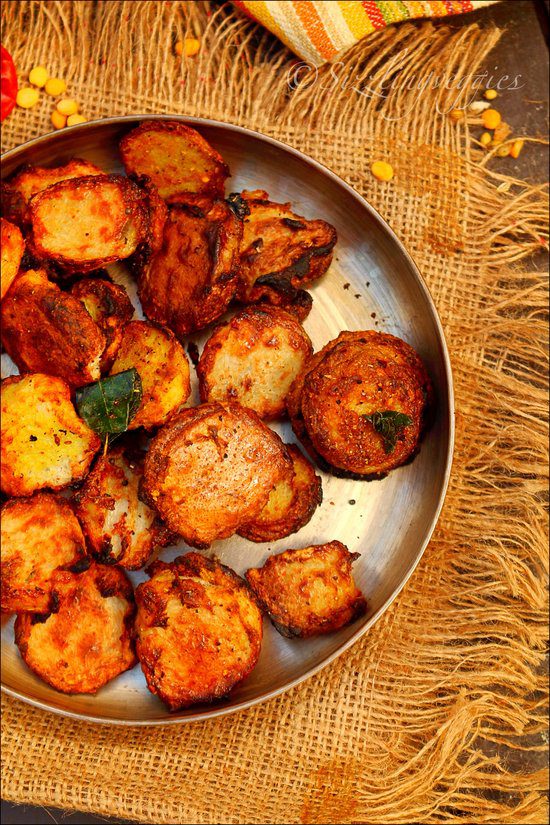 Print
Arbi Fry [Taro Root Fry]
Ingredients
Taro Root/Arbi/Colacassia/Cheppankizhangu — 12 to 14 small ones or about 6 to 7 big ones
Mustard Seeds — 1/2 tsp
Urad Dhal — 1/2 tsp
Curry Powder/Chilli Powder — 2 tsp (adjust to taste)
Turmeric Powder — 1/4 tsp
Curry Leaves — few sprigs
Salt — to taste
Oil — 3 tsp
Instructions
Wash taro root thoroughly, either steam them in pressure cooker or in a steamer until they are cooked but firm. Make sure that they don't turn mushy, they get more crispy if they are firm. Undercooked ones are fine too as far as the skin can be peeled. They get additional cooking time in the broiler so undercooked ones are preferred to mushy ones.
Cool taro root in a strainer. Do not use water to speed the cooling process. Once cooled, peel the skin from the taro root and cut them into discs if they are too big. If they are baby ones then don't cut them.
In a zip lock bag add 2 tsp of oil, curry powder or chilli powder, turmeric powder and mix well. Add taro root to the bag and mix until oil and the powders get coated evenly.
In a cookie sheet lined with aluminium foil, place the taro root evenly in the sheet. Turn the oven to broiler setting to high. Turn arbi every few minutes, so they don't get charred. Broil till the right crispiness is achieved. Mine took about 18 to 20 minutes.
If you like the curry a little dry then omit the next steps. In a big pan heat the remaining 1 tsp oil, add mustard seeds and let it splutter. Add urad dhal and let it turn slightly brown. Add broken pieces of curry leaves,if using. Add broiled arbi to the pan, salt and mix well. Let it fry for few minutes. Serve immediately while hot. Enjoy!!!