Did everyone have a good weekend?  I hope so.  I feel like we probably had the most boring Easter ever.  We usually spend it with our families, but we couldn't do that this year, obviously.  So we did some grocery shopping, I baked some brownies, and we had tortas and churros from XOCO.
We're trying to hit up all of our favorite restaurants before we move.  It's tough work, obviously.  Eric and I have something special planned for this weekend.  I can't wait.
So did you eat any of those Reese's Peanut Butter Eggs?  Those things are amazing.  I haven't had any (yet!), but that's kind of what these cookies remind me of.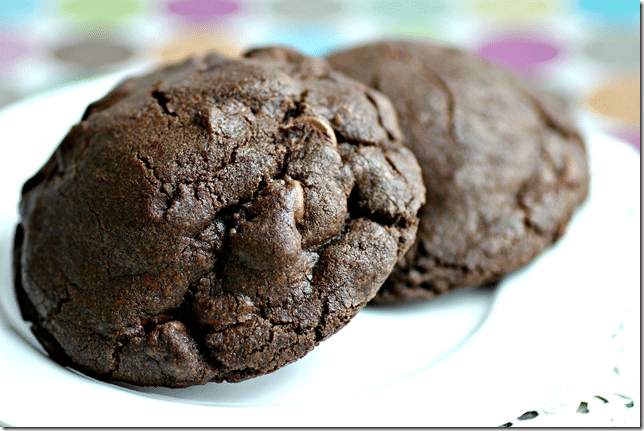 I'm seriously considering going to the store and buying up all of the leftover Easter candy.  Think of the cookies I could bake!
These chocolate cookies are really, really, really good and they make mehappy, happy, happy.
I used Hershey's dark cocoa powder in the batter… it's the superior cocoa powder.  I prefer it over regular cocoa powder.  I also used Hershey's milk chocolate chips in the cookie.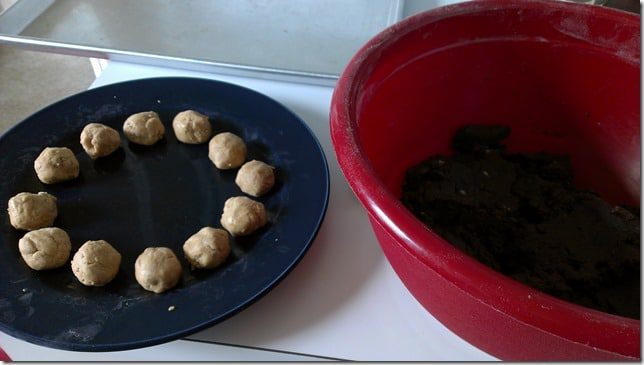 I snapped a picture with my phone to show you what I did.  I mixed together peanut butter and powdered sugar and rolled the mixture into 12 balls.  Then I rolled the cookie dough into 12 balls, flattened the balls, placed the peanut butter balls in the centers, and wrapped the cookie dough around the peanut butter.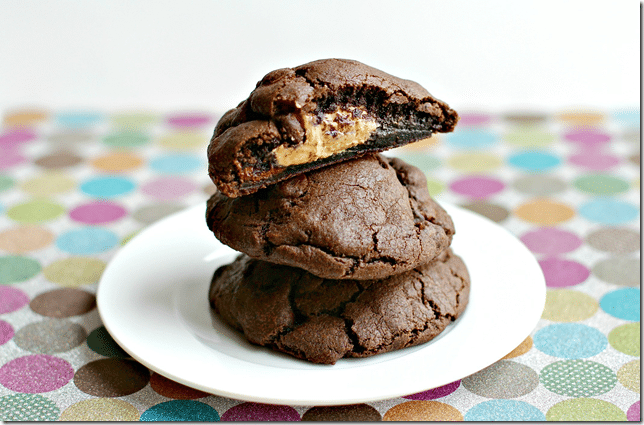 After baking, you get these lovely creatures.  Best eaten when warm.
Enjoy!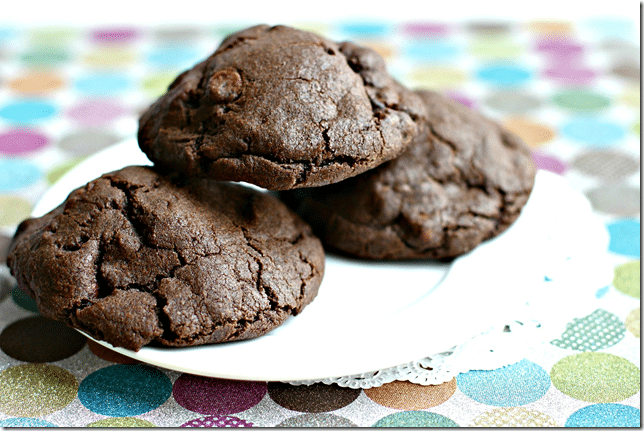 Chocolate Peanut Butter Stuffed Cookies
Ingredients:
1/4 cup unsalted butter + 6 tablespoons, divided use
1/2 cup all-purpose flour + 1 1/2 cups, divided use (65 grams and 200 grams)
1/4 cup unsweetened dark cocoa powder
1 teaspoon baking soda
1/4 teaspoon baking powder
1/2 teaspoon salt
1 1/4 cups granulated sugar
1 teaspoon vanilla extract
1 large egg
2 tablespoons water
3/4 cup milk chocolate chips (or semisweet)
1/2 cup creamy peanut butter
1/2 cup confectioners' sugar
Instructions:
Melt 1/4 cup butter in a small saucepan over medium heat; whisk in 1/2 cup flour until combined.  Continue to cook and whisk for 1 minute.  Transfer buttery dough ball into a large mixing bowl.
In a medium mixing bowl, sift together 1 1/2 cups flour, cocoa powder, baking soda, baking powder and salt.
Add remaining 6 tablespoons butter, sugar and vanilla to large mixing bowl with dough ball.  Mix on medium speed until creamy and well combined – about 1-2 minutes.  Mix in egg and water until well combined.  Reduce mixer speed to low and beat in dry ingredients and chocolate chips until just combined.  Chill dough in refrigerator while you prepare the peanut butter balls.
Add peanut butter into a large mixing bowl; sift in confectioners' sugar.  Stir mixture until well combined.  Divide into 12 balls.
Heat oven to 350 degrees F.  Divide cookie dough into 12 balls.  Flatten each ball, place a peanut butter ball into the center, and wrap dough around ball so that it's hidden.  Divide the 12 cookie balls onto two cookie sheets.  Bake 12-14 minutes, or until crisp and slightly crackled.
Makes 12 cookies