You're going to think I'm crazy. But please bear with me.
The recipe you're about to read was inspired by Paula Deen. Yes, that Paula Deen. And truth be told, only sorta. Let me explain.
I like rice pudding. Well, I like some types of rice pudding. I don't like the uber gelatinous tapioca-like stuff they sell in commercial grocery stores. That's for sure. And since I'm looking for dairy-free and egg-free recipes, those are out anyway. But I happened upon Paula Deen's recipe for baked rice pudding and thought, "Now there's something I can work with."
Yes, of course, the Butter Queen uses eggs and milk in her recipe. But those are easy obstacles to overcome.
And I don't know about your house, but there always seems to be leftover cooked rice around here. I made a huge pot of brown basmati rice last weekend in anticipation of doing an ayurvedic cleanse this week. I'm still doing the cleanse, but I've been eating much less than I forecasted and I didn't want to see any of my already-cooked rice go to waste. Plus, I really wanted something to look forward to when the cleanse was over. A little reward for all that hard work, right?
I'm a sucker for spiced chocolate, so I decided to make my rice pudding a chocolatey version, with classic spices from Mexican hot chocolate like cinnamon, nutmeg and cayenne. As it turns out, they work perfectly with the nutty brown rice and the result was better than I could have imagined!
There's another thing you should know before making this rice pudding. It's going to make your kitchen smell like cookies. So, consider yourself warned.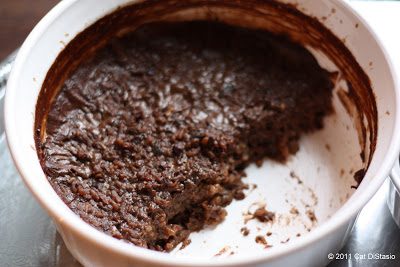 Mexican Hot Chocolate Choco-chip Rice Pudding
Yield: 4-6 servings
1 cup cooked rice
1 1/2 cup non-dairy milk (I used unsweetened plain almond milk)
2 Tbsp flax meal whisked with 1/4 cup hot water
1/2 cup date sugar (or brown sugar)
1/4 cup raw cacao nibs
1 Tbsp cocoa powder
1 tsp vanilla extract
1/4 tsp salt
1 tsp Mexican Hot Chocolate spice mix (recipe below)
Preheat oven to 325°F.
Combine all ingredients, whisking until there are no lumps or dry spots.
Pour into 9 inch glass baking dish (shape doesn't matter). 
Bake 80-90 minutes, then let cool 10 minutes before serving. 
Mexican Hot Chocolate Spice Mix (from Imbibe Magazine)
Yield: 3 tsp or enough for 3 batches of rice pudding
1 tsp. chili powder
1 tsp. ground cinnamon
1/2 tsp. ground cardamom
1/2 tsp. ground ginger
1/2 tsp. ground cloves
1/2 tsp. ground nutmeg