While on our 1st anniversary trip (!) to Colorado, Tom and I stopped by the cutest little place in Crested Butte (How amazing is this view??) for some drinks and an appetizer at the adorable Ginger Cafe.  We had the most delicious spring rolls.  They were light and fresh and had the best dipping sauce.  And of course I sat there thinking, "I can make these!"
And so I did.  Simple as that.  At first I thought that it would be really hard to work with the thin rice paper wrappers, and while it wasn't the easiest thing I had ever done, it really wasn't that hard.  If I messed up, I just double wrapped the spring roll and no one knew the difference.  The more I rolled, the more comfortable I became with it.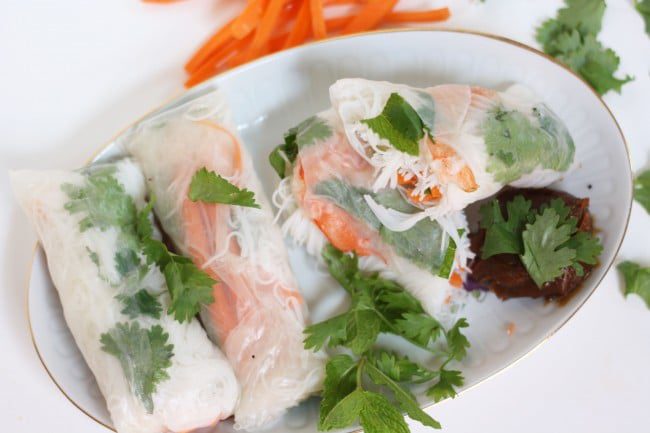 This is truly the perfect summer dish.  I have been trying not to turn the stove or oven on and aside from cooking the shrimp (if you really don't want to cook you can buy pre-cooked shrimp) and noodles, these rolls are served cold.  They are the perfect dinner for a 100+degree day like we are having right now in DC.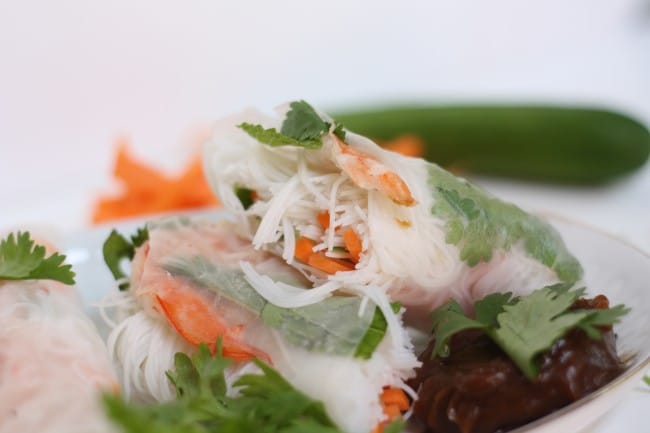 Don't skip the dipping sauce.  Tom was slathering his rolls in it.  It was the perfect compliment to these summer goodies.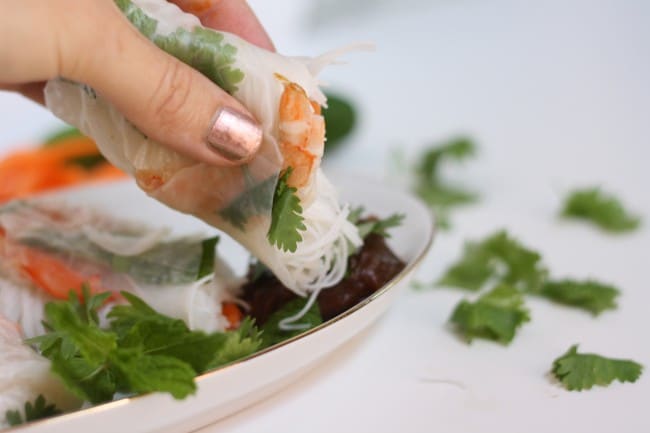 Cook: Shrimp Spring Rolls with Peanut Dipping Sauce
Ingredients
For the Rolls
8 rice paper wrappers (plus a few extra for mistakes!)
about 3 oz. long rice noodles
16 medium or small shrimp OR 8 large shrimp, peeled, cooked, cooled, and deviened
2 small carrots or 1 large carrot,
2 mini cucumbers
handful of fresh cilantro
handful of fresh mint
For the Sauce
1/4 cup creamy peanut butter
1/4 cup hoisin sauce
1 tablespoon sesame oil
juice 1/2 lime
Prepare rice noodles according to package directions. Allow to cool.
Peel carrots and cut into matchsticks. You want them to be as long as you want your spring rolls to be. This may require cutting the carrot into half or thirds depending on the size.
Slice the shrimp in half lengthwise. This will the shrimp fit into the roll.
Cut the cucumber into matchsticks. Since you have mini cucumbers, you may or may not have to cut them in half. Just remember to cut them to the length you want your spring rolls to be.
Take the leaves off the cilantro and mint and arrange them in a pile.
Create a workspace for yourself. You will want your fillings in a nice, easy to reach space. Arrange your shrimp, cucumber, carrot, cilantro and mint leaves, and rice noodles in your workspace.
Prepare a large glass bowl with warm water (large enough to fit the rice paper wrapper).
One at a time, dip a rice paper wrapper in the bowl of water. Leave it there for about 5 seconds and remove it to a clean work surface. It will not be completely pliable at this time, but it will become more and more pliable as you begin to fill it.
Begin filling the wrapper by placing a few cilantro and mint leaves down the middle, leaving some space on the end to fold over.
On top of the leaves, place 2 shrimp halves. Top the shrimp with some rice noodles, cucumber, and carrots.
Place 2 more shrimp halves on top of the noodles and veggies.
Fold up the top and bottom sides up and then roll your spring roll up tightly, being careful not to tear the sides. (If you do, start over with a new one, or just wrap and new one on top…no one is judging you.)
Repeat with remaining ingredients.
Lay spring rolls on cookie sheet or other large area. The wrapper will be really sticky and you don't want the rolls to stick together.
Prepare the sauce by combing all ingredients.
Serve the spring rolls immediately with the dipping sauce. They won't keep more than a few hours.