If you haven't tried hot chips on stick then you wouldn't know what the true meaning of "finger licking" was. It is something you wish to have by your side, the food affair you wish could never end.

And yes! I am talking about potato chips, simple potato sliced directly into hot oil, a famed snack everybody is familiar. And you may say, it is just a potato chip, but heck no! It is an absolute indulgence on stick!
I discovered potato chips on stick in a mall in Thailand. When you noticed people lined up in a really long queue for something, you knew it must be good! When we added ourselves in the line, we barely got the glimpse of the woman dipped the giant skewers of spiral tomato chips in hot oil. It looked intriguing though I doubted what different did it make from regular potato chips.
After the chips got crisp and golden brown, they were sprinkled over with different flavours like paprika, cheese, simple salt, pizza, BBQ, seaweed, etc. Mine was paprika with cheese, and at first bite, I realized I was ascending to the culinary wonderland.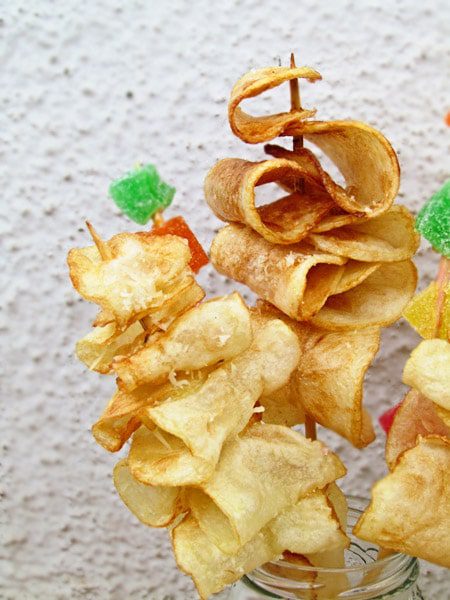 I wasn't sure if they were just regular potato chips or those with some sort of delicious spell infused. The chip was crispy, yet chewy and almost sticky when you try to devour them hot. The flavouring sprinkle added just a tickle to the tongue. It was such a delicious stick of potato chips.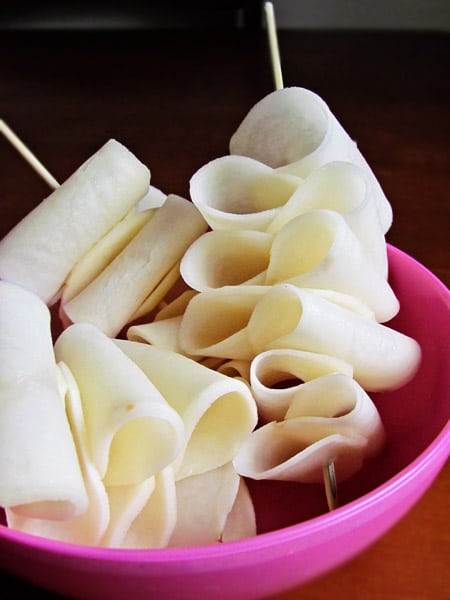 When I was home in India, I often dreamed of that hot chips on stick and I knew I needed to make them before another craving attack. I have been hunting for the spiral slicer for quite sometime so that I could recreate that fun, hot chip on stick until recently I realized I didn't really need one. I can make my version of hot chip on stick with a regular slicer.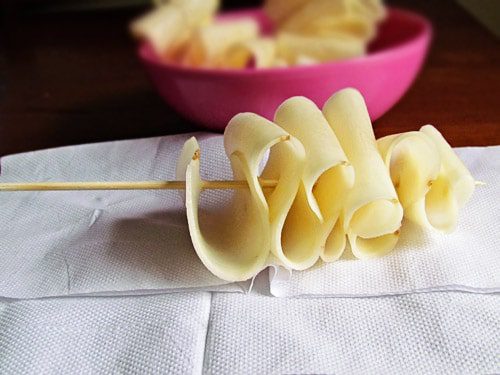 After the potato was sliced as thinly, I threaded every single slice in bamboo skewer one by one. I gently folded the potato slices in half and threaded both ends to the skewer with out breaking the fragile petals. They were not spiral-like but looked kind of like ribbon.
After a hot deep frying, I let parmesan dust melted on the crispy chips. The smell of fresh potato chips and cheese mixed was a divined call!
Chip on Stick with Parmesan Cheese

Ingredients (4 servings)

3 large potatoes

1/3 cup grated parmesan cheese

Oil for deep fry

A large bowl of ice water for chilling potato

Preparation

Peel and slice potatoes as thinly with a slicer. You can also slice them with sharp knife, cut as thinly as possible. Soak potato slices in ice water for 10- 15 minutes.
Skew potato slices in bamboo skewers by bending both sides together. Handle gently so you don't break the potato slices. Thread about 5-7 slices in one skewer.
Heat oil in the deep fryer at 360 degree F. Deep fry the potato slices on stick until golden brown and crispy.
Remove from the oil, sprinkle over with parmesan cheese and serve hot.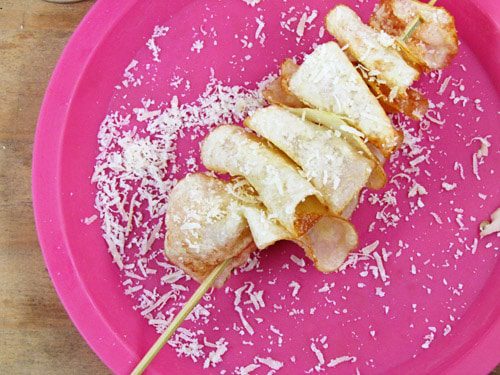 Our hot chips on sticks were incredibly crispy and perfect. It was fresh and sizzling. Against the crispy petals, the inner texture was quite steamy and chewy. It felt like a chip and French fry hybrid. Parmesan melted quickly and coated over the chips with cheesy salted flavour. We've never known potato chips could be so comforting and addictive.
Have a wonderful day,