A couple of years ago I had an opportunity to present my medical research work to a Congress held in Antalya. I am not sure which was more exciting, the research or the destination but we decided to make it into a fab family vacation. I had been to Turkey few times but that was my first trip to Antalya, the land of exotic holidays, lemon trees by the roadsides and plenty of mediterranean food. When Jet2holidays contacted me recently to create a recipe inspired by holiday places, I was delighted to see Antalya in their list of destinations. I pleasantly remembered our stay in an all-inclusive resort where the food was simply fabulous but what was striking is the selection of breads with distinct mediterranean flavours. I had shared my Ottoman-spiced croutons and Turkish Simit recipes before, but this time I wanted to create something from my memories. This Turkish inspired rosemary-olive bread brought me back to Antalya, so much so that we created a video to document the whole process.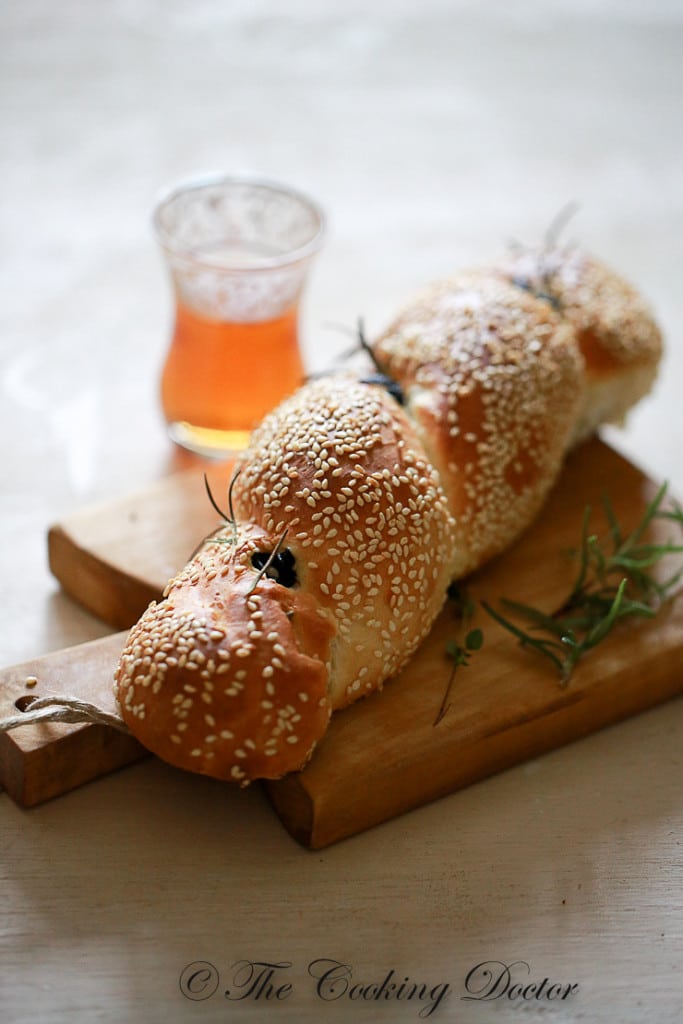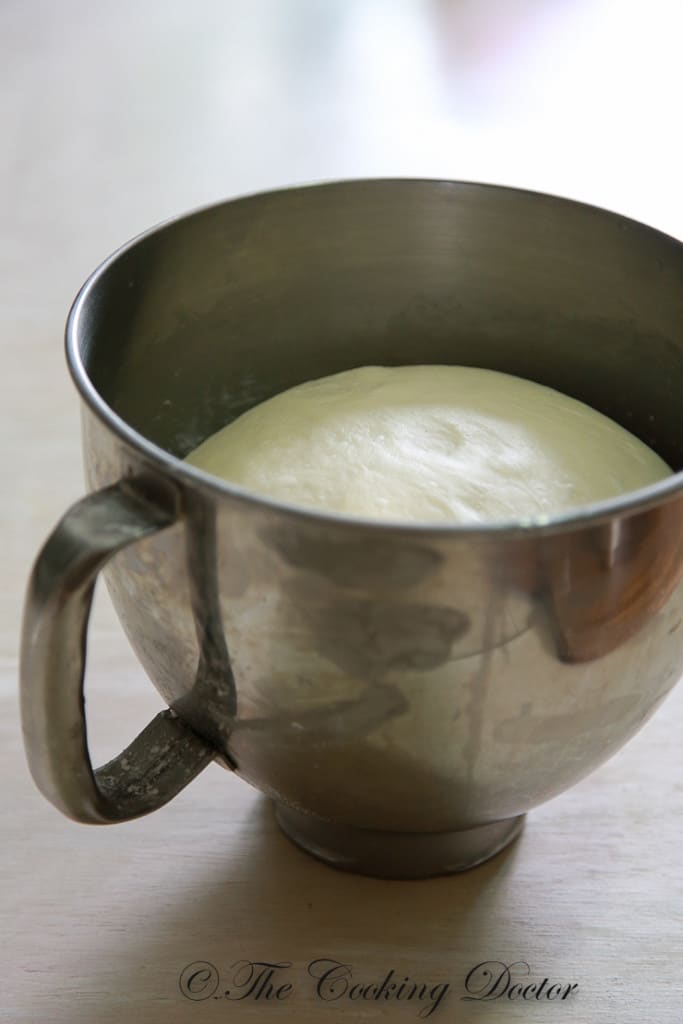 Unlike its European counterparts, I hardly see much sourdough breads in Turkey. What is aplenty is the enriched dough, which is further flavoured with local spices, saffron, fresh herbs, olive and sesame. Just like Simit, this bread is covered generously with sesame. This lends a nice crust that complements well with fluffy soft texture inside. I added kalamata black olives,  fresh rosemary and thyme but you can also add dried herbs if that's what you have in the pantry.
The video below will show you how easy it is to bake this bread, with minimal hands-on prep work. The key lies in getting the right consistency of enriched dough. I always prefer my dough on the wetter side, and I think that's the key to soft dough. Adding too much flour will create tougher bread. The amount of liquid is relative to the protein content of the flour used, so do adjust accordingly. You can add milk or water or a mix of 50:50 milk and water. If you do use fresh milk, ensure that the milk is boiled then cooled as the casein the milk can interact and weaken the gluten strength. Boiling and cooling down the milk helps to break down casein. You can use UHT milk without heating it beforehand.
So let's bake some breads. And if you get a chance to visit Antalya, don't forget to try out the food there. It is really one of the best flavours in the world.
Turkish Rosemary-Olive Bread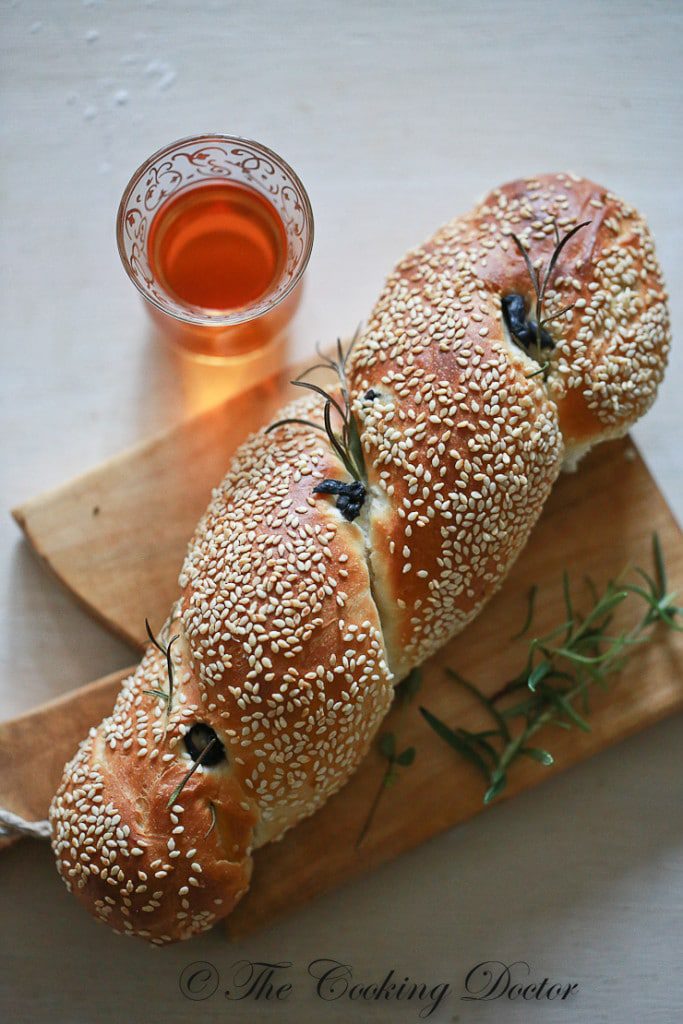 Print
Prep time
1 hour
Cook time
20 mins
Total time
1 hour 20 mins
A turkish inspired rosemary-olive sesame bread.
Cuisine: Turkish, Continental
Serves: 3 loaves
Ingredients
420g strong white flour
50g sugar
60g butter
1½ tsp instant yeast
1½ tsp salt
1 large egg
100 mls water
100 mls milk ( read the tip in the post about scalding fresh milk)
¼ cup olives
few sprigs rosemary and thymes
¼ cup sesame seeds
Milk for glaze
Instructions
In a stand bowl mixer, add the flour, sugar, egg, butter, salt and yeast.
Mix both milk and water into a jug and pour half of the quantity and knead slowly.
Gradually as the dough comes together, increase the speed of the mixer to medium-high and add liquid as necessary to form tacky, wet dough. You may need to knead on medium-high speed for a good 10 minutes to achieve the right elastic consistency.
Transfer the dough to a board dusted with flour and feel for the dough. If the dough is elastic, gather the dough tightly into a ball and put it back into the stand mixer, seam on the bottom.
Cover with cling film or towel and let the dough rise until it doubles in bulk.
Once it has risen, punch down the air gently and divide the dough into 3 portions. (you can also do one large bread if you like, but this way you get 3 standard size loaves).
Roll a portion into a rectangle and scatter some olives, thyme and rosemary.
Roll tightly into a rope and twist on its own.
Brush the rope with milk and press onto sesame seeds on a tray.
Let it rise for 20 minutes, and preheat oven to 200C.
Bake the breads for 18-20 minutes until golden.