If you think about it, for a dish that is named after the cooking process, Chicken Adobo is surprisingly non-descriptive. 'Adobo' in Spanish refers to a sauce or marinade, but gives no indication as to what kind of marinade or as to the preparation or flavors of the final dish (kind of like 'salsa' and 'curry' are generic terms as well). I'm not looking to redefine any categories here or to make any statements about what is or is not canon with regard to this dish. I just wanted to make a meal using a whole cut-up chicken I just bought.
With that in mind, I looked at the ingredients I had on hand and saw that I had everything I needed to make Filipino-style adobo. This style uses a handful of common ingredients that are probably already found in many fridges and pantries. Apart from the chicken, you can expect to see most recipes calling for a combination of soy sauce, vinegar, garlic, bay leaf, and black peppercorns.
The chicken is braised (basically, simmered gently) in this sauce for about half an hour–this is the adobo process referred to by the eponymous dish. The sauce is then reduced slightly while the chicken is removed to be finished on a grill, under a broiler, or in a pan (to crisp up the skin, Mmmmmm).
I am always very pleased by a dish like this, it is exceedingly simple to prepare, yet has a fantastic and distinctive flavor. Not only that, but it can also be largely prepared ahead. Adobo dishes typically yield a great sauce that is poured over the chicken and served over a bed of rice to soak up the flavors.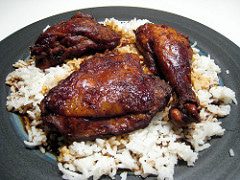 Chicken Adobo
Makes enough for 4 servings. Serve with rice.
Ingredients
1 whole (4-5 lb) cut-up chicken (or about 3-4 lbs chicken parts, thighs and legs preferred, breast meat is fine)
3 cloves garlic, crushed or minced
2-3 bay leaves
2 teaspoons black pepper
1 cup soy sauce
1/3 cup white distilled vinegar
1 cup water, plus more if needed
Directions
1. Combine the garlic, bay leaves, black pepper, soy sauce, and vinegar into a large pot and bring to a boil.
2. Add the chicken in one layer. The liquid should almost cover the chicken. If needed add water to reach about 3/4 of the way up most of the pieces. Cover and reduce heat to med-low to maintain a simmer. Cook for 30 minutes, turning the chicken over after 15 minutes.
3. Remove the chicken from the pot and pat dry. Place the chicken on a broiler pan and broil for about 5 minutes to crisp the skin (watch carefully, depending on the chicken, it can be finished in 2 minutes or less. Meanwhile, bring the liquid to a boil to reduce the liquid slightly.
Note: This dish can be easily prepared a day ahead of time, leaving only the broiling to do before serving. To prepare ahead, refrigerate the chicken after step 2 and pour the liquid into a tall container (like a pint glass). Cover both and refrigerate. Fat will rise to the top of the liquid and solidify, this can be easily removed with a spoon before continuing with step 3.