Over the summer I am especially conscious of not letting my children's brains whither. I am also especially (can I say aggravatingly) aware of how much they abhor my couching this in terms of "schoolwork", "homework", "homeschool" "workbook" or "learning time".

I have to be subtle. And creative.
Conveniently, cooking is a wonderful way to teach kids how to follow directions, work in steps, understand measurements, memorize fractions and begin to understand chemistry. Food is your child's first biology, chemistry and even geology lesson.
These cinnamon sticky buns, based on a recipe from Cooks Illustrated All Time Best Breakfast & Brunch Recipes, currently available for sale in grocery stores.
Let me tell you, of the many, many delicious things made in my kitchen, these buns were perhaps the very most delicious. Ooey-Gooey, soft, cinnamon-y, sweet (but-not-too sweet), with crunchy nuts on top and swirls of sugar inside: these buns are very special and utterly repeatable. We also made cinnamon rolls, from the same magazine. They were subpar but an excellent way to spend a rainy afternoon, and a lesson in comparing and contrasting. I had the kids write up their cooking experience, as well as a chart comparing the two recipes, and considered it a successful school day.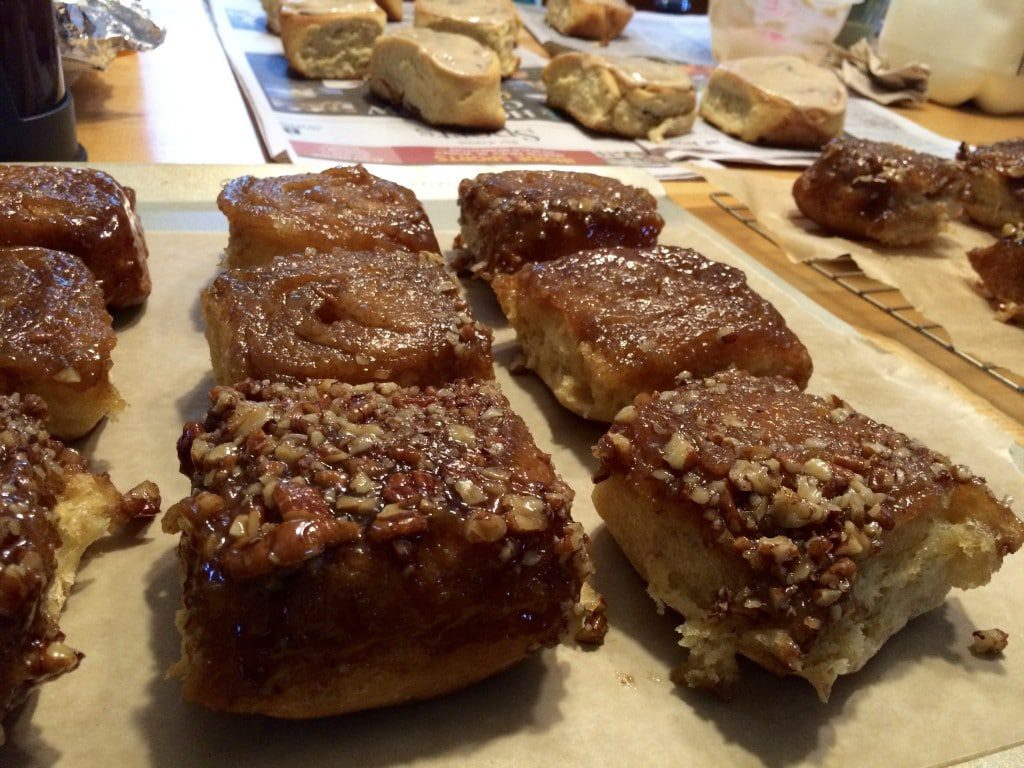 INGREDIENTS
Flour Paste
3/4 cup water
1/4 cup bread flour
Dough
2/3 cup whole milk
2 large eggs
2 3/4 cup bread flour
1 packet (2 1/4 ts) instant or rapid rise yeast
3 TB granulated sugar
1 ts salt
6 TB butter, softened
Topping
6 TB butter, melted
1/2 cup brown sugar, packed
1/4 cup granulated sugar
1/4 cup dark corn syrup
1/4 ts salt
2 TB water
2 TB vanilla
1 ts pumpkin pie spice
1 cup pecans or walnuts, toasted and chopped (optional)
Filling
1/2 cup dark brown sugar
1/2 cup maple syrup
1 ts pumpkin pie spice
OK Lets get to Work
Measure and Set Aside all ingredients, in order of use
Clean up everything, put away ingredients
Turn on the light in your oven and fill a pot or kettle with 5+ cups water that are heated to a boil and reduced to a simmer. Have a glass oven safe container ready that the water will be poured into (ie Pyrex loaf pan).
Prepare two large-ish metal mixing bowls by spraying with non-stick spray. Set aside with some plastic wrap nearby.
Prepare a 13 x 9 metal baking pan by spraying with non stick spray. You need to use a metal pan as a glass pan conducts heat differently.
Prepare a countertop area by lightly dusting with flour.
Adjust your oven racks to the bottom and the lower middle positions.
To Make the Flour Paste
Whisk the water and flour together until smooth and no lumps remain.
Microwave, about 20 seconds at a time, stopping to whisk, until the mixture thickens into a stiff pudding like consistency that drops mounds when dropped from the whisk. The recipe said 50-75 seconds, as every microwave is different My GE Advantium achieved the appropriate consistency in 45 seconds.
For the Dough
In the bowl of a stand mixer fitted with a whisk and set on medium low (ie #2 on my Kitchen Aid), combine milk and flour mixture from microwave until smooth. Add eggs, one at a time, whisking until fully incorporated. Add flour and yeast.
Switch out the whisk for a dough hook and mix on medium-low speed until until all the flour is moistened, about 1 minute. Let stand for 15 minutes.
Add sugar and salt and mix for five minutes.
Add butter, up the speed to #3 and mix for five minutes longer, stopping to scrape down the bowl as needed.
Remove the dough to one of the prepared mixing bowls. Lightly spray with non-stick spray. Cover with plastic wrap.  Set dough in the oven and let it rise for about an hour.
Meanwhile, Make the Topping
Whisk the melted butter, sugars, salt and spices in a bowl until smooth. Add water and vanilla and whisk until incorporated.
Pour mixture into the pan, tilting the pan as needed to make sure it is evenly and throughly spread.
Sprinkle with the nuts, if you are using.
Make the Filling
Mix the sugar and spices until well incorporated and set aside
When the dough is ready
Point out how the yeast caused the dough to rise. Very cool. What fed the yeast to make it grow? CARBS! (sugar)
Turn out the dough onto a lightly floured surface
Press the GENTLY dough down to remove air bubbles, then start pressing out into a large rectangle, about 15 x 18. Press evenly and be careful to not cause air pockets holes by spreading too thinly.
Sprinkle the filling evenly over the dough, pressing it down lightly into the dough and creating a nice smooth surface.
Beginning with the edge nearest you, roll into an even cylinder. Be careful to not roll to tight or too loose. Press the seam on your last roll to seal it, and turn your roll so it is seam side down.
Mark gently with a knife to create equal portions of about 1 1/2 inches width.
Slice (the recipe called for dental floss, but a good sharp kitchen knife is perfectly fine). Transfer the slices to the prepared 13 x 9 metal pan.
Cover tightly with plastic wrap.
NOTE at this stage, the dough can be refrigerated until you are ready to use it. We were baking in the afternoon but wanted the buns hot out of the oven for breakfast, so I just set the pan in the fridge overnight. Easy Peasy. When you are ready to bake them, they will need a little longer to rise, about 1 to 1 1/2 hours.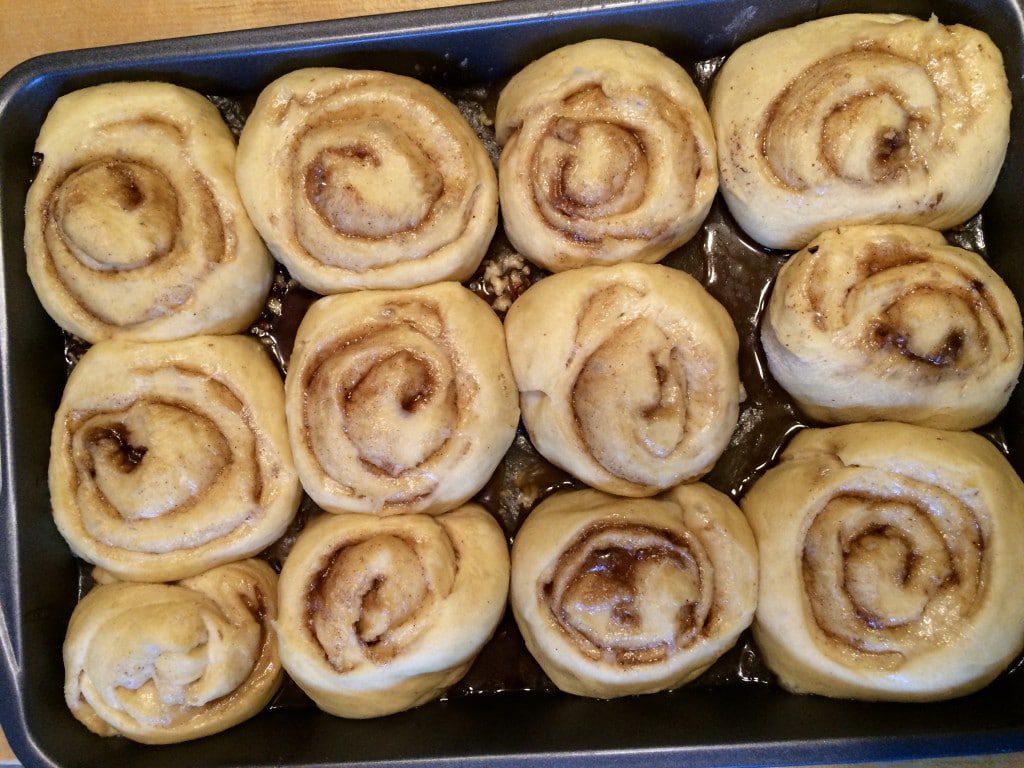 When you are ready for the second rise and to bake the buns
Set the Pyrex loaf pan on the lower rack of the oven. Pour the boiling/simmering water into the loaf pan. Shut the oven door and let rise another hour.
Remove water and dough from oven. Set oven to 375.
To Bake
Bake the buns on the upper rack, still set in the lower middle position, about 20 minutes. Tent the buns with foil or parchment paper so the tops don't burn, another 10-15 minutes. Remove from the oven and let them cool for about five minutes.
Place a rimmed baking sheet, or any flat surface (I lined a baking rack with parchment paper), over the top of your buns and flip to invert and remove from baking pan. This sounds difficult but is very easy, b/c you used a metal pan and were sure to spray it!
Scoop out any remaining ooey-gooey toppings onto the buns.
Wait as long as you possibly can (we topped out at the recommended 5 minutes) then gently slice the buns to pull apart. The recipe calls for waiting about 10 minutes before eating, but my bet is you won't be doing that. We certainly didn't.
Our recipe made about 12 buns. I froze 6 after letting them cool and they were fantastic warmed in a low oven about a week later.
Bon Appetit! We hope you enjoyed this little lesson in food chemistry, that your kids had a blast measuring, whisking, sticking their fingers in the yeasty dough and leaving trails of caramelized sugar all over your table. Life is short. Don't sweat the brown sugar sprinkled in every crack of your kitchen!
Feel free to share…