Anyway, after what seemed like a full 24 hours of flying, we were starving once we got to the hotel and restaurant in Lucca. We sat down at chef's restaurant and I ordered up this amazing Cheesy Gnocchi. I had never had Gnocchi before then and let me tell you I had been missing out. It was seriously light and fluffy, cheesy, and simply the most amazing thing to hit my taste buds! Ever since that day, when asked what my favorite dish consists of… Gnocchi has been the answer!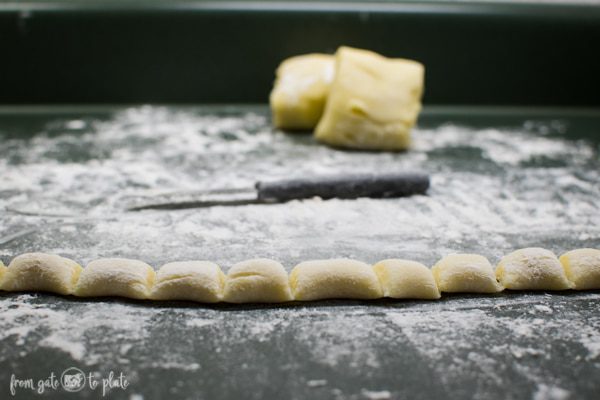 Sadly, I must admit I hadn't made any sort of Gnocchi since I graduated from IHCC. I just hadn't had the kitchen space that I like, but that's all changed now because I have a very spacious kitchen!! <3. Over the years I had purchased that dried stuff that comes in a bag you find in the pasta isle in Wal-Mart or Target, but I cooked it, dressed it with a cheesy sauce.. and disposed of it. Yuck! I couldn't even bring myself to eat it because it was awful. Nothing, absolutely nothing like the real homemade stuff. Seriously. If you're a fan of that boughten crap, you will never want to go back to it after you make your own. I promise!
Everyone always makes Gnocchi out to be something hard to make. It's not hard, just time consuming. You can't really stop the process once you've started. You just can't. After you boil or bake your potatoes, you must finish and see the process out. It's really not hard at all, I promise… so totally worth it in the end too!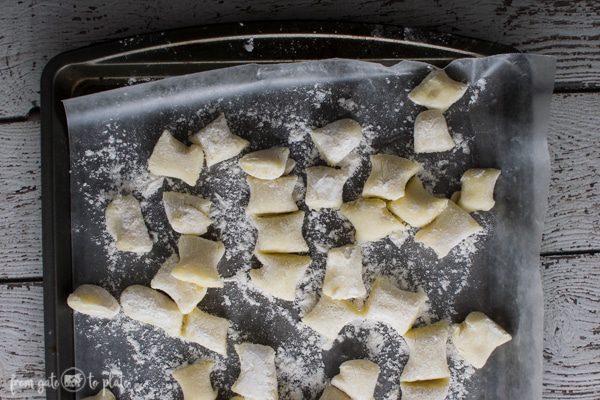 Gnocchi
Serves 6
A light and fluffy potato pillow waiting for your favorite sauce whether a cheese or tomato based.
Ingredients
1 pound Famous Idaho Potatoes
3 1/2 ounces all-purpose flour
1 egg
2 teaspoon salt
1/2 teaspoon pepper
Instructions
Place the potatoes (washed, whole and with peels) in a large pot and cover with salted water.
Bring to a boil, simmer and cook until tender (easily pierced with a fork or knife) about 50-60 minutes.
Remove potatoes from water. When cool enough to handle (I place in a towel so I can handle them very quickly), peel and place in a rice or food mill.
Combine all ingredients, mixing just until combined. Dough will be a little tacky, but that's okay it'll come out of it when you dump onto floured surface.
Turn dough out onto a floured surface and roll into a roughly 12-inch log.
Cut into three equal portions.
Gently roll each portion into a long log about 3/4-inch thick. Cut each log into 3/4 to 1 inch pieces.
Now you may use a knife to roll the gnocchi on or use a gnocchi board or leave as is.
Place dough on a parchment paper lined cookie sheet covered in plastic wrap for up to one day OR place in a large pot of boiling salt water to cook just until floating about 2 minutes each.
Serve with your favorite sauce!