Banana cream pie is one of those desserts that is surprisingly delicious. Oh so creamy, oh so flavorful. These little baby chocolate tarts are a bit of a tasty deviation from your banana cream pie. The filling includes caramelized bananas, toasted coconut and pecans, and homemade whipped cream. The crust is a flaky chocolate crust made with rich cocoa.Ingredientology:
The bananas are caramelized in a skillet with brown sugar and butter for maximum richness. The coconut and pecans are also toasted in a skillet to to bring out their oils and flavor. The crust is my classic pie crust (which includes equal parts vodka and ice water for flakiness) as well as a generous scoop of cocoa to compliment the bananas and coconut.
Makes 6 mini tarts.
The Ingredients:
for the crust:
2&1/4 cups all-purpose flour
1/2 cup cocoa
3/4 teaspoon salt
1/4 cup granulated sugar
1/3 cup vegetable shortening
1/2 cup butter (1 stick)
1/3 cup ice water
1/3 cup vodka
for the filling:
4 overripe bananas
1 tablespoon butter
1/4 cup brown sugar
1 cup pecans
1/2 cup sweetened coconut flakes
for the whipped cream:
1/2 cup heavy whipping cream
2 tablespoons granulated sugar
1/4 teaspoon vanilla extract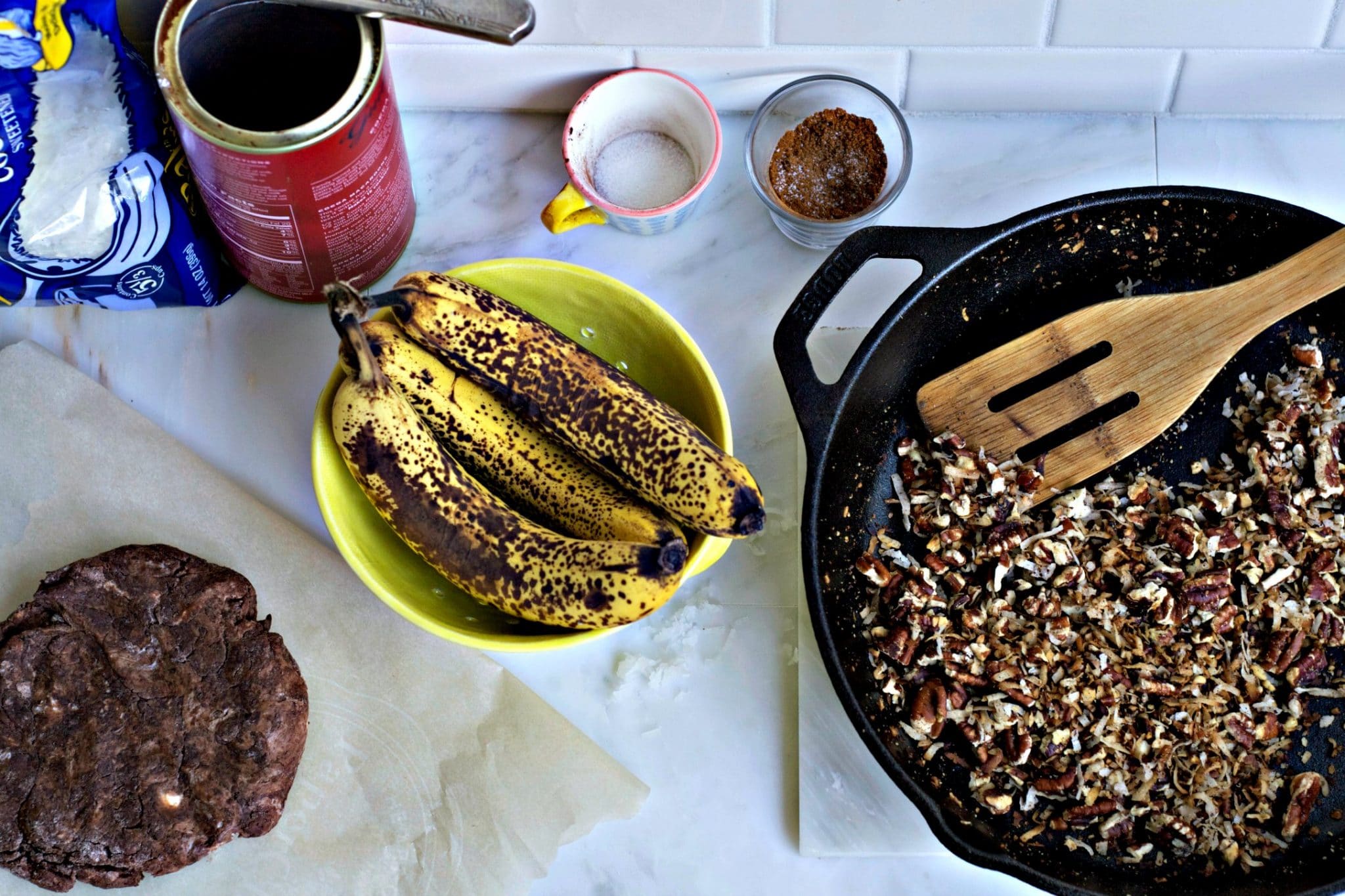 The Method:
In a large mixing bowl, combine the flour, cocoa, sugar and salt
Cut in the shortening until the shortening is the size of peas
Cut in butter until the butter is in small flakes
Combine water and vodka together in a cup
Spoon the water/vodka combination into flour mixture, 1 tablespoon at a time, stirring with a fork until combined
Roll dough into a disk
Wrap in plastic wrap, refrigerate for 1 hour
Meanwhile, toast the pecans and coconut on the stove in a skillet or frying pan until pecans start to smell and coconut gets some brown edges. Set aside.
Using skillet again, melt butter and brown sugar and add sliced bananas. Cook until bananas reduce and the bananas become "gooey"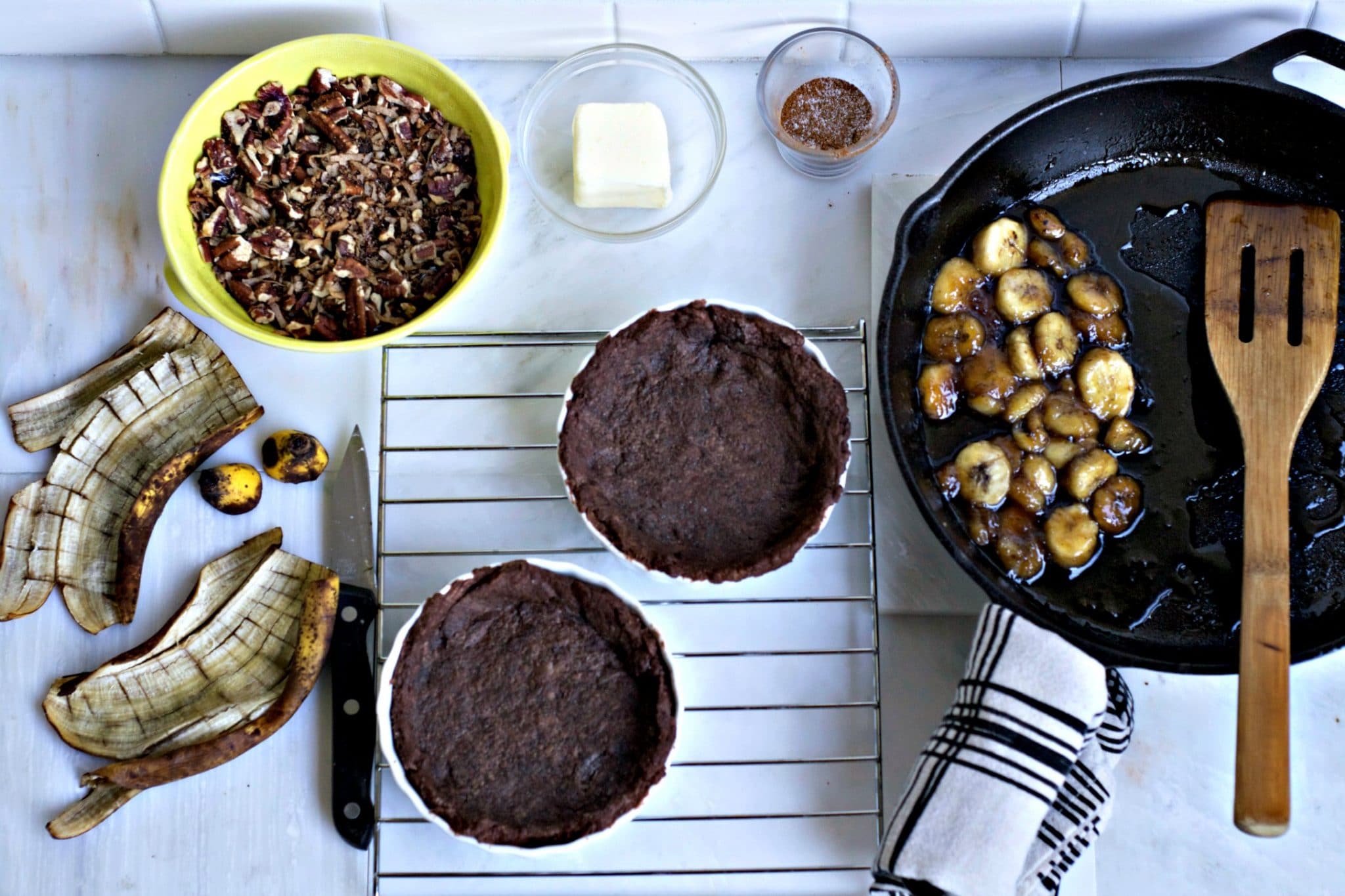 Preheat oven to 350 degrees
Remove dough from refrigerator, roll out, and roll crust into mini ramekins. Bake at 350 degrees until tart shells rise off the bottom of the ramekin and are fully cooked, about 15 minutes
Gently fold coconut and pecans into banana mixture, trying not to break up the bananas
Spoon mixture into tart shells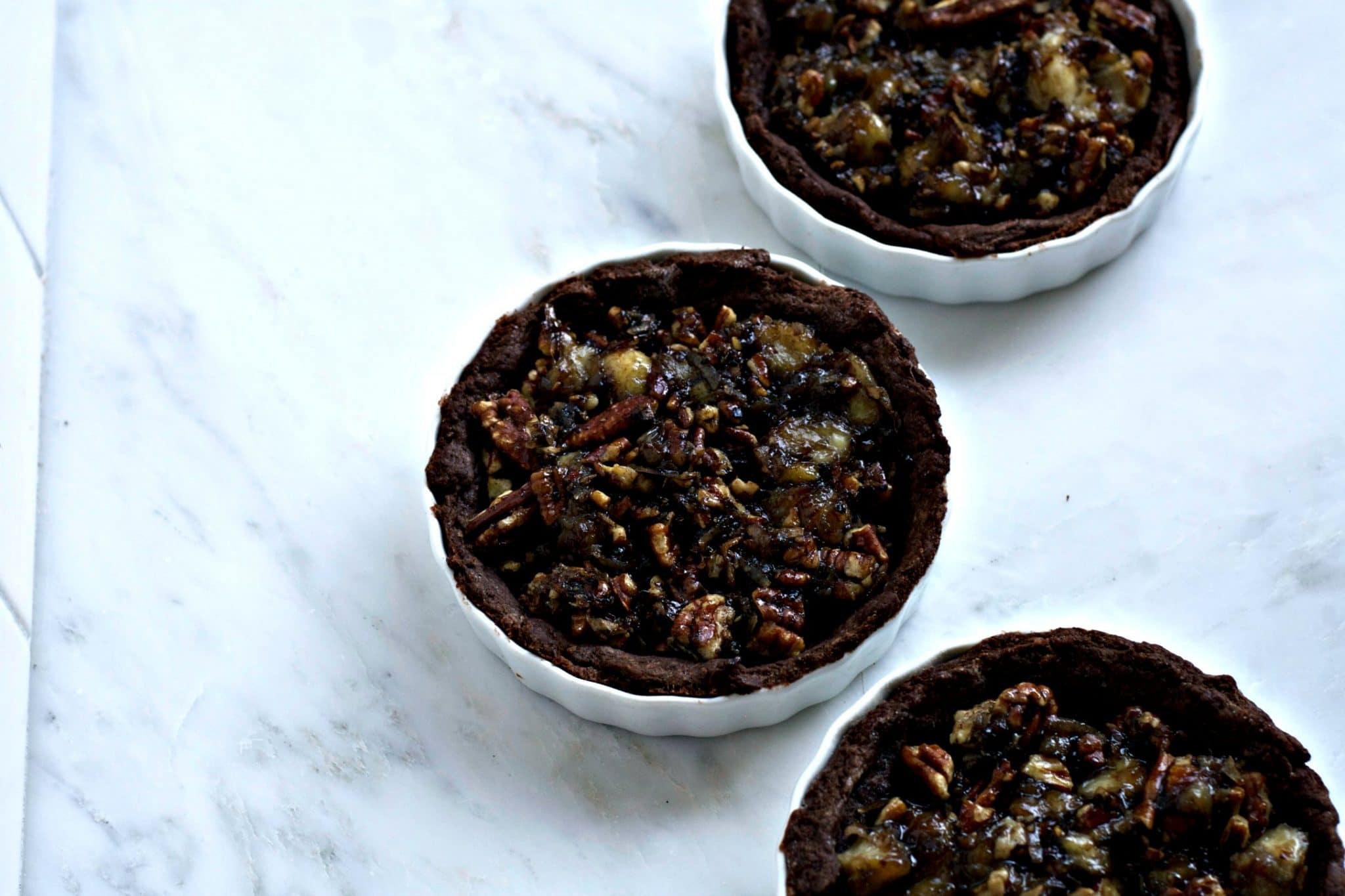 Using a standing mixer with a wire whisk attachment, add heavy cream, sugar, and vanilla
Mix on "high" until stiff peaks form
Top tarts with whipped cream and sprinkle with cinnamon and sugar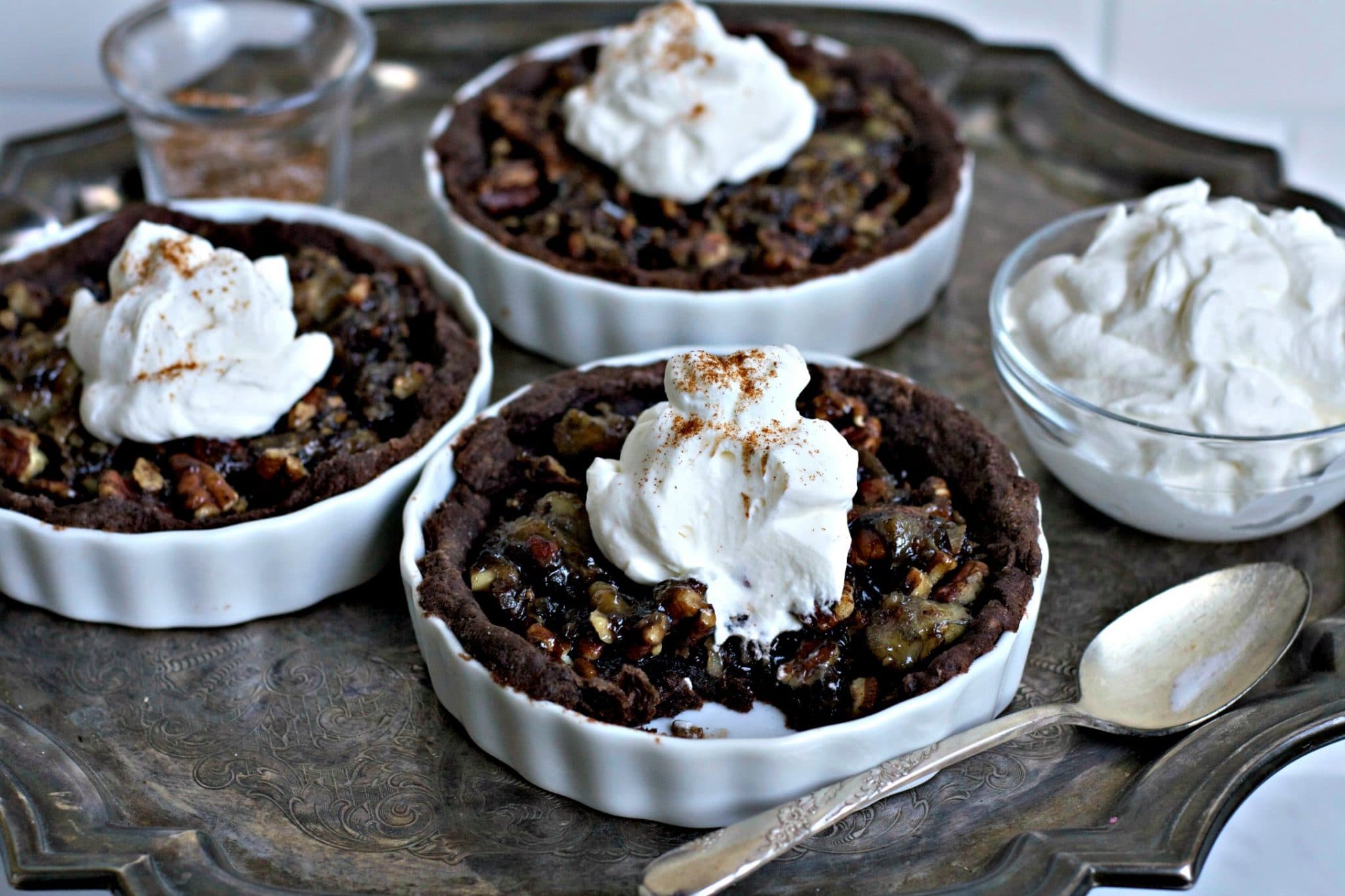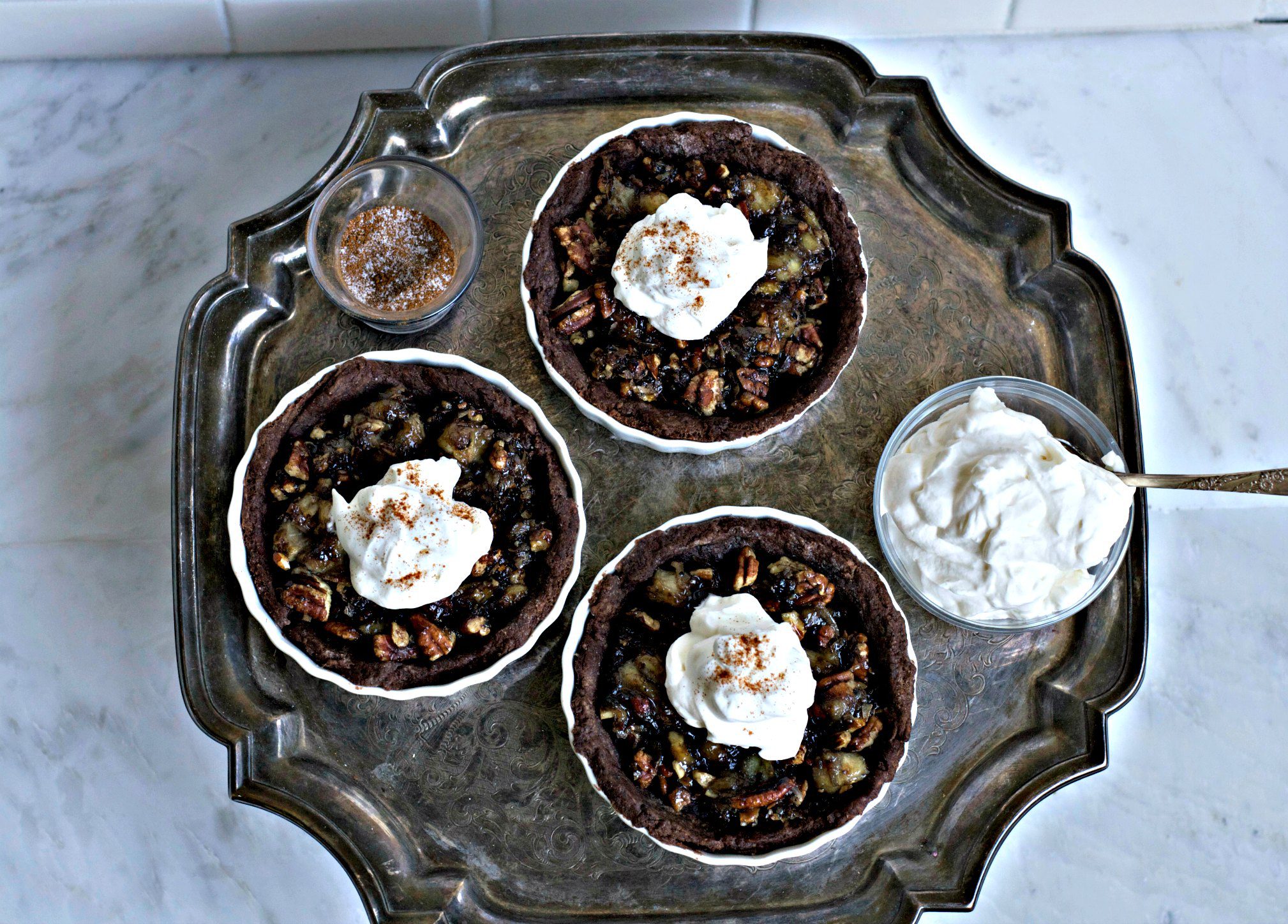 Take a big spoonful of crust, filling and whipped cream!!