I'll admit that I'm an odd kind of lazy. It's the kind of lazy where I'll go out and run 20 miles at a time, but won't be bothered to make myself breakfast because I'm still sleepy. So that means that I fall prey to the easy conveniences of modern breakfast that people still try to believe are healthful, i.e., the granola bar. Most are just puffed rice, oats, and corn syrup… basically a glorified candy bar. Some others are actually pretty good for you (like the Kashi ones). After going through a few boxes of bars, I started thinking that it really couldn't be that hard to make my own. After all, it's just a bunch of nuts and whatnot stuck together. Besides, if I made them, I could use ingredients I liked, avoid high fructose corn syrup, and maybe pack a bit more protein in there.
One trip to the bulk purchase section of the grocery store later and I had all my ingredients. I skipped everything I didn't like and went for the things I wanted: nuts and chocolate. Cashews, almonds, peanuts, sunflower seeds, and Ghirardelli 60% dark chocolate chips. Obviously, this is heavily modifiable based on your taste. Feel free to use any combination of things that you enjoy. Any chopped, dried fruits would work well. You could even do crazy spices or add things like wasabi peas. I stuck with the tried and true.
Assembling the bars themselves couldn't be easier. Just mix everything in a large bowl. Work it around so that everything is evenly distributed and plop it out into a baking pan. Press down gently to even it out and bake it for about half an hour and the end result is one giant granola bar. This is good if you are a giant. Not so great for us… but that's why we have knives. Just cut the one big square into lots of little squares/rectangles and what was once fit for giants is now manageable by us!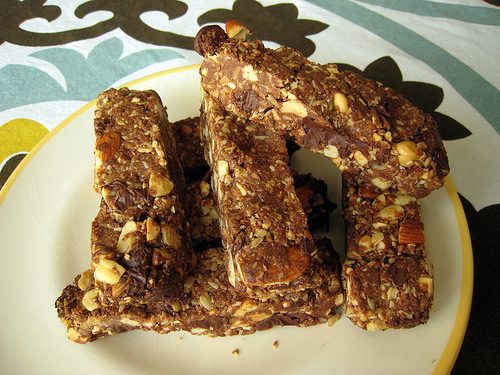 Click on through for the recipe and a few tips.
My recipe comes modified from King Arthur Flour. I looked around on the nets a bit too and thought that this one would probably be the best way to get the result I wanted: filling and slightly dense, but still on the chewy side. As you can see, I also added some protein powder to mine. You can leave that out if you want, but I tend to be pretty active, so I figured a little extra protein wouldn't hurt. And by "pretty active" I mean I just ran 20 miles. Just for fun. As I said, an odd kind of lazy. Now let me eat my granola bar. I think I've earned it 🙂
Chewy Granola Bars
Ingredients
1 2/3 cups quick rolled oats
1 tablespoons light corn syrup
1/3 cup granulated sugar
1/3 cup oat flour (or 1/3 cup quick oats, processed till finely ground in a blender)
1 cup cashews (raw, unsalted)
1 cup almonds (raw, unsalted)
1 cup dark chocolate chips
1/2 cup sunflower seeds
1/2 cup peanuts
1/2 cup peanut butter (natural)
1 teaspoon vanilla extract
1/4 cup melted butter
1/4 cup honey or maple syrup
3 tablespoon water
4 scoops chocolate protein powder (about 100g total protein) (optional)
Directions
1. Preheat the oven to 350°F. Line a 9″ x 13″ dish with parchment paper.
2. In a mixing bowl, beat the peanut butter with the protein powder until it looks crumbly. If using a stand mixer, switch to the paddle and add all the dry ingredients (rolled oats, granulated sugar, oat flour, cashews, almonds, chips, sunflower seeds, and peanuts).
3. Add the corn syrup, butter, vanilla, honey or maple syrup, and water in a mixing bowl. Add that to the mixing bowl, and mix until well combined. It will be crumbly, but should stick if you grab a handful and press it together. If it doesn't clump, add up to 1/4 more honey or peanut butter.
4. Spread the mixture evenly in the pan and pat it down.
5. Bake for 25-30 minutes, until it's golden brown around the edge (don't let it get too dark or it will become too crumbly).
6. Remove from oven and allow to cool for about 10 minutes.
7. Gently remove the granola from the pan. Use a sharp, serrated knife to cut the granola into bars. Wide bars won't crumble as easily, but I took the risk and cut them into 1 by 4.5 inch bars. The best way to do it is to cut it length ways first (down the center to make two 4.5 x 13 inch sections) then cut into bars the size you want.
8. Wrap the bars individually and place in an airtight container. If it's humid (and it's humid in North Carolina) you can store them in the fridge or freezer. They'll keep for ages in the fridge or freezer, or at least until you eat them.
Notes: Be careful cutting them. Use a good serrated knife or very sharp blade. They do want to crumble on you. I only had one fall apart on me, but I could see how the others could have easily fallen apart.