Creamy, cheesy, and delicious is how I like to describe this Panera Copycat Mac and Cheese!
I just can't seem to get away from comfort food even when I go out to eat. It's just something that I love… and mac and cheese fits the bill for the ultimate comfort food and that's why when this weeks #SundaySupper theme was chosen I just knew I needed to participate. It's been quite a few months since I last joined the wonderful #SundaySupper movement… but now hopefully I'm back to stay and back to blogging on a regular basis.
So anyways…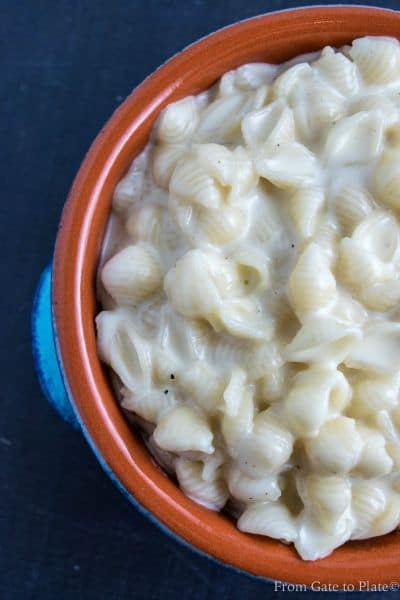 Have you ever ate at Panera Bread before? They have one in a nearby mall and I try to swing by whenever I go shopping. I love their soups just as much as their mac and cheese! So cheesy… so creamy… so delicious!
I'm not going to lie… I do love some good ol' mac and cheese straight from the box, but I know I can make it much better homemade and after whipping up this Panera copycat recipe… you'll want to make it homemade all the time too!
Panera Copycat Mac and Cheese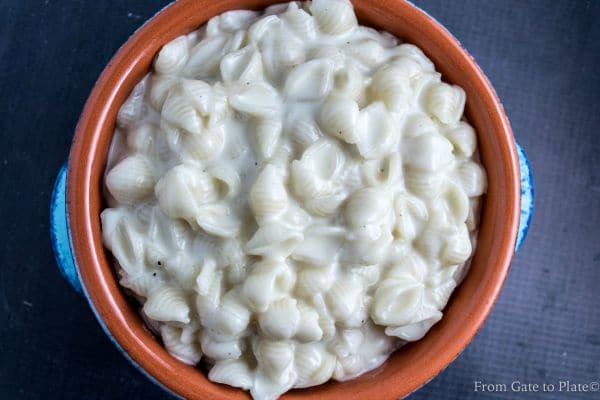 Serves 6
Creamy. Cheesy. Delicious. It's just like having Panara in your own kitchen!
Ingredients
1/4 cup butter
1/4 cup flour
1 cup milk
2 cups heavy cream
2 cups shredded white cheddar cheese
1/2 teaspoon salt
1/2 teaspoon white pepper
1 teaspoon dry mustard
1 pound small or medium noodles, cooked*
Instructions
In a large pot over medium-high heat, melt butter.
Add flour and stir with a whisk 2-3 minutes, but do not allow to golden as you want your mac and cheese to stay white.
Reduce heat to medium and slowly add milk, heavy cream, salt, pepper and dry mustard.
Continuously whisk until mixture begins to boil.
Reduce to low and add cheese, stirring until melted.
Add cook pasta, stirring to combine and if needed stir until thoroughly heated or remove from heat.
Serve!
Notes
*May use any type of pasta shape–I just prefer shells for my mac and cheese.