"Life doesn't always go the way you planned it to go. Sometimes you have detours you have to take." -Andrew McCutchen. Sometimes things become completely the opposite of what you expect it or dream it to be. For example, let's say you wanted an amazing time when you came back from work, where you just wanted to sit at home and watch an amazing TV show (uh..hum..COUGH COUGH…FRIENDS or even NEW GIRL), eat dinner, binge on Youtube or Pinterest or Instagram, and then fall asleep to beautiful rain sounds right after you take a nice long bath with a good book and candles. I see you on the screen, stop dreaming and drooling. Anyways, and then you actually reach home suffering through endless piles of traffic caught up for 10 miles on the drive back. You enter your house with a bunch of laundry on the floor and a good sturdy amount of work, realizing the picture frame that you hung (in two minutes without proper drilling) fell off the wall and crashed down, bringing the entire array of attempted decoration. Ok, not too bad… "I can still take my bath and watch TV (Friends or New Girl of course…) but I might have to skip binging." And that's when your phone lights up, and instead of seeing an update about the very awaited news of Kylie Jenner's baby's pictures, it fires off with a problem at work. You're doomed at this point. You sit down to address the problem and realize that it's 9 o'clock already. But making the best out of situations is your cup of tea. You plug in your music and dance while doing your chores, and eat the best takeout food ever, and still manage to watch an episode of a TV show (cough… it better be Friends or New Girl) and get to bed by 10. It was still a good day, and in some ways, your such a boss, cause no one could have handled it better than you.
And that's the story of this brittle. In a long-winded way of course…. these cookies were destined to be brittle. A brittle that tasted oh so good. I started out to make cookies but as I stated earlier, "Life doesn't always go the way you planned it to go"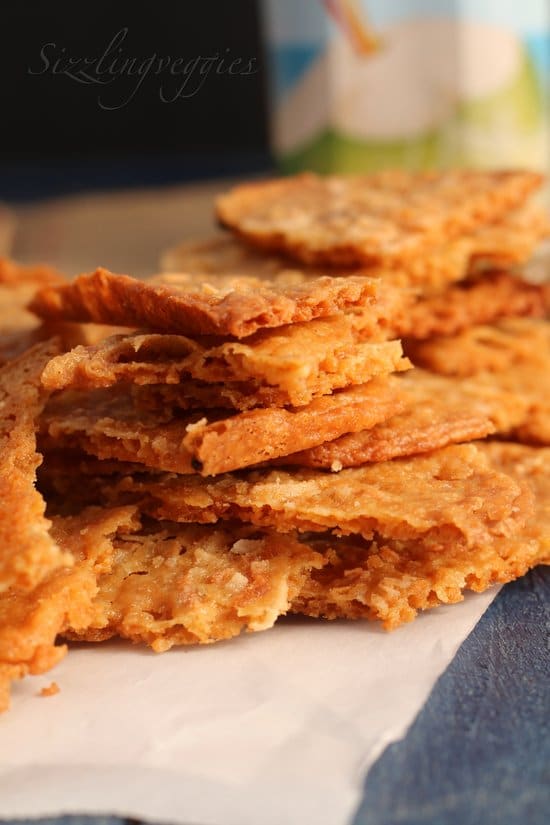 Gluten Free Coconut Brittle
Ingredients
Gluten Free Flour = 1 1/4 cups
Unsweetened Coconut Flakes – 1 cup + 2 Tbsps
Baking Soda – 1/4 tsp
Baking Powder – 1/2 tsp
Salt – 1/2 tsp
Sugar – 3/4 cup
Brown Sugar – 1/2 cup
Coconut Oil – 10 Tbsp (I added 5 Tbsp Butter + 5 Tbsp coconut oil)
Egg – 1 (at room temperature)
Vanilla Extract – 1 tsp
Instructions
Preheat oven to 300F. Spread coconut flakes evenly on baking sheet. Toast them until slighlty golden about 5 minutes. Remove the coconut flakes from oven and let it cool. Crush them in hand when they are ok to handle and set it aside.
Preheat ovent to 350F. Prepare cookie sheets with parchment paper or baking mat. Set aside.
In a large bowl whisk all the dry ingredients- flour, baking soda, baking powder, salt, sugar, brown sugar until well combined without any lumps.
Reserve about 2 Tbsp of crushed coconut flakes in a small bowl and add the remaining coconut flakes to the dry ingredients mixture in the bowl.
Add melted coconut oil+ butter, egg, vanilla to the bowl one after another and combine well. Dough will be soft and sticky. If it is very hard to handle, leave them in refrigerator for few minutes.
Scoop about 2 Tbsp of dough to the prepared sheet. Space them about 2 inches apart. Press each scooped dough lightly to form 1/2 inch thick discs. From the reserved 2 Tbsp coconut flakes, sprinkle little on each of the flattened disk.
Bake in oven for about 10 minutes or until the brittle are lightly golden brown in the center and darker around the edges. Let it cool completely before breaking them into pieces. Enjoy!!!