This tall stack of fluffy pancakes, that has been lovingly kissed with extra cinnamon. Generously soaked in maple syrup and melted Earth Balance butter, will be impossible to resist.
The first step in this recipe is to create a vegan buttermilk. Classic buttermilk is simply cultured milk, easily made by adding 1 Tbsp of vinegar or lemon juice to 1 cup of milk, then stirring till tiny curdles form. Pretty easy, and pretty easy to veganize by simply swapping out the "milk" for a plant based milk, I prefer soy. The buttermilk adds a richness and tanginess, that pairs perfectly with the light and airy texture of the pancake. The airy texture is achieved by the addition of aquafaba, if you are unfamiliar with aquafaba, it is the liquid that is usually discarded when you open a can of beans. Most popular; chickpea liquid, due to its subtle flavor and clear liquid. This liquid contains a lot of the same characteristics as an egg white, and takes away any issues of heaviness or sweetness that other "egg replacers" create. This protien rich liquid has become the holy grail in vegan baking, 3 tablespoons of the aquafaba liquid equals 1 egg.

*Instead of cracking open a can of beans every time you need an egg, freeze the liquid in 3 tablespoon portions, and defrost when needed. You can also save cans and money by cooking beans at home in big batches and saving the liquid.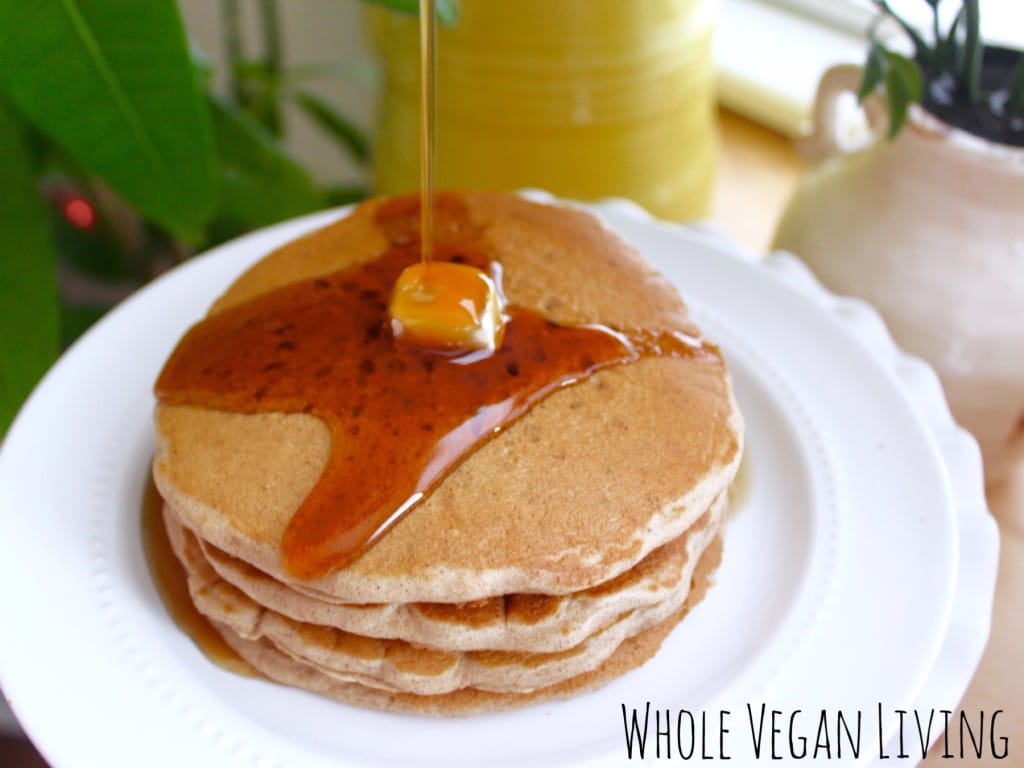 Although these buttermilk pancakes are light and fluffy, they are not too delicate to hold up to a good drizzling of 100% maple syrup! Top with your favorite vegan butter, or fresh fruit, and enjoy the awesomeness these pancakes will bring into your life !
Fluffy Vegan Cinnamon Buttermilk Pancakes
1 Cup Whole Wheat Flour
3/4 Cup Soy Milk Mixed with 1 Tbsp Lemon Juice (Let sit for 5 mins) "buttermilk"
3 Tbsp of Aquafaba (Chickpea Liquid)
2 Tbsp of Sugar
1 tsp of Cinnamon
1 tsp Vanilla Extract
1 tsp Baking Power
1/2 tsp Baking Soda
1/8 tsp of Nutmeg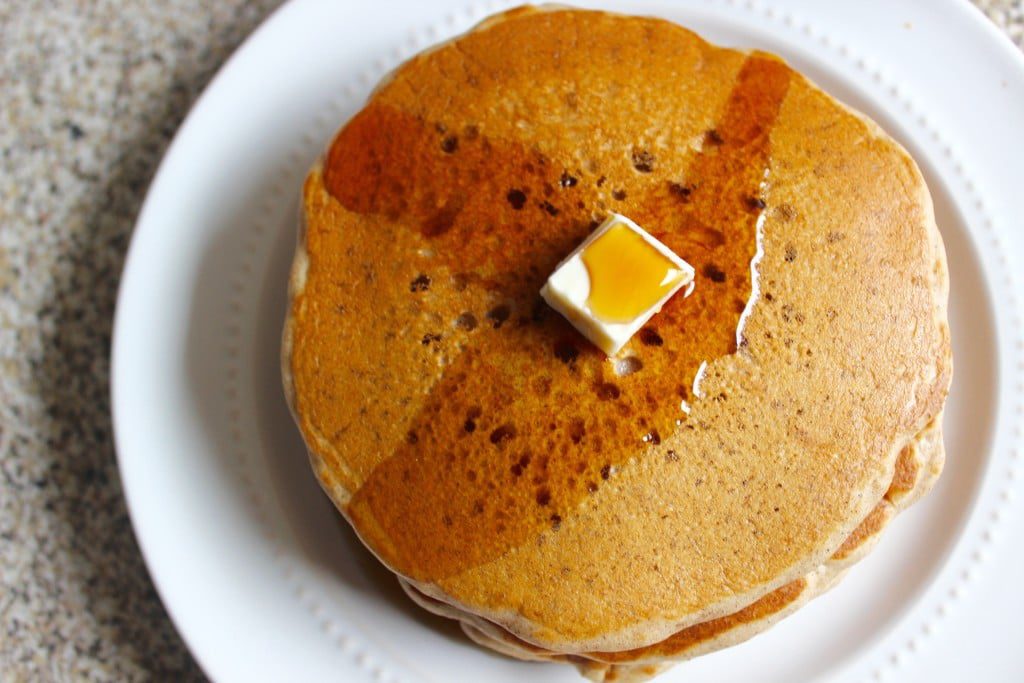 Directions
In a small bowl, mix together soy milk and lemon juice, and set aside for 5 mins
In a medium bowl, whisk together "buttermilk, and aquafaba. Add dry ingredients, and whisk till combined, don't overmix
Heat a large skillet or griddle over medium heat.
Fold a sheet of a paper towel in half, and moisten with coconut oil; lightly rub oil onto cooking surface
For each pancake, spoon 2 to 3 tablespoons of batter onto skillet, using the back of the spoon to spread batter into a circle (you should be able to fit 2 to 3 on a large skillet)
Cook until surface of pancakes forms a few bubbles, and a few start to pop, 1 to 2 minutes. Flip carefully using a spatula, and cook until browned on the underside, 1 to 2 minutes more.
Serve, and enjoy
I hope you all have a beautiful morning, and enjoyed this recipe !!
xoxo