Imagine biting into a caramel-y, decadent ice cream sandwich that is filled with sweet, fluffy whipped cream. What if you could have not just one, but three… and have no guilt whatsoever?
Let me introduce the star of the show:
"Ice Cream" Sandwiches!
These perfect bites are a combination of two of my favorite things: cool whip and caramel flavored rice cakes. I am sure some of us can still remember the boring, cardboard-like taste of those rice cakes weused to have when we first got on the "diet" bandwagon. Well throw those memories away, because this recipe is flipping fantastic! I actually prefer these to ice cream sandwiches.
Yeah, I said it.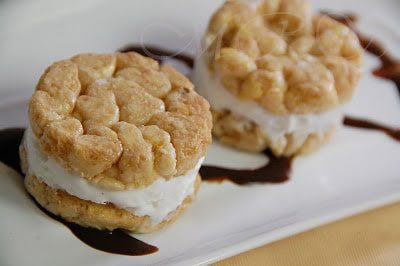 When you take a bite, you get the buttery caramel and some crunch from the rice cakes, and then the fluffy and creamy whipped topping melts into your mouth, forming an experience of pure deliciousness…
These are perfect for kids, can be put together in a snap, and are just the right amount to satisfy any sweet craving! I ate three and was more than satisfied. Plus, they are inexpensive and just downright fun to look at (and eat, duh)!
Caramel "Ice Cream" Bites
Serves: 4                Serving size: 3 sandwiches         Calories: 70
Ingredients:
24 mini caramel flavored rice cakes
 3/4c. slightly thawed fat free/light whipped topping
Instructions:
To prepare a sandwich, take two mini rice cakes. On one of them, place 1tbl of whipped topping. Top with other rice cake, and gently press down until the whipped topping goes to the edge of the cake (as seen above). Smooth down sides gently with a finger to make it look pretty, if wanted!
Repeat for as many rice cakes as wanted, and then devour!!