During special occasions and festivals in Thailand, family and relatives usually sit in circle preparing the special dessert that is a must to serve and gift to the guests. It is a time to discuss and plan for the tomorrow party while delicately wrapping the rice in banana leaves. It is a casual and cozy event that everyone comfortably enjoys and shares.
Rice wrapped in banana leaves or "Khao Tom Mud" filled with ripe banana and black beans is a hearty sweet snack everyone loves to munch on before and after the heavy meals. There are 2 ways of making this: you can soak sticky rice over night and blanch it in coconut cream and sugar, stuff it with the filling and steamed it. Or you can directly wrap the raw sticky rice in banana leaves with the filling and boil it until cooked. The second version will not be as sweet as the first one, so people usually serve it with sugar, toasted sesame seeds and grated coconut. I love the second version because it is light, fresh, and really simple to make.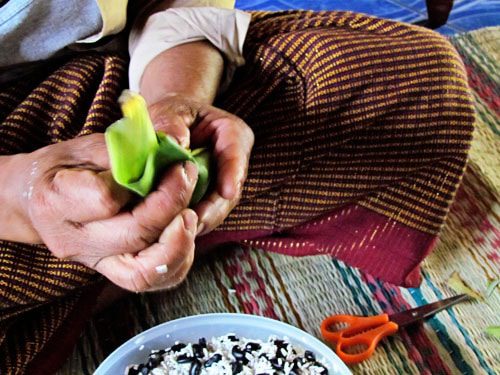 Wrapping raw sticky rice with banana leaves is a tricky business. Banana leaves should be left in the hot son for many hours until soft and easy to handle. Slightly roast banana leaves over the medium flame also give the same result.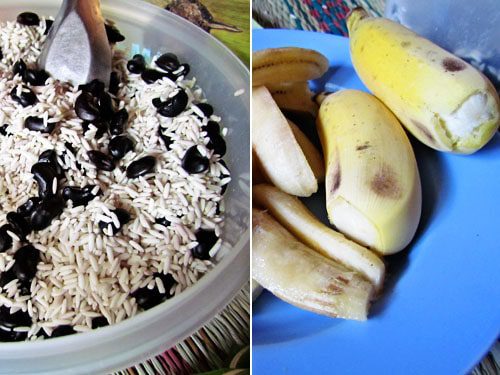 Black bean takes longer time to cook, so it needs to be soaked over night before use. It gives a wonderful texture, color, and taste to the chewy sticky rice. Ripe banana gives a beautiful sweetness and tenderness to the rice. Thai small banana or "Nam Wa banana" has an appropriate sweetness for the recipe. It is a simple and perfect combination.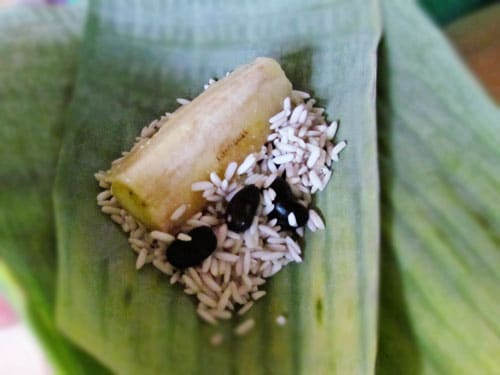 Sticky rice with banana in the perfect banana leaves parcels then drop in the boiling water and boil for 30-45 minutes or until the rice is cooked thoroughly. The result is a perfect chewy and doughy rice cake with the sweet moist filling. We love eating this while it is still steamy hot that even difficult to unwrap it from the raging heat.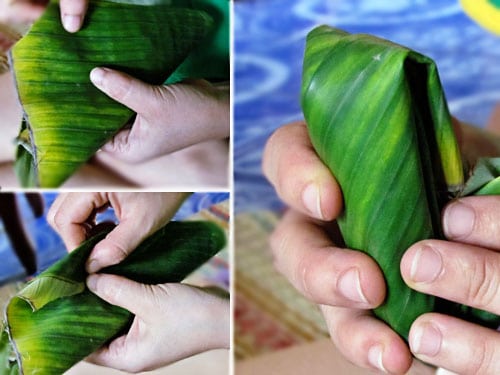 The best way of serving Khao Tom Mud is to slice it up and sprinkle with some sugar, toasted sesame seed and grated coconut over.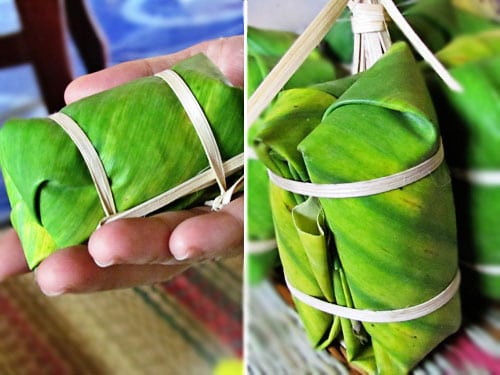 Rice with Banana and Black Beans

Ingredients: (make about 15-20 parcels)

2 cups sticky rice (glutinous rice) – picked, washed and drained

1/2 cup dried black beans- soaked over night
A pinch of salt
4-5 small bananas (Nam Wa)- quartered lengthwise
20 pieces bananas leaf 5′x 8′

20 pieces bananas leaf 4′x 4′ for lining

Bamboo thread for tightening

Preparation

Mix rice with back beans and keep aside.
Half banana lengthwise and cut in halves again lengthwise to make 4 long strips of banana.
Line the banana leaf with the smaller one and add a small amount of rice and black beans mixture into it.
Add a slice of banana in the middle and fold it in half.
Securely fold the edge in, fold the top and the bottom to the center.
Repeat the process to make the second parcel and tight them together with bamboo thread.
Repeat the process until all ingredients are used.
Bring 1 1/2 liters of water to boil in the large pot.
Add the parcels and boil for 30-45 minutes with the cover on.
Unwrap and serve or slice it up and serve with sugar, toasted sesame seed and grated coconut.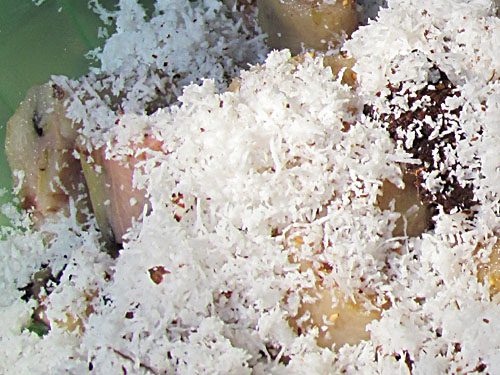 Rice with Banana and Black Beans (Khao Tom Mud) is not only a beautiful dish, it is very delicious and filling. It is vegetarian and healthy. Banana leaves, though functioned as the warp, but also gives the earthy flavour to the rice. The rice was perfectly cooked and tender. Ripe banana gives the beautiful gentle sweet to the warm rice while the black beans give an amazing texture to it. It is always a popular dish in Thai party, nothing will ever left behind no matter how much you make.
Take care,