Crunchy. Addicting. Delicious Candied Popcorn!I cannot believe I've been gone for a month without posting. It has been a crazy busy month. The farm has been busy. I've had a few photography shoots in the last month. Ohh and C finally proposed!! Yay! I'm so excited to start this life with him. So needless to say I've been trying to get details together because we're planning a Fall 2016 wedding! Neither of us wanted to wait until next year… even if it's going to take a lot of quick planning.

Quick planning, late nights, it all requires a little late night snack and that's why when I got paired with Rebekah from Making Miracles for this month's Secret Recipe Club and I ran onto this Candied Popcorn recipe in her archives… I knew it was a match made in heaven for me!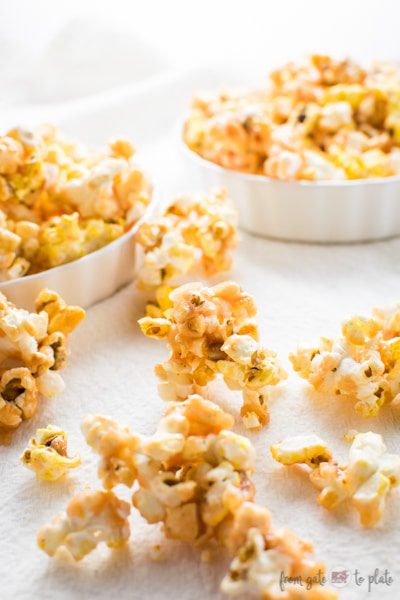 I really don't think Candied Popcorn is the proper name for this dish though. I think Crack Popcorn is more fitting. Like Rebekah mentioned in her post, these little bites are addicting. I have never had a Candied Popcorn quite like this before and that's why I was so thrilled to try it. This recipe uses honey and dry jell-o mix. It's really quite easy and doesn't last long around our house. What I made had a sweet and spicy factor because I just so happened to use Jalapeño Popcorn and strawberry jell-o. :P.
Rebekah mixed her liquid ingredients in the microwave, but I chose to do so over medium-high heat on the stove. I wanted to be able to see the mixture better. I had no issue in doing so either. Either way you go about it, there's no doubt your family will love it. You can use any flavor jell-o you wish and even coordinate the colors with holidays.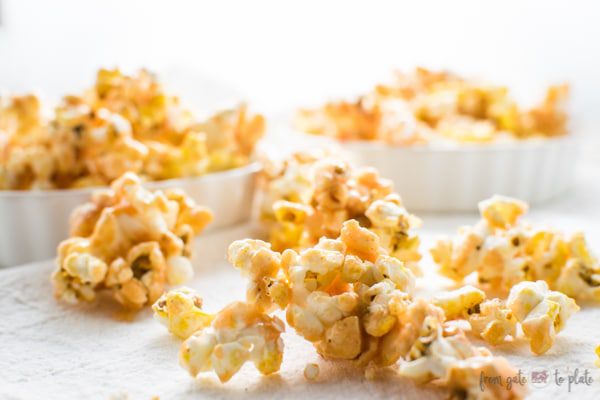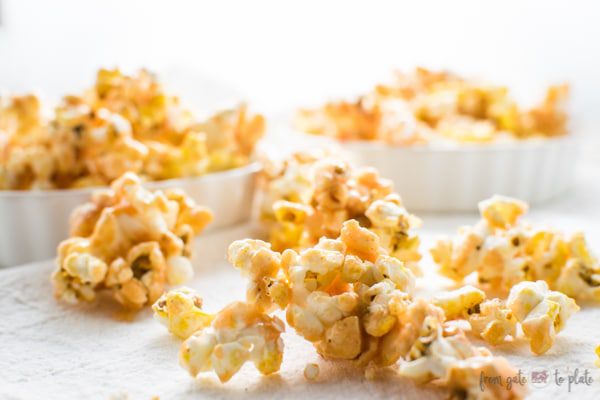 Serves 8
Ingredients
1/3 cup butter
1/4 cup honey
1/2 cup granulated sugar (Dixie Crystals)
1 3-ounce package Jell-o, dry
9 cups popped popcorn (I used two bags)
Instructions
Preheat oven to 250*F and line a large baking dish with a silicon mat or parchment paper.
Pour popcorn onto the baking dish.
In a saucepan over medium-high heat, melt butter and honey.
Next, add the sugar and dry Jell-o.
Bring to a boil, allowing to foam and double in size.
Quickly pour the liquid over the popcorn and stir to coat as much as possible.
Place in oven and bake at 250*F for 30 minutes, stirring every 10 minutes.
Remove, allow to cool and harden.
Store in an airtight container!