These last two weeks, the creme de le creme of cooking shows, returned to our screens in the form of two middle-aged men eating damn good food….Masterchef is back and better than ever. Anyone who loves food will know that watching Masterchef is an absolute joy – it is basically food porn for an hour combined cracking one-liners from John and Greg and incessant use adjectives thrown in for good measure. Referring to the 'woodiness of the mushrooms' or 'sweet but sour flavours' becomes part of our daily vocabulary in my house for the month that masterchef is on.  The thing that always amazes me is how the amateur chef have taught themselves to cook to a michelin star level. In the first episode home cooks are whipping out a perfect chicken ballentine or a pithivier. I mean I'm pretty savvy with a wok but I can't even pronounce those things, never mind know how to make them.But what I love the most about masterchef is that it makes me want to get in the kitchen and cook. After every episode I'm utterly inspired and start furiously googling ways to recreate their recipes or new techniques I saw. Although I associate cooking having fun and relaxing, I know others see it as huge effort and chore. It can be really hard to motivate yourself when you really tired or stressed, tearing yourself away from the TV and sofa to go to the kitchen is hard. It's way easier to grab a bite to eat or pick up a ready meal. But going out for dinner is supposed to be an indulgent treat, whereas for some it's almost become more common place to eat out than in. However, research has shown that home-cooked meals make us happier and less stressed. 160 women submitted 10-day food diaries and researchers compared their happiness and stress ratings after meals eaten at home or means eaten in restaurants or cafes. They found women were significantly happier after eating at home. Unsurprisingly, the meal was generally healthier when cooked at home. They researchers concluded that home cooking nurtures healthy eating and healthier choices increase positive emotions and reduce stress. The happiness-healthy connection is well understood, and definitely contributes to this finding. But I think there is an added factor related to cooking. The feeling of choosing a recipe, buying the ingredients and creating a dish gives instant gratification and lets your reap the result of your hard work within minutes. This feeling of success, combined with the pleasurable process of listening to music or chatting as you watch the dish come to life makes cooking a glorious way to relax and feel positive. So here is an incredibly beautiful and vibrant (and 'sweet but sour') dish you can whip up thats bound to fill you with a sense of achievement – honestly, it's so good it'll make you seriously consider think you could be on the next series of masterchef. Black rice, mango and avocado salad: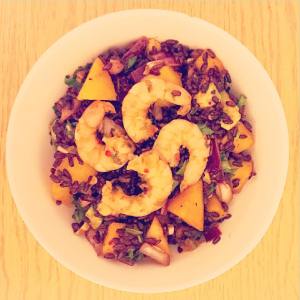 Ingredients
For the dressing:
1 Juice from fresh orange
1 tablespoons red wine vinegar
2 tablespoons extra vigin olive oil
1 tablespoon balsamic vinegar
2 garlic cloves
1/2 teaspoon cumin
1/2 teaspoon paprika
pinch chilli flakes
For the salad:
2 cups cooked black rice (can buy from Holland & Barret or Waitrose)
1 serving cooked prawns
1 mango
1 avocado
1 orange
1 red onion
1 bunch chopped coriander
sprinkle of sunflower seeds
1. First cook the black rice – boil over a low heat for around 15 mins.. this doesn't take as long as normal rice as you want it to be a little underdone for texture
2. Chop the mango, avocado, onion and orange into cubes and add to the rice when cooked
3. We cheated just added ready cooked prawns but if using fresh prawns, lightly fry in oil for 3-4 minutes adding chilli flakes and coriander
3. For the dressing simply mix all the ingredients in a bowl, making sure to squeeze as much juice as possible from the orange. Season with salt and pepper
4. Mix all together  and sprinkle with sunflower seeds to serve.