We've been really digging our breakfast foods around the old homestead lately. Wednesday nights have been officially declared "Brinner" (Breakfast for Dinner) nights for some time now, and we're getting gung-ho about brunch foods on the weekend as well. This weekend, we finally made a dish that we've both been lusting after for some time: French toast.
This is not your typical maple-syrup-and-non-dairy-milk type of vegan French toast, though. This is my new, patented, hands-down favorite French toast dish of all time (as of Sunday).
The inspiration came when flipping through Vegan Brunch by Isa Chandra Moskowitz. I adapted her recipe for Pumpkin French Toast to use roasted butternut squash. I had the butternut on hand in the freezer, but I also chose it for the flavor. Butternut squash, when roasted, is sweeter and milder than pumpkin, so I knew this dish was going to be a winner.
See?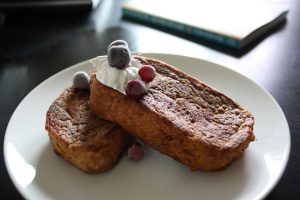 Butternut French Toast
Yield: 4 slices
1/2 cup mashed roasted butternut squash
1/2 cup coconut milk (plain soy milk can be substituted)
1/4 cup plain soy milk
1 Tbsp cornstarch
2 tsp ground cinnamon
1/2 tsp ground clove
1/2 tsp vanilla extract
1/4 tsp salt
4 1-inch slices of day old bread (I used multi-grain French bread)
Oil for pan
Mix all ingredients (except bread and oil) in a wide, shallow bowl. Dredge bread in liquid, turning to coat both sides. Allow to soak for 5-10 minutes on each side, depending on how stale your bread is.
Heat a nonstick frying pan or cast iron skillet over medium heat and spray or drizzle lightly with oil. Transfer soaked bread to your frying pan and cook 5-7 minutes, turn, and continue cooking another 3-4 minutes. Your bread should be medium-brown and slightly stiff at the corners.
Remove from heat, garnish with nondairy cream cheese and frozen cranberries. Nom!