Another Birthday.  Now that I'm approaching the tail end of my twenties, it's getting harder to get excited for each passing year.  In truth, I start to psych myself out – berating myself for only getting HERE at this point in my life when I thought I'd be better, higher, etc.  It's the same wondering why I'm not married, despite the fact that I'm not ready and our relationship works well enough right now. And the same with not having kids, despite the fact that those snotty little buggers actually still repel me at this point.
To be completely honest, some years I've wished today wouldn't come so I could remain a young 20-something girl, forever, without feeling as though I'm under-accomplishing in my life.  But this year, I've taken a different approach.  I absolutely love how this year has been thus far.A year ago, I celebrated my birthday with my Mom and Dad, which was wonderful.  But I missed John, I missed Boston, I missed having a LIFE. Okay, so we're still a little light on the "life" part of it, but John is here now, and we've settled in.
I woke up the other day and realized it's okay that at 27 I'm still figuring it all out.  I don't think I should ever STOP trying to figure it all out – because that's the day my soul will stop living.  So another birthday came and to celebrate, I made a birthday cake for myself.  It's solely the flavors that I like because I've decided to be a little selfish.  In my quest to be more in 2013, I'm slowly starting to appreciate myself for who I am, and to forgive myself for who I am not and will never be.  And you know what?  27 is the perfect time to start figuring that out!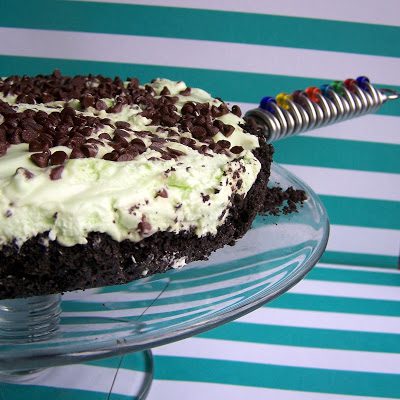 Grasshopper Tart (adapted from Kelly's Konfections)
Serves:  8 (1-9 inch tart)
Crust:
18 oreos
5 tablespoons butter, melted
Filling:
1 3/4 cups heavy cream
1 gelatin packet (or 2 1/2 teaspoons)
3 egg yolks
1/3 cup sugar
1/4 cup creme de menthe
4 drops green food coloring
1 cup mini chocolate chips
Crust:  Preheat the oven to 350 degrees F.  In a food processor, crush the oreos.  Combine the crushed oreos and butter together.  Press into a 9-inch pie pan and bake for 10 minutes, until set.  Remove from the oven and let cool.
Filling: Pour 1/2 cup of the heavy cream into a saucepan.  Sprinkle gelatin over it and let sit for 5 minutes.  Then, heat the heavy cream mixture on low until just simmering.  Cook 10-15 minutes until gelatin is dissolved.  Meanwhile, whisk egg yolks and sugar together in a small bowl.  Slowly pour the milk mixture into the egg yolks whisking constantly so the eggs do not curdle.  Return the mixture to the saucepan and continue to heat for 3-5 minutes until the mixture coats the back of a spoon.  Remove from heat and stir in the creme de menthe and food coloring.
Pour the mixture into a clean bowl, cover with plastic wrap, and refrigerate 15-25 minutes, until thickened.  Beat the remaining heavy cream until soft peaks form.  Fold the creme de menthe mixture into the heavy cream.  Stir in 1/2 cup of mini chocolate chips.
Spoon the filling into the prepared pie pan, top with the remaining mini chocolate chips and refrigerate overnight.  Keep refrigerated until ready to serve.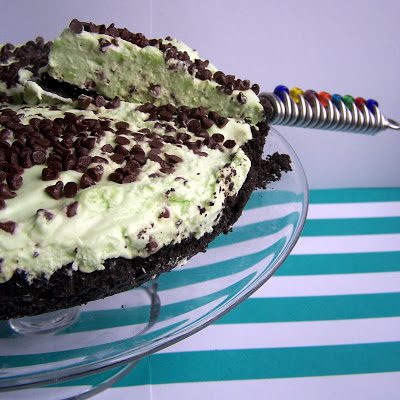 Until the next time my oven is on…