I wanted to do something interesting for my readers. I wanted to be innovative or at least off-trend. I thought and thought and came up with an idea:rice paper chips. I have all this rice paper from my foray into spring rolls just sitting in the cupboard waiting to be used. I figured that spring roll skins get crispy when fried, so shouldn't they get crispy when baked? Then I had another brilliant idea: fruit salsa. Cinnamon sugar rice paper chips and fruit salsa. Brilliant, no? Well Miss M didn't think so. I told her that I wanted to make fruit salsa, so she started telling me about this mango salsa her friend makes with jicama and red onion. No no no. I said that was mango salsa, not fruit salsa. She didn't get it.  We started arguing back and forth.
So I started thinking about other stuff–something with tapioca and fruit salsa, or maybe graham cracker crusts. But you know what? I said screw it, and decided to make Mandel Bread. For those of you not in the know,Mandelbrodt, also known as Mandel Bread, is an Eastern European Jewish dessert. It may look like biscotti, and may be twice-baked like biscotti, but it is not biscotti. It is a denser, more substantial cookie.  It is not dry or crispy, but is slightly moist and  crumbles in your mouth almost like a Pecan Sandie. It is not dipped in chocolate and does not need to be dipped in chocolate despite my love of everything chocolate. It is also never made with anise because anise is disgusting and Jews do not put disgusting things in their dessert. Instead, it is traditionally almond-flavored, sometimes laced with chocolate chips, and absolutely delicious. Like the Rugelach I made, you can play with the add-ins, but I think this is one place where tradition reigns supreme. So do yourself a favor and make some Mandelbrodt–it's better than biscotti.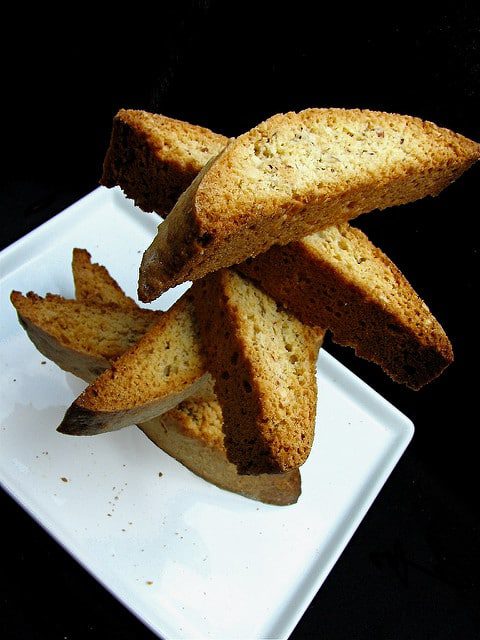 Almond Mondelbrodt
Makes 4 Dozen
3 eggs
1 cup sugar
1/2 cup canola oil
1 tsp. almond extract
1 tsp. vanilla extract
3 cups sifted flour
1/4 tsp. salt
4 tsp. baking powder
1 cup slivered almonds*
*If you are out, you can chop up some whole almonds like I did. This, however, makes the dough a little stickier.
Preheat oven to 350F.
1. Beat the eggs until they are thick and light. Keep beating, gradually adding the sugar, then the oil, and then the extracts.
2. Sift together flour, salt, baking powder and almonds. If you want chocolate chips or dried fruit, add them in here as well.
3. About a third at a time, mix in well until all ingredients are combined. Dough is slightly wet and sticky.
4. On a floured surface, knead dough about 20 turns. If you have a dough scraper, this would be a great place to use it instead of your hands to prevent sticking.
5. Divide into 3 pieces. On a well oiled baking sheet, shape into strips about 3 inches wide, 1 inch high, and 10-12 inches long. If you have a biscotti pan, I am jealous because my molding skills can use some work.
6. Bake for 35-45 minutes, until golden brown.
7. Remove from oven, and while still warm, cut into 1/2 inch slices. Return to oven and let lightly brown, about 5 minutes.