The extremely engaging tale behind this
week's cake that I'm very unsurprisingly writing whilst falling asleep on my
keyboard begins when you find yourself signing a lease for a flat an impressive
amount of Overground stops away from where you've spent over seven hundred and
thirty days of your existence.
Now it so happens that my occupation in the
past couple of months has switched from that of full-time hermit to head of the
wild puppy and trouble making department, which implies spending Saturday
mornings staring at the empty space at local cafes that go under the name ofHealthy Stuff, and filling yourself
spherical with the aforementioned healthy
stuff in an attempt to readjust brain functionality levels and regain a
human appearance (and arguably sometimes failing).
Moving the other side of London sadly
leaves mehealthy stuff-less, and the
vegan berry lime drizzle cake that has multiple times saved me from
irreversibly turning into a zombie will be greatly missed.
So here's my own version of it, if there'll
ever be a Saturday-morning-after-the-Friday-night when I'll wake up all
emotional for having run away from North East London; but also to salute the
coolest little flat in the coolest former Victorian orphanage and a microwave
and a sofa and three (three!) windows, and don't hate you all, a heated Olympic-size
swimming pool in the back garden, and a part of town that looks like an even
better version of my dear Bushwick, just with the added bonus of an arcade bar
and a much higher quantity per capita of plantain sellers; and to officially
say, good night Dalston & good morning Peckham.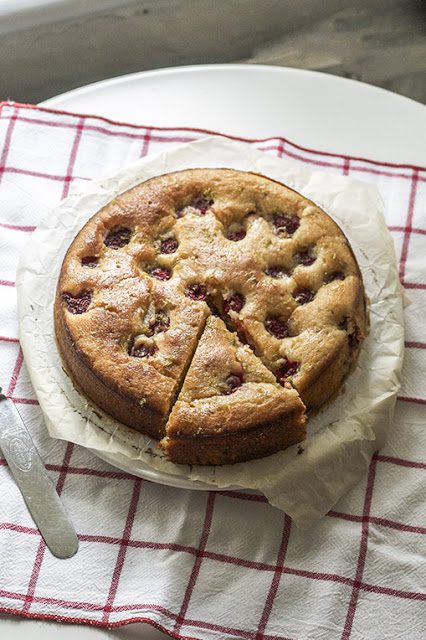 110g (1/2 cup) margarine
150g (3/4 cup) unrefined golden caster
sugar
120g (1/2 cup) soya yoghurt or other
non-dairy yoghurt
zest of 3 limes
195g (1 ½ cups) plain flour
2 teaspoons baking powder
60ml (1/4 cup) soya milk or other non-dairy
milk
2 tablespoons lime juice
200g (2 cups) fresh raspberries
Glaze:
60g (1 cup) icing sugar
3 tablespoons lime juice
zest of 1 lime
Preheat oven to 175°C (350°F) and lightly
grease a 22cm/9" cake tin. In a large bowl cream together margarine, sugar and
yoghurt until fluffy. Add flour, baking powder and mix until combined, then
beat in soya milk and lime zest and juice. Last gently fold in the raspberries.
Pour the batter into the tin and bake for 35 minutes or until a skewer inserted
into the centre of the cake comes out clean. Leave the cake on a cooling rack
without removing it from the tin. When the cake gets fairly warm, make the glaze. Mix icing sugar and lime juice and zest until you
get a smooth, syrupy glaze. Prick the surface of the cake with a skewer or
fork, then pour the glaze all over. When completely cool remove from the tin and eat in Dalston or Peckham or Canada or wherever your heart is.