Blueberry Peanut Butter Granola Bars
I've been feeling less than ideal for the past two months. I'm bumbling along but I'm proud that I've been planning for and showing up to important things. We organised a clothing swap to raise money for women's refuge. It was an inspiring and exhausting day on Sunday, full of beautiful individuals and stunning clothes. I wasn't aware I could sell clothing to people (my brief stint working at a clothing store at 17 was, well, brief. I did learn how to remove deodorant from clothes, a life lesson that has served me well) but I tried and succeeded in finding some perfect matches. I was giggly that I matched people with dresses, that people came to support us, that we made plenty of dosh to supply the goods for Christmas hampers. My body, however, was not happy with all this pushing. The consequences were not a surprise but I thanked pre-Sunday Vicky for making these little granola bars. Having these delicious bars on hand has made the past few mornings quite tolerable.
I was not made for planning. Honestly, the whole point of this blog and web-space is pacing. I'm here to remind myself (and hopefully a couple of other people) how to make cooking work within limits. These bars are a perfect pacing food. If you find yourself with an extra spoon one evening, make these. It means you can save a spoon as many mornings as you need. I'd rather that than skip the meal entirely – something my body doesn't really take graciously in its stride.
These granola bars add a perfect palmful of rosiness to those mornings where getting yourself out of bed is tough. Where, I imagine, work seems almost impossible to attend but you somehow drag yourself along. The bars are a deceptively filling little breakfast. I think they're perfect for grabbing in that pre-coffee haze, stuffing in your bag to eat on the way to work, or nibbling while on the sofa waiting for meds to kick in. I'm grateful for this type of food.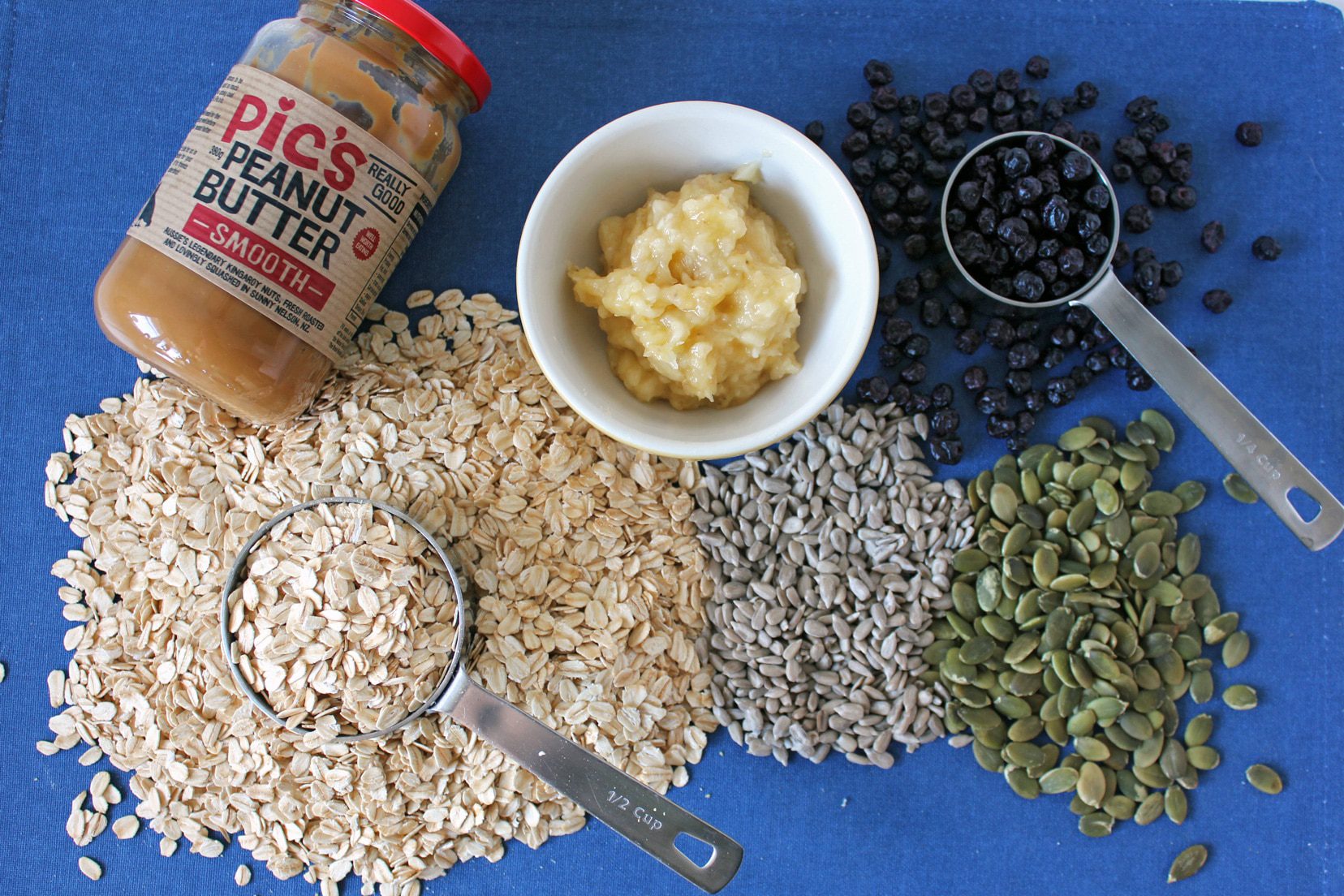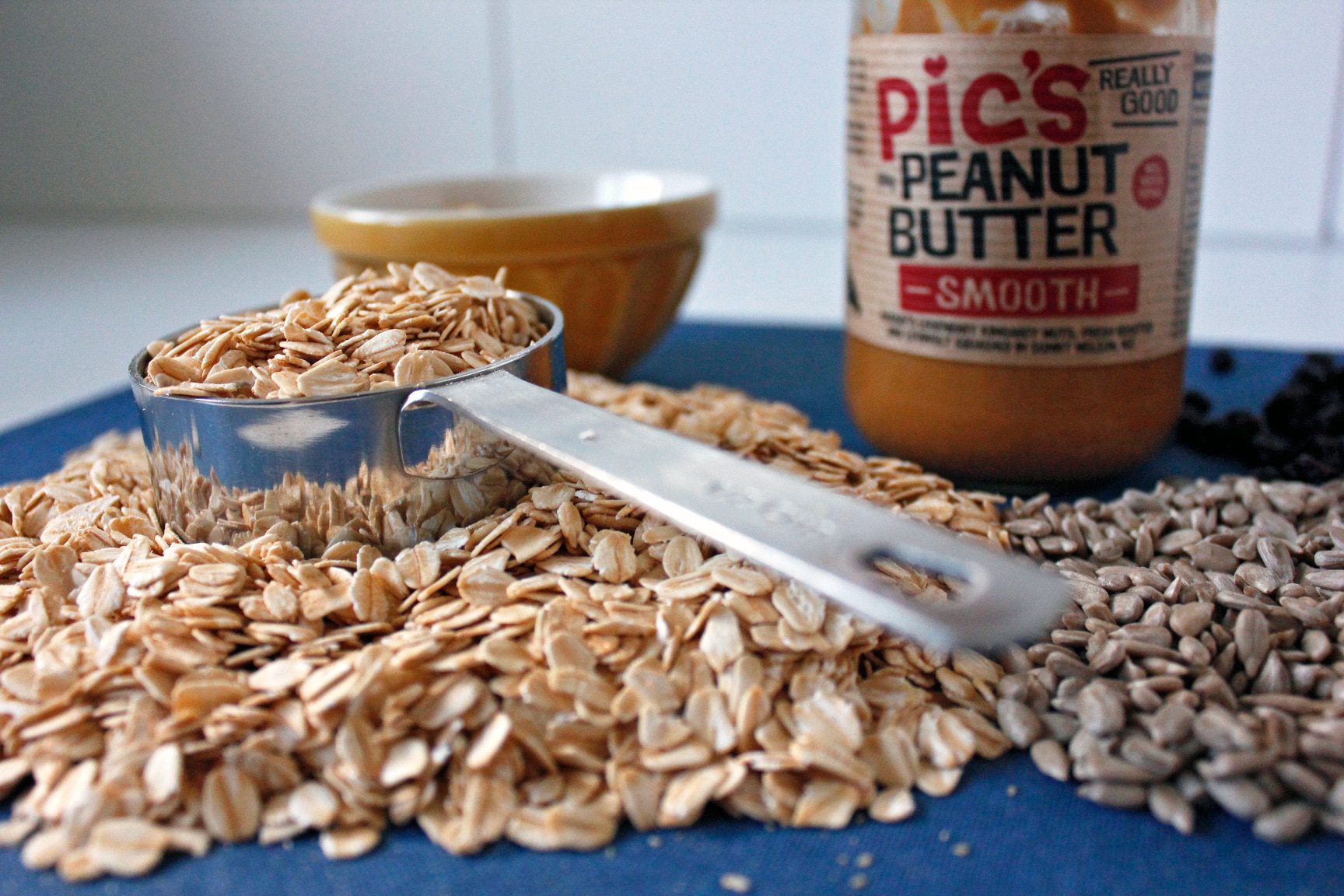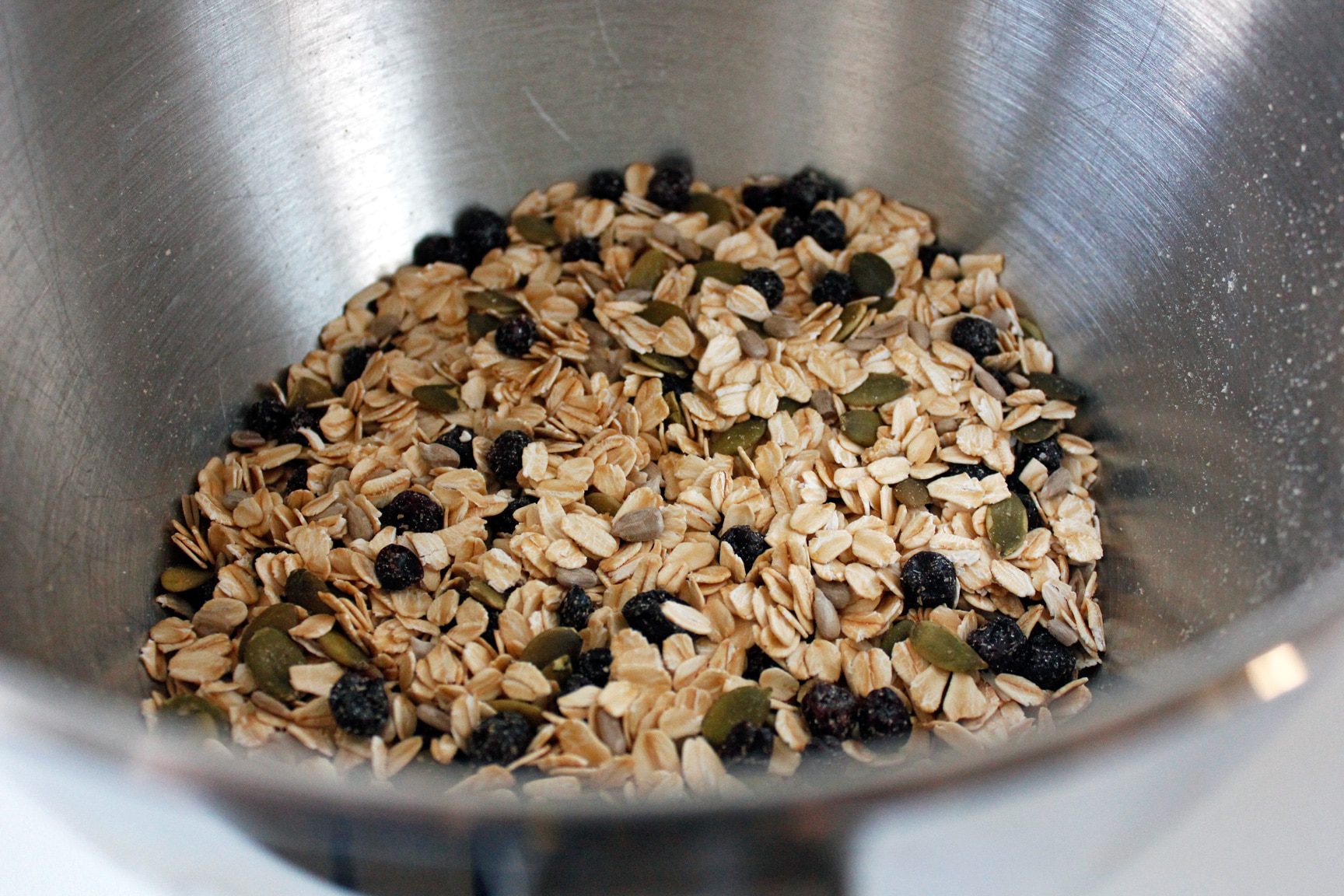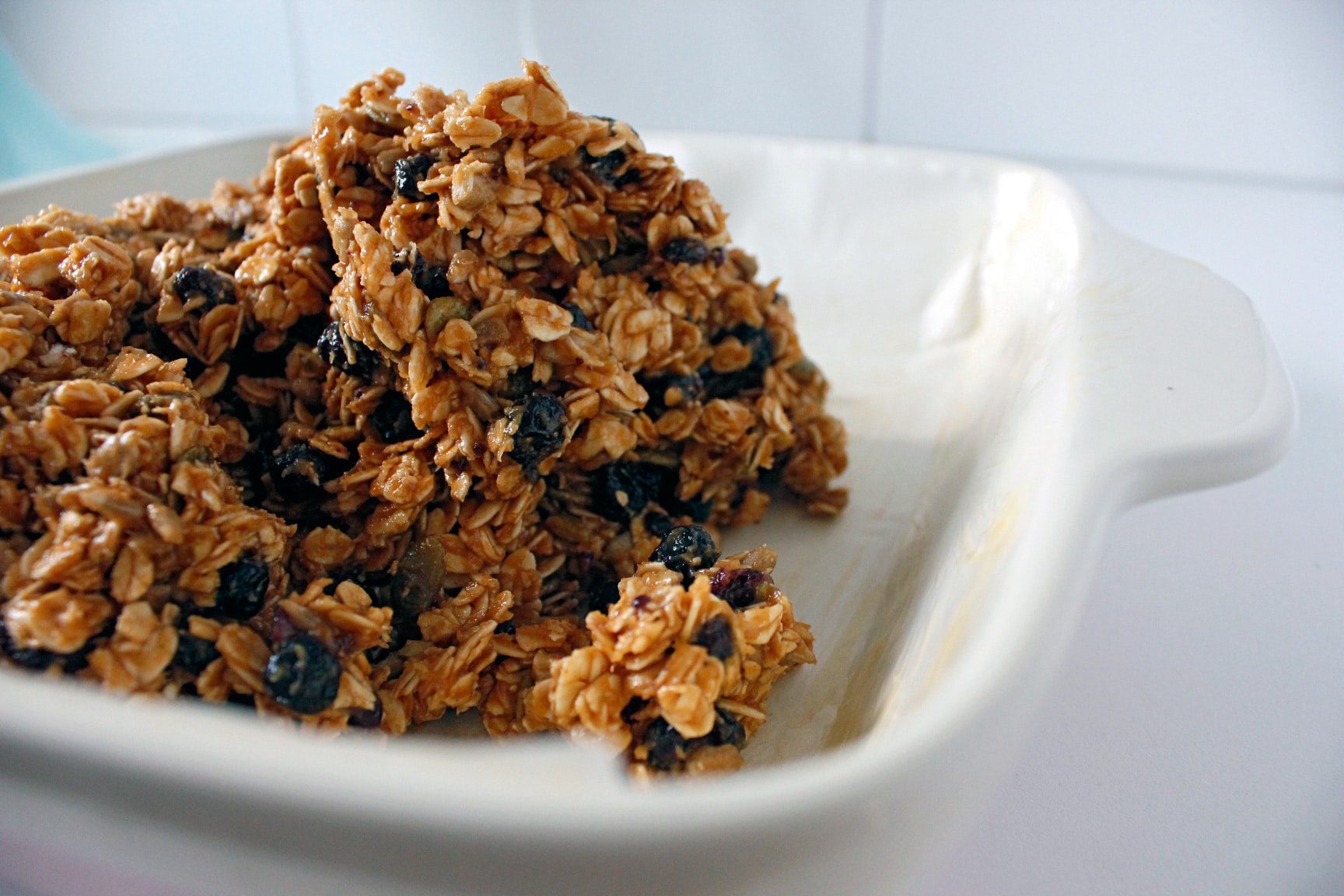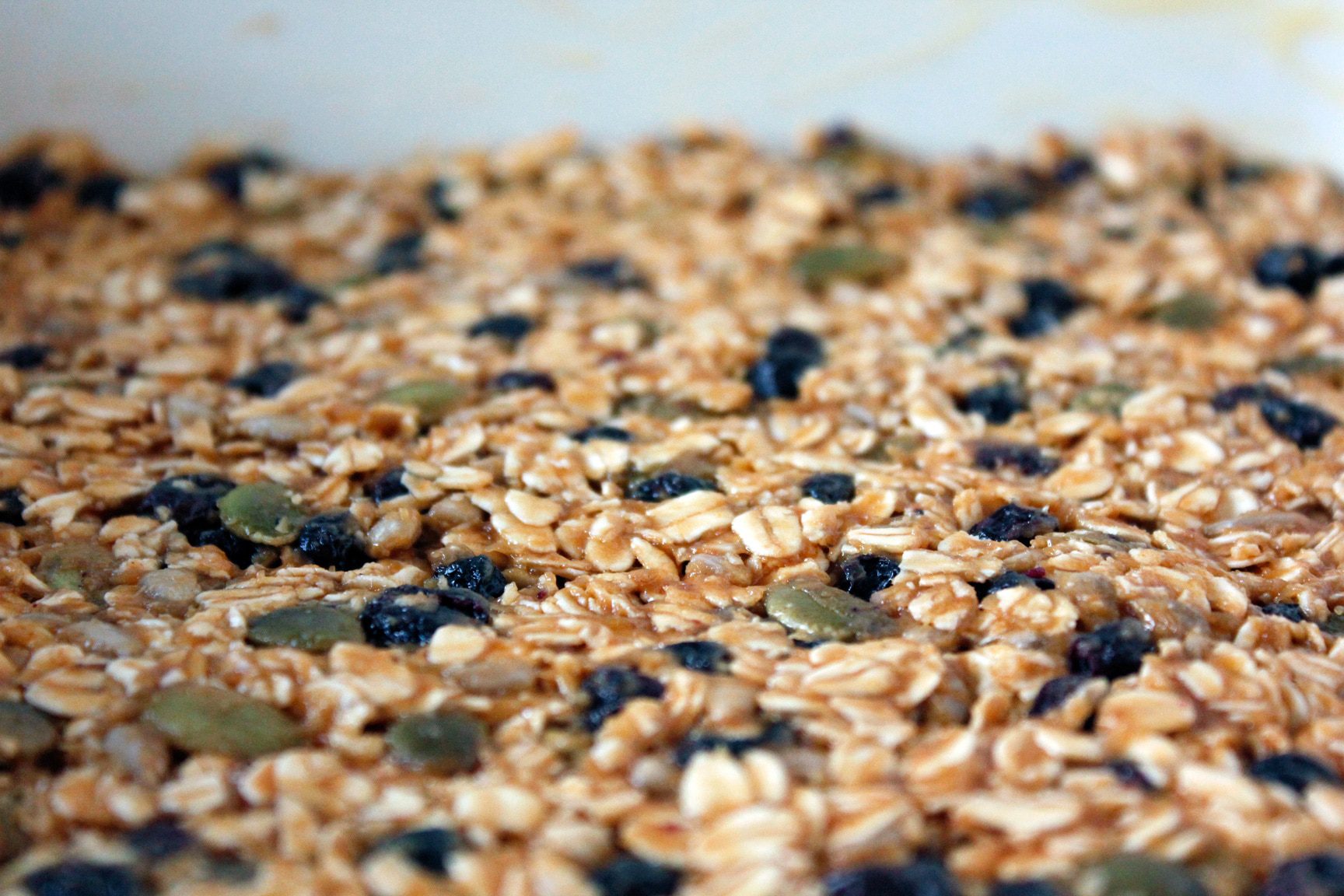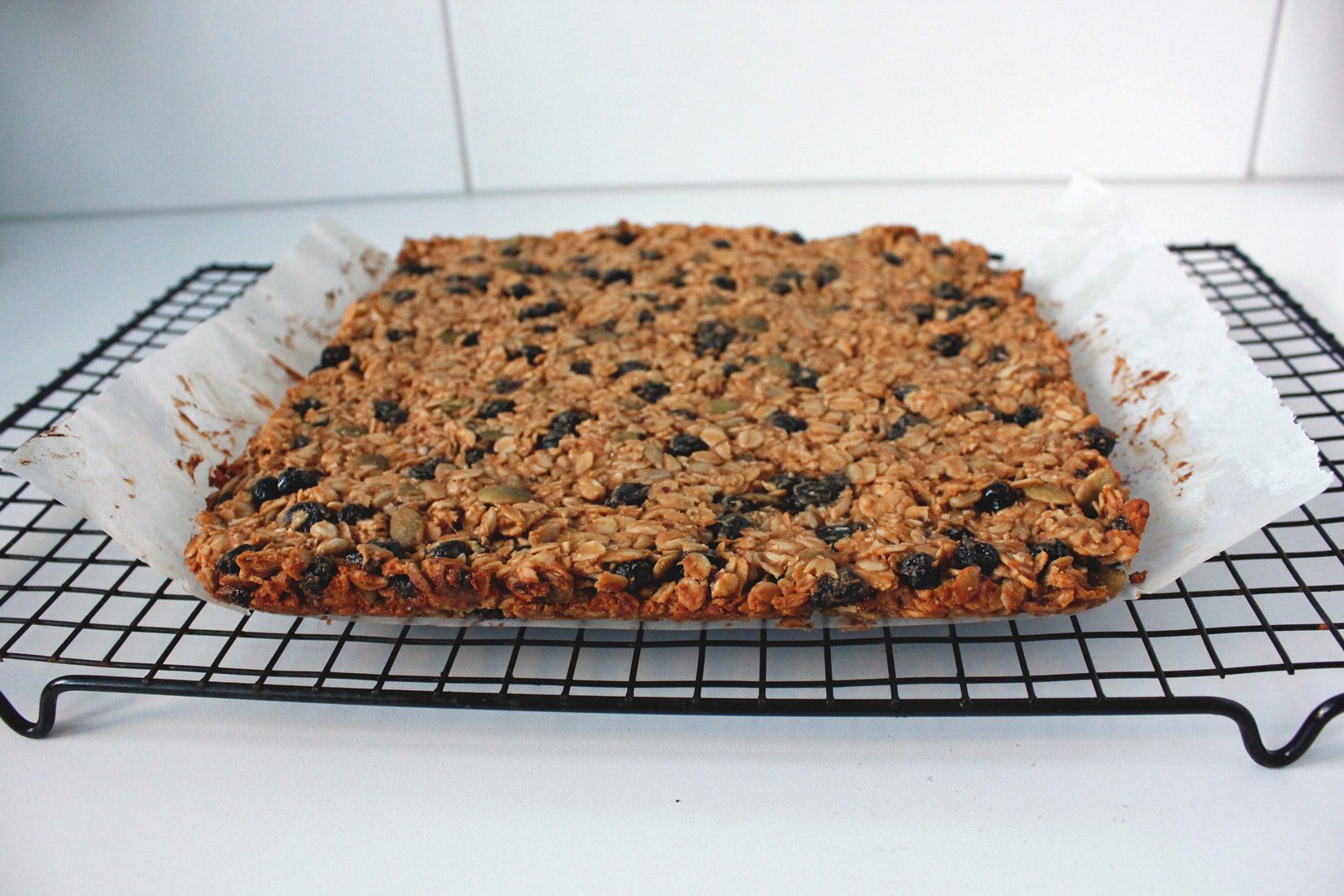 Peanut butter and blueberries are an enticing little combination. These bars are salty and sweet but neither is an overpowering sensation and all is rounded out by the peanut butter. These granola bars are fairly chewy but peanut butter does dictate textures I find. I enjoy the bars' softness, they are like a mini-hug. They are incredibly adaptable – change the peanut butter for any nut butter, the dried blueberries for dried cranberries or raisins, the seeds for any nut you like. There is no dairy or added oil in this recipe – the peanut butter and banana manage to hold everything together quite well.
As for making these, you need to measure out the dry ingredients (oats, seeds, blueberries, salt) give that a quick mix then add the wet ingredients (peanut butter, mashed banana, honey) and mix until evenly coated. If you have a stand mixer (and this is basically the only reason I can accomplish baking!) use it here. The mixture is then placed in a greased container and baked for 20 minutes. Cutting them up is easy- they are soft enough that a knife slides through them but firm enough that they stay intact.
Blueberry Peanut Butter Bars
Yields 16
Ingredients
2 ½ cups Rolled Oats
½ cup Dried Blueberries
¼ cup Sunflower Seeds
¼ cup Pumpkin Seeds
¼ tsp Salt
1 Medium, Ripe Banana – mashed
½ cup Peanut Butter (smooth)
¼ cup Honey
Instructions
Preheat oven to 180°
Grease a glass or ceramic 20x20cm dish and line with baking paper.
Measure out the oats, dried blueberries, sunflower seeds, pumpkin seeds, and salt into a medium size bowl or your electric mixer bowl.
Give these a brief mix to combine them evenly.
Add the mashed banana, peanut butter, and honey all at once.
Mix on low for about a minute or until all of the dry ingredients are evenly coated.♥
Pour out into the prepared dish.
Pat the mixture down with a spatula or wet hands until it's mostly even.
Bake 15-20 minutes or until the edges are slightly brown.
Remove from oven and let cool in the dish for half an hour.
Transfer to a cutting board and cut into even squares.
Notes
♥ This is a good time to take a little break.
I store these in the fridge for up to two weeks.