Nectarines!! Apricots!! Peaches!! I've been swimming in these glorious fruits all week, and am totally okay with that. It's still a little early in the season, so the best is yet to come! I'm thinking a peach pie is in my near future. Mmm…
Anyhoo…today I whipped up this great little pizza for lunch. It was definitely out of my comfort zone, with the addition of nectarines and the balsamic reduction (just an FYI: my favorite pizza is mushroom and zucchini). The end result was a welcome surprise. My only regret is that I wish I added more cheese! Especially the goat cheese. Next time I think I'll add arugula as well. Ah, sweet peppery arugula.
Like a previouspizza recipe I've blogged about, the following isn't much of a recipe, rather suggestions. I hope you enjoy this as much as I did! Mmmm.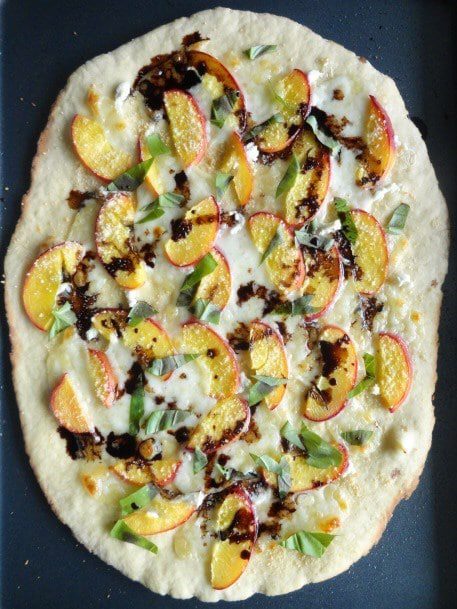 Nectarine Pizza with Fresh Basil and Reduced Balsamic
Ingredients
Toppings for one pizza:
1/2 cup balsamic vinegar
Olive oil for greasing
Cheese: I used mozzarella and goat cheese. You could also use ricotta, mascarpone, blue cheese, etc.
One nectarine, thinly sliced (not paper thin)
Fresh Parmigianno Reggiano, shaved or grated. (I used the stuff from the shaker, the fresher stuff would beincredible with the sweet nectarine and balsamic!)
Fresh basil or arugula
Favorite pizza dough (might I suggest using the one used inthis pizza to save time!)
Directions
Place balsamic vinegar in a small saute pan. Turn heat to medium high and simmer until reduced and noticeably thick (mine took about 7 minutes). Watch like a hawk so it doesn't burn. If it does burn, it's trash. Err on the side of underdone, it will reduce more as it cools.
Preheat oven to 500F. Line a sheet pan with parchment or grease lightly with olive oil. Place dough on pan and drizzle with a little olive oil, and spread with your hands to coat evenly.
Cover the dough with a layer of cheese, then the nectarines, and top with Parmigianno Reggiano. Place pizza in very hot oven, and bake for 10 minutes until slightly brown and cheese is melted.
Remove from oven, and top with fresh basil/arugula. Drizzle with balsamic and dig in! Num.