Waffles are one of my very favorite breakfasts. When we can start every morning of the weekend with one of the classics, you just know the rest of the day is going to be wonderful. We choose from a tofu scramble, blueberry pancakes, french toast, or the easiest of all: Waffles! This yeast-raised version is my very favorite. With my dislike of wibbly wobbly waffles, these are crisp and light and have a nicely developed flavor. These are called "Summer Waffles" in American Vegan Kitchen because they are mixed the night before and at their very best topped with the season's freshest fruit. Leftovers can be refrigerated (or frozen) and toasted throughout the week. Or if you prefer, this recipe can be successfully halved to serve 2.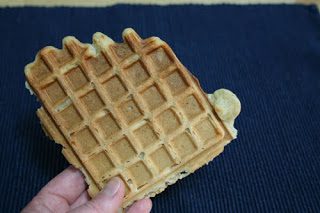 Summer Waffles
Serves 4
1 cup soy milk
1/4 cup sugar
2 teaspoons active dry yeast
1/4 cup canola oil
3 1/2 cups all-purpose flour
2 teaspoons baking powder
1 teaspoon salt
1 teaspoon ground cinnamon
2 teaspoons pure vanilla extract
Fresh fruit
Heat the soy milk to lukewarm than transfer to a large bowl. Stir in the sugar and yeast. Set aside to bubble and proof, about 5 minutes. Stir in the oil.
In a medium bowl, combine the flour, baking powder, salt and cinnamon. Mix well. Add the dry mixture to the wet mixture. Stir in the vanilla and mix well. Cover the batter with plastic wrap and let rise overnight in the refrigerator or for several hours at room temperature. (Note: If your bowl isn't ginormous, you may want to put a plate under it in case of spillage.) The longer the batter sits, the thicker it will be.
Preheat the oven to 250 degrees F. Spray the waffle iron with nonstick cooking spray. Preheat the waffle iron. Stir the batter. If it is too thick to spoon onto the waffle iron, stir in a little more soy milk to thin. When the waffle iron is hot, cook the waffles according to the manufacturer's instructions. (Note: Waffles crisp more after being removed from the waffle iron.)
Transfer the cooked waffles to an ovenproof platter and keep warm in the oven until all of them are cooked. Serve topped with fruit.
We had an amazing time at the Root Cafe and will post about that soon. In the meantime, don't forget:
Food Network Friday! Details are in the previous post (deadline is this Thursday) and the recipe is here.
And…..Men Who Cook, hosted by Vegan Conversion Challenge.
See you on Friday!