Breakfast for dessert, or dessert for breakfast? Pot-ay-to, Pot-at-o.

I brought these to work for my lucky co-workers to sample. My assistant had the winning review: "Pancakes should never again come with syrup. They should only be served with this icing." …Noted.
Blueberry Pancake Cupcakes
You'll need:
For the cupcakes:
1 2/3 cup cake flour
3/4 tsp baking powder
1/4 tsp salt
3/4 cup + 2 tbsp sugar
1/2 cup softened butter, unsalted
1 egg
2 egg whites
1 tsp vanilla
1/3 cup greek yogurt
1 1/2 cups of fresh blueberries(Recipe adapted from here)
For the pancakes:
2 tsp salt
4 tsp baking powder
2 tsp baking soda
4 cups flour
4 tbsp sugar
4 eggs
4 cups of buttermilk
4 tbsp melted butter, unsalted
(Or, you can make the semi-homemade version with any store-bought mix. This recipe is a lot of steps – we won't judge)
For the compote:
1 cup of blueberries, fresh or frozen
1 tbsp lemon juice
1 tbsp sugar
1 tsp cornstarch
For the drizzle:
1 cup of powdered sugar
1 tbsp of syrup
water, as needed for desired consisency
…& some maple syrup to drizzle right on top.
For the buttercream:
1.5 sticks softened butter, unsalted
1 8oz package cream cheese
3 cups powdered sugar (more/less for desired consistency)
2 tbsp maple syrup
1 tsp vanilla
Pinch of salt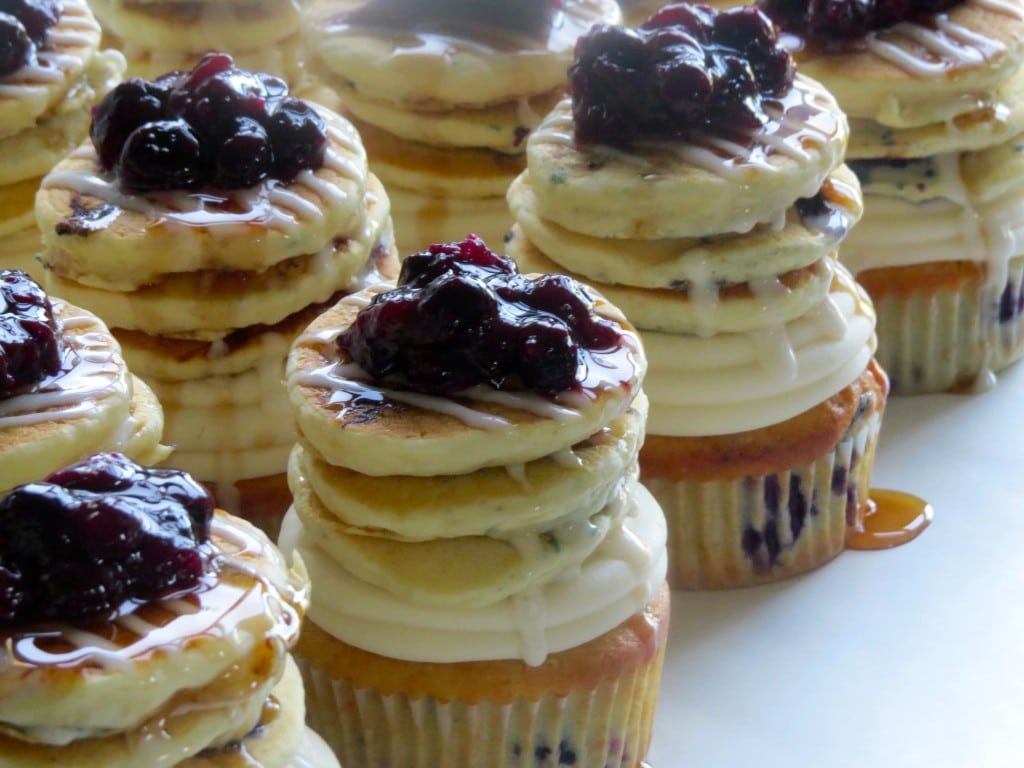 First, make the cupcakes:
– Preheat oven to 350 degrees. Prepare 12 cupcake liners in pan.
– Mix together flour, baking powder, baking soda, and salt. Set aside.
– In the bowl of an electric stand mixer with paddle attachment, beat butter and sugar until white and fluffy. Gradually add in egg, egg whites and vanilla.
– Whisk together greek yogurt and buttermilk. Add the buttermilk mixture and dry ingredients to the butter and sugar, alternating, starting and finishing with the dry ingredients. Fold in blueberries, gently, to keep their shape.
– Divide into cupcake pan, about 3/4 full. Bake 20-24 minutes.
Now onto the pancakes:
– Heat griddle to medium-high heat. Lightly butter pan so pancakes will not stick.
– Whisk together flour, sugar, sat, baking powder and baking soda. Add in eggs and buttermilk. Whisk in butter last. Don't over mix!
– Use mini scooper (or large tbsp) to pour batter onto hot griddle. Once bubbles form, flip, and continue to cook until golden brown.
– Let cool on cooling rack.
Next, the compote:
– Heat ingredients in small saucepan. Bring to a boil, and simmer for 5 minutes.
– Let cool completely.
We're almost done… the drizzle:
– Mix together powdered sugar and maple syrup.
– Add in water, if needed, to be sure mixture can be drizzled over the cupcakes. (It should drip off of a spoon easily.)
Lastly, and most importantly, the buttercream:
– Sift powdered sugar. Set aside.
– Beat cream cheese & butter in standing mixer with whisk attachment. Whip until light and fluffy.
– Add in powdered sugar, maple syrup, pinch of salt and vanilla. (You can add a little water, or a little more powdered sugar, depending on the consistency you're looking for.)
You made it! Now assemble:
– Fill pastry bag with icing, and pipe onto the cupcakes.
– Top each cupcake with 2-3 pancakes (I did 3… go big or go home).
– Drizzle glaze over each cupcake.
– Top with heaping teaspoon of blueberry compote, and a little maple syrup. (Warning: they are a little sticky, but just being able to see that drip down the sides makes it totally worth it)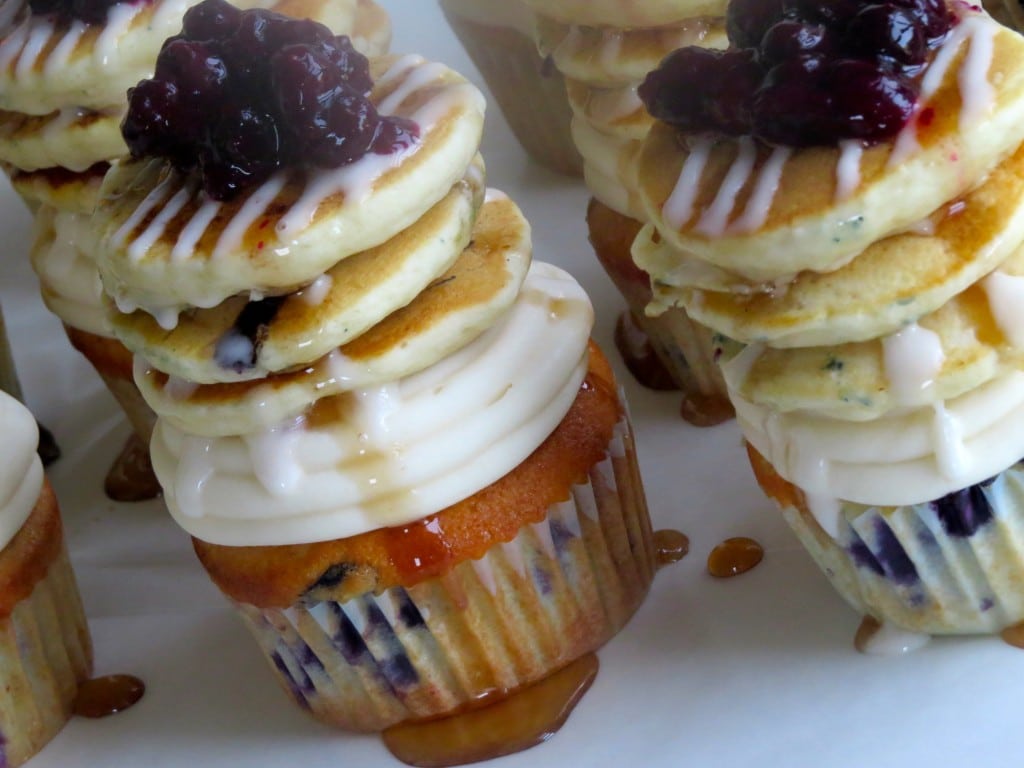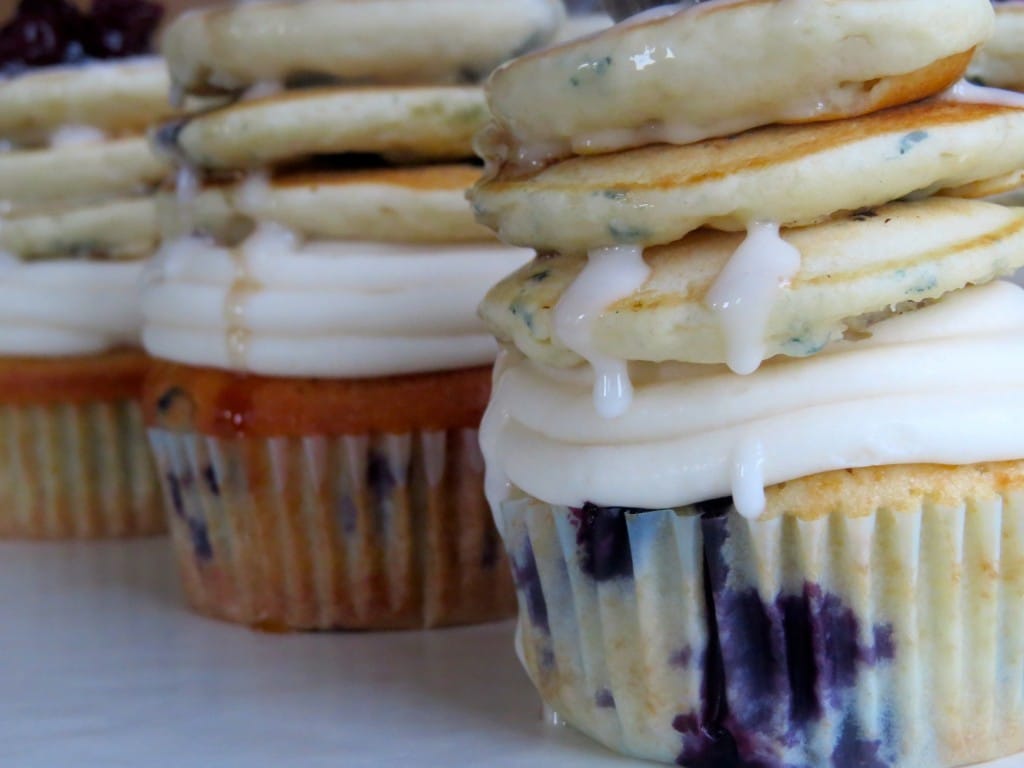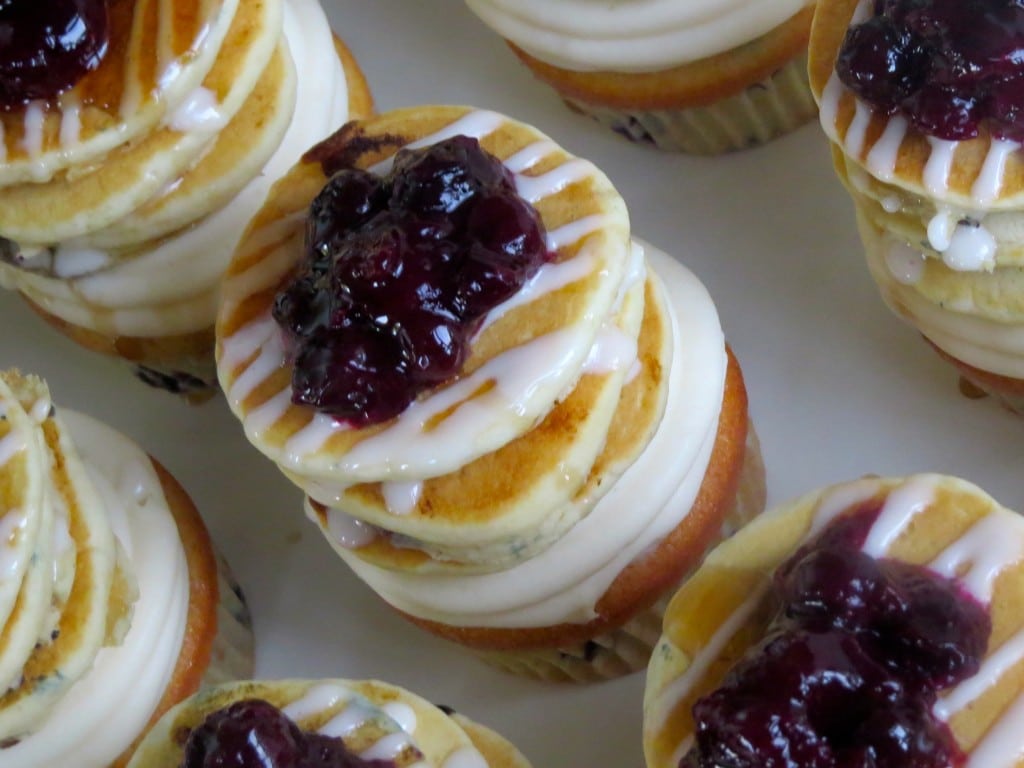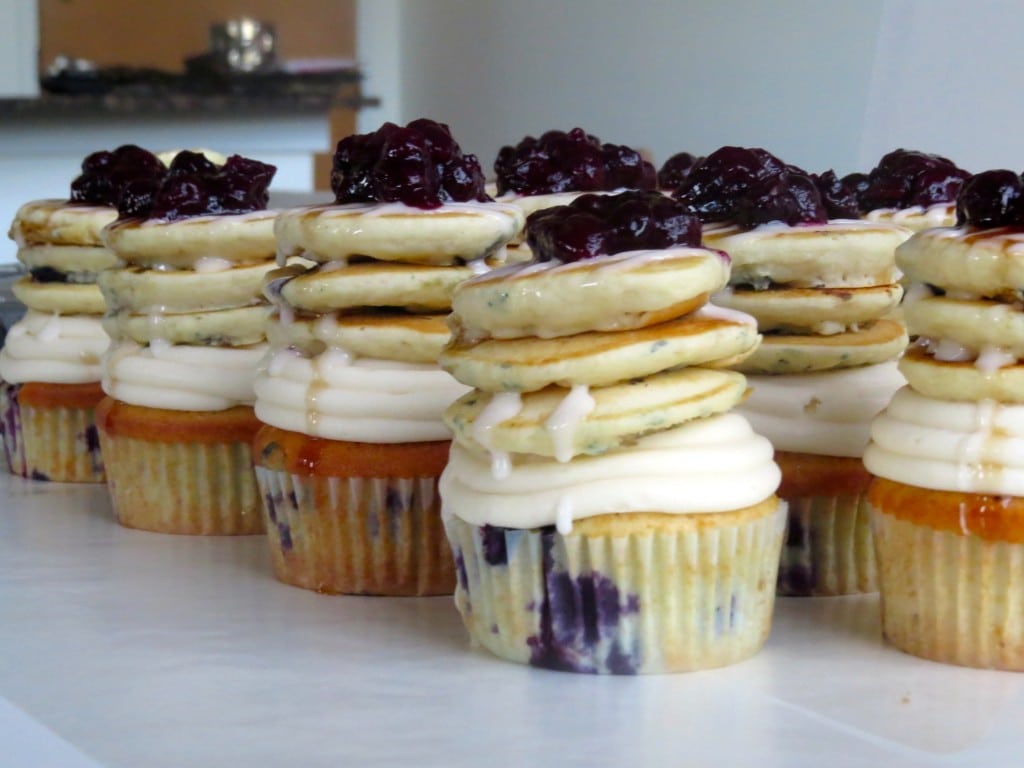 Can't wait to try them with waffles!