| | |
| --- | --- |
| | |
Chimichurri is an Argentine green sauce typically used as a marinade for meat, but it makes the perfect base for a vegetarian dish as well. In vegan cooking, it is most commonly paired with seitan and the recipe from The Candle Cafe here in New York has been made famous -published all over and even available at select Whole Foods prepared food bars. 
This recipe combines flavors you already love in a new way. It's the perfect dish for Spring/Summer because of the light and bright flavors. I much prefer tofu to seitan, so I chose to use that as the base, but you could absolutely sub seitan or even tempeh.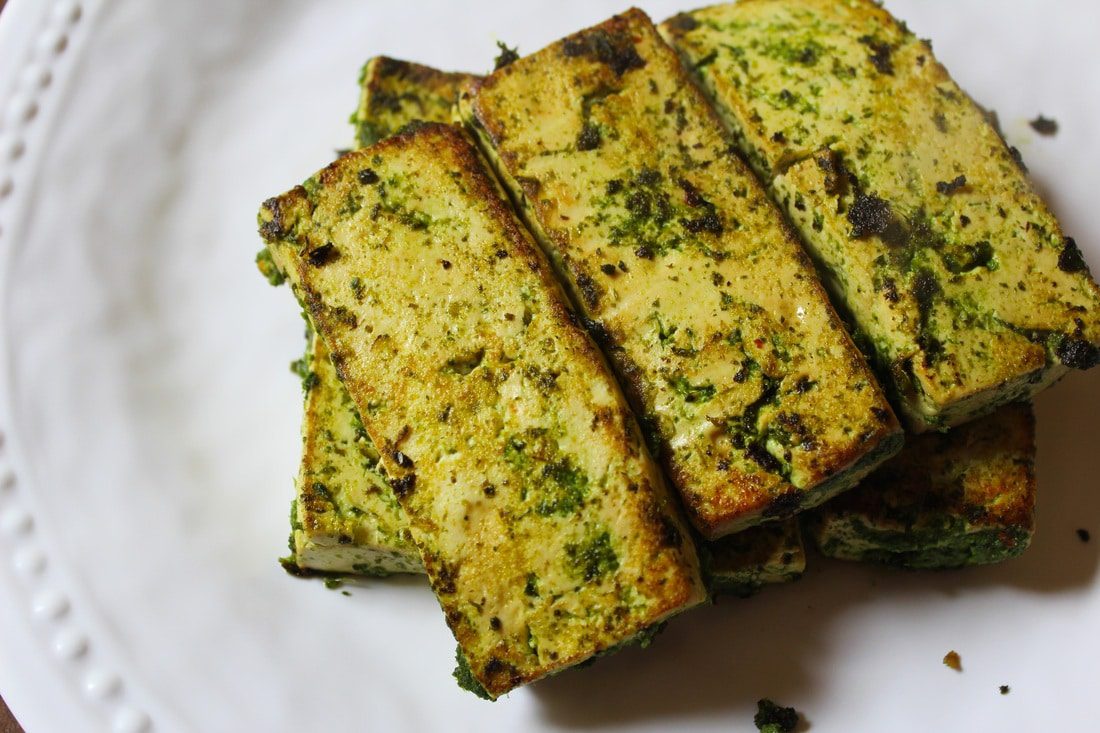 PREP TIME: 10 minutes (plus time to marinate at least 2 hours)
COOK TIME: 10 minutes
TOTAL TIME: 20 minutes
YIELD: 2 servings
INGREDIENTS:
1 block extra firm tofu, drained
1 bunch fresh parsley
1 bunch fresh cilantro
juice of 1 lemon
2 tbsp olive oil
3 cloves fresh garlic
1 tsp crushed red pepper
1 tbsp vegan mayo
sea salt to taste
For sautéing later: 1 tbsp coconut oil
​DIRECTIONS:
1. In a blender or food processor combine parsley, cilantro, lemon juice, olive oil, garlic, crushed red pepper, vegan mayo, and sea salt. Pulse until well combined. 
2. Chop tofu block into 6 equal parts. Layer chimichurri sauce and tofu blocks in a tupperware dish to marinate. 
3. Let tofu chimichurri marinade overnight or at least 2 hours. Reserve excess chimi sauce in another container. 
4. Once tofu has marinated, head a skillet over medium heat and coat with coconut oil.
5. Grill tofu steaks until golden brown (about 5 minutes on each side.)
6. Pour excess chimichurri sauce over the tofu steaks and serve.