Let me tell you, this salad was incredible. In my first bite I wanted to be sure to get a bite with a little of everything, and I was so surprised as to how well each flavor complemented each other. The recipe below is a half recipe, and it made three perfect portions. I actually forgot to add the olive oil, and added a few drips to a bite later on, and I would be equally happy with or without it. This salad is so different from anything I've tried before, and I'll definitely be making it again!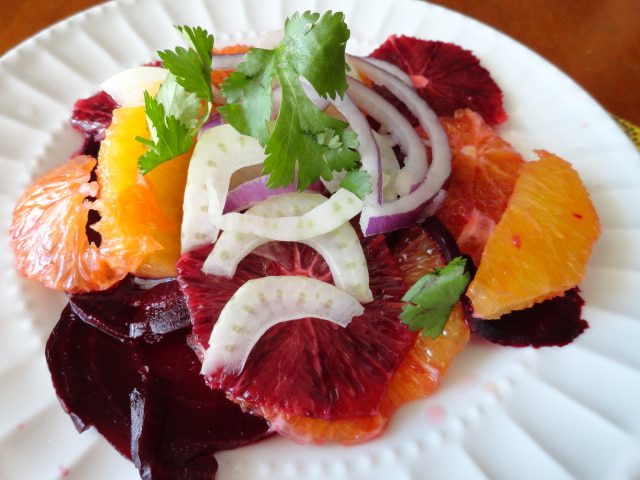 Isn't that the prettiest salad you've ever seen? I think so!
Blood Orange, Beet, and Fennel Salad
Ingredients
2 medium red beets, tops trimmed
2 blood oranges
1 medium navel orange (preferably Cara Cara)
1 1/2 teaspoon fresh lemon juice
1 1/2 teaspoon fresh lime juice
1/4 small fennel bulb, very thinly sliced
1/4 small to medium red onion, very thinly sliced
Good quality extra virgin olive, pumpkin seed, or walnut oil for drizzling (optional)
Coarse sea salt, such as fleur de sel or Maldon sea salt, and freshly ground black pepper
1/4 cup chopped fresh cilantro
Directions
Preheat oven to 400°F. Thoroughly wash beets, leaving some water on skins. Wrap individually in foil. Place on a rimmed baking sheet and roast until beets are tender when pierced with a knife, about 1 hour. Let cool.
Meanwhile, using a sharp knife, cut all peel and white pith from all oranges; discard. Working over a medium bowl, slice the blood oranges crosswise into thin rounds, and cut between the membranes of the naval orange to release segments into bowl; squeeze juice from membranes into bowl and discard membranes. Place sliced oranges in the bowl. Add lemon juice and lime juice; set aside.
Carefully peel cooled beets. Slice crosswise into thin rounds. Strain citrus juices; reserve. Layer beets and oranges on plates, dividing evenly. Arrange fennel and onion over beets. Spoon reserved citrus juices over, then drizzle salad with oil if desired. Season to taste with coarse sea salt and pepper. Let salad stand for 5 minutes to allow flavors to meld. Garnish salad with cilantro leaves.
Recipe Source: adapted from Bon Appetit