Everyone should know how to make a few simple dressings. You know, for salads and stuff. And for steamed and grilled vegetables. For an alternative to tomato sauce on pizza. For dipping fresh veggies. For fancy sandwiches. For anything you like to eat that needs a little umph, there's a dressing like this one.
I'm working on some recipes down the road for low- and no-fat dressings but this is not one of those. Tahini, a puree of roasted sesame seeds, brings some natural fat to the table. The great thing about this dressing is that the flavors are quite bold so a little goes a long way. Also, you can up the orange juice and water content to stretch it out even further, if you so desire.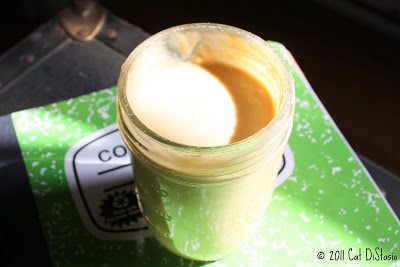 Tahini Miso Orange Dressing
Yield: 1 cup (6 or more servings)
3 Tbsp tahini
3 Tbsp miso (any kind you like)
1 tsp dijon mustard
1 tsp rice vinegar
1/4 cup orange juice
1/4 cup water
1 tsp grated ginger
Combine all ingredients in a food processor until smooth.
Store in an airtight glass container in the refrigerator for up to a week.