This post is sponsored by Lindeman's.
Lindeman's recently sent me a sample of their Regional Series Chardonnay Pinot Noir Vintage Cuvée. Lindeman's Regional Series "showcases classic single varieties from a blend of two complimentary regions", and the two regions that provide the flavours of this elegant sparkling are Adelaide Hills and the Yarra Valley. This was my inspiration as I decided to pair it with a delightfully sweet and equally summery pavlova topped with peaches and strawberries (both grown in the Adelaide Hills).
I don't think I have ever met an Aussie that doesn't love pavlova. I'm sure they're out there, but the pav is quite literally the epitome of the Aussie summer. Let's forget for a moment that I am talking about this in winter…
I was a bit surprised to see strawberries at my local grocer as I have somehow been under the assumption they are strictly a summer fruit. Not sure how I got that wrong but apparently they are in season in WA from July through December. Who knew?! I had a desire to make a pavlova with berries and peaches even though stone fruit is not anywhere close to being in season. I always gravitate towards seasonal fruit, but today was an exception as I had my mind set on peaches. Diverting not possible. Basket full of deliciously scented strawberries and (not local) peaches, and we were on our way.
My mum makes the best pav. This is not her recipe, but it did take me back to her kitchen with the fruit topping. Is there anything quite like the smell of freshly cut fruit? I decided to make a simple berry sauce with the strawberries and was pleasantly surprised at the impact this simple sauce had on the sweet meringue and fresh fruit combination. The flavour of the sauce was delightful, and quite possibly the unassuming star of this little Aussie summer (winter) delight.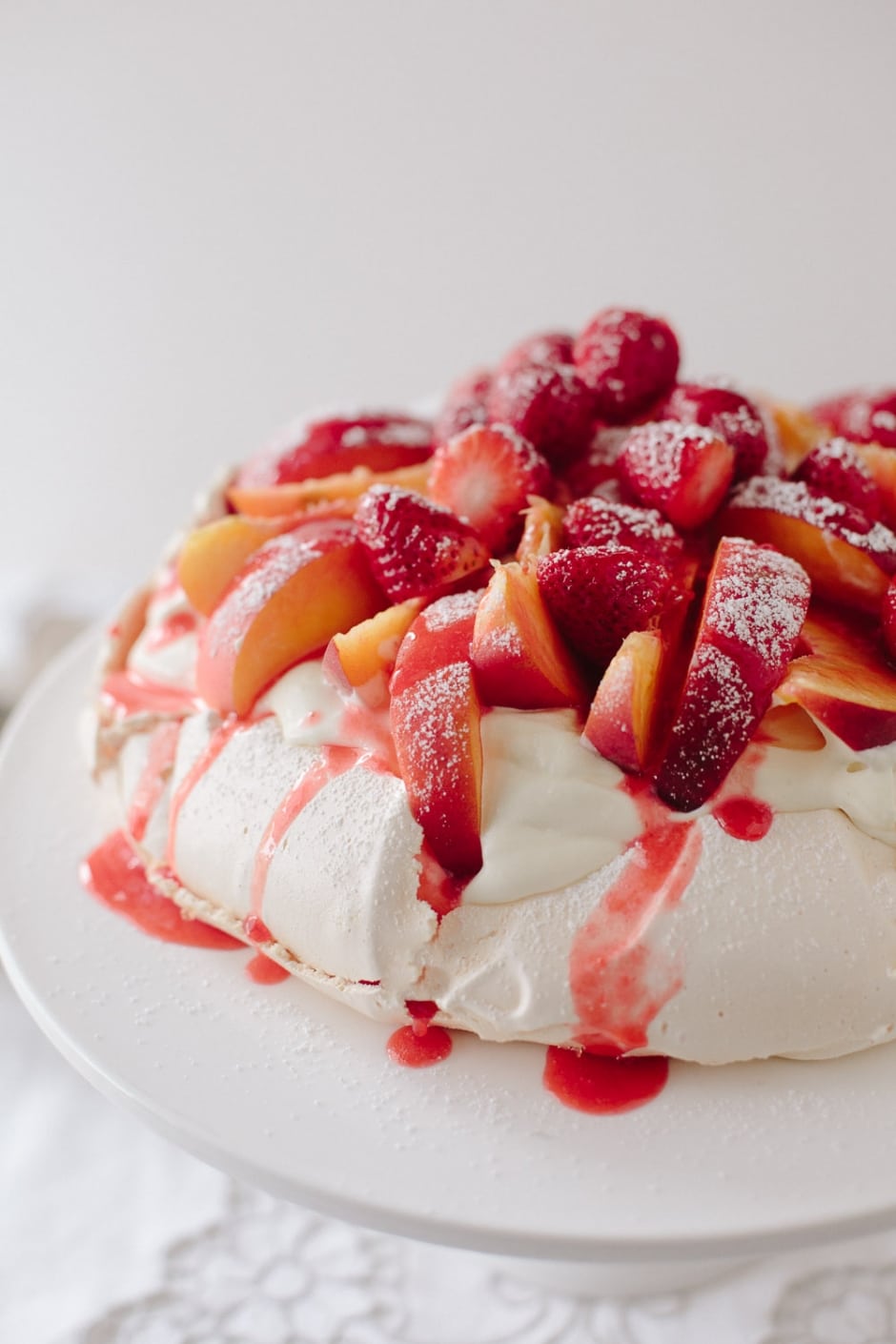 Ingredients // makes 20-22cm pavlova
6 large egg whites
1 ½ cups caster sugar
Pinch of salt (did I ever tell you the story about my mum and a 'pinch of salt'? Later…)
Topping:
250g fresh strawberries, halved
3 tablespoons caster sugar
2-3 ripe peaches, halved and stones removed
300ml whipping cream
100g Mascarpone
2 tablespoons icing sugar
More icing sugar for dusting
Method:
Preheat oven to 180C. Line baking tray with parchment paper.
Whisk egg whites in a bowl until soft peaks form. Add a pinch of salt, then add sugar a tablespoon at a time while continuing to whisk. Once all sugar has been added, continue to whisk for 8-10 minutes until meringue is glossy and smooth and holds firm in the bowl.
Put a small blob of meringue under the parchment paper to make it stick to the tray. Spoon meringue onto baking sheet and shift into a 20cm circle shape. You can smooth the mixture out but I wanted mine to look somewhat messy, so I left the little peaks and waves as they were. Remember to make a well in the centre for the topping.
Place into oven and immediately reduce oven temperature to 150C. Bake for about 1 hour 15 minutes until meringue is crispy and slightly golden in colour. Turn off oven and leave meringue to cool inside with door slightly ajar.
Note: Meringue can be made 4 days in advance, store layers separately in airtight containers.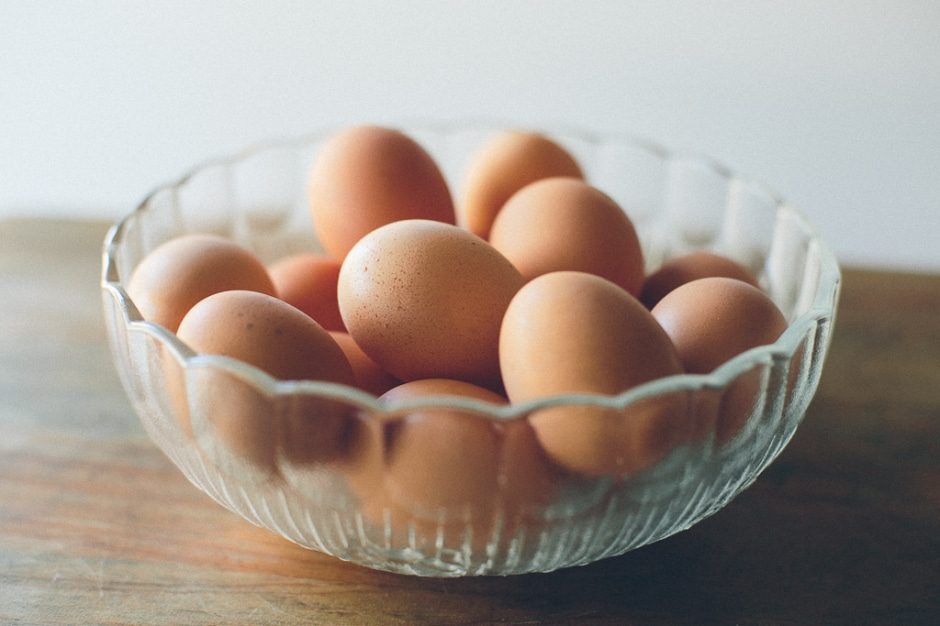 Topping:
Place half of the strawberries into a saucepan with caster sugar and bring to a boil. Stir until sugar dissolves and berries are soft, squishing them with a fork as they soften. Take off heat and whisk with a fork until mixture resembles a chunky puree. Press through a sieve to remove seeds and set aside to cool.
Whip cream in a bowl until peaks form. Add mascarpone and icing sugar, whip on low speed until slightly thickened and combined well. Do not over beat as the mascarpone will curdle (been there, not fun).
Slice peach halves into 5 slices each.
To assemble pavlova:
Peel paper from the bottom of the meringue and place onto cake stand or serving plate. Dollop mascarpone/cream mixture on top. Top with remaining strawberries and peach slices, drizzle with berry sauce and dust with icing sugar. Serve immediately with a delightful glass of sparkling!







Now for the 'pinch of salt' story (sorry Mum). When my mum first came to Australia her english was a little, shall we say, limited. My mum is a studious baker, she bakes cakes, biscuits, tarts, you name it. One day she went to the supermarket to source ingredients to bake a cake. She was a little perplexed over what this strange ingredient was in a recipe she wanted to try, being 'a pinch of salt'. She asked a store assistant where she could find it and the assistant proceeded to show her with a pinching action pointing out the salt. So cute! I tease her about this story every single time I come across a 'pinch of salt'.
If you want to find out more about the Lindeman's Regional Series head to their website (must be 18+). You can also follow them on Facebook.
Does pavlova make an appearance at your house at Christmas time? And what is your favourite topping?